Rams get much-needed first conference win behind inspired play
For a Colorado State University Rams (9-8, 1-3 Mountain West) men's basketball team in need of their first conference win of the season, a 79-57 rout of the California State University, Fresno Bulldogs (6-9, 2-2 Mountain West) is a pretty good way to do it.
Just a week after a loss to San Jose State University where the Rams displayed little spirit, they came out against the Bulldogs the complete opposite. The defense was intense from the start, which reflected on the scoreboard, allowing only nine points in the first 10 minutes. 
"I thought our spirit was better (at Nevada last week), and clearly it was a lot better here today," head coach Niko Medved said. "That's something that I think has been in our program and has been something that is really, really good here, but for whatever reason, we kind of got away from it."
On the offensive side of the ball, the three point shooting was absent to start. Missing their first six attempts, the Rams had to get creative with their play calling to get good looks inside, which is exactly what they did. On multiple occasions, forward Patrick Cartier was given the ball with nothing but himself and the basket around him for easy buckets thanks to constant ball movement and well-timed cuts.
Ball movement was a crucial part to this win, as 26 of the 29 Rams baskets scored came off of assists.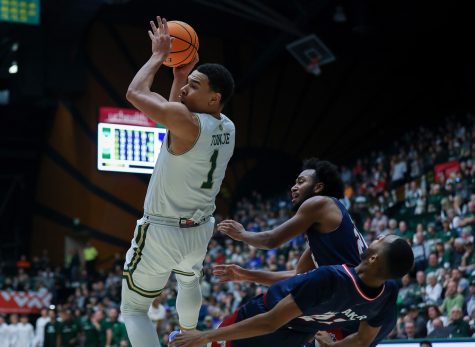 "I feel like everyone had an unselfish mindset today," senior guard John Tonje said. "We were all just trying to get our flow going. … Today, we were moving and looking like ourselves."
With 6:30 left in the first half, the floodgates opened for the Rams from three. After missing their first six attempts, the Rams hit five of their next seven to finish the half and extend their lead to 12 points. 
"I feel like, as a team, we celebrate each others' makes just as much as our own," Tonje said. "I was really excited to see (Jalen) Lake come back and hit a couple big threes for us."
The downpour from outside would continue in the second half, as the Rams hit six of their first eight attempts and finished the game shooting 48.3% from beyond. For Tonje, who hit three of his six 3-point attempts, it was all about confidence.
"It was obviously a relief, it feels good," Tonje said. "Just keeping confidence, knowing every game is a new game. … Yeah, it was good today."
The Rams will look to jumpstart their first winning streak in nearly a month when they play the United States Air Force Academy Jan. 10 at Moby Arena.