Colorado State defeats Saint Mary's in green and gray victory
Roddy and Stevens close in on scoring records.
Expectations were high in Moby Arena Saturday afternoon as Colorado State University men's basketball took on Saint Mary's College of California in a season-switching game battling to keep their undefeated season. The Rams did just that in a Dec. 4 win of 74-58 against the Saint Mary's Gaels. CSU remains one of Division I's last undefeated teams, advancing to a 9-0 record this season.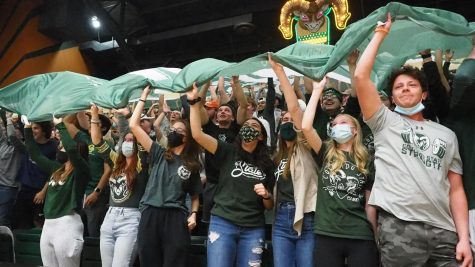 Colorado State came out ready to win, dressed in their new and improved gray uniforms in front of one of the biggest crowds Moby has seen this season with over 7,000 fans in attendance. Not wasting any time, the Rams took an early lead of 6-0 nearly two minutes into the half due to Adam Thistlewood and David Roddy sinking their first 3-pointers of the afternoon. SMC was definitely a competitor, coming into the game 8-1, and scored the next four points. 
This margin was quickly shut down by the Rams defense as the Gaels were left empty-handed for nearly three minutes of the half while CSU elevated their gameplay, pushing the lead 17-6 with 13 minutes left. Once the Rams grasped the lead, they held on tight and finished the half 35-24. 
Well… that was solid and good for CSU, who is 5-0 this season when leading at the break. Stevens leads all scorers with 12!#TeamTogether @FortCollinsDCJH pic.twitter.com/4RxnsYFWqW

— Colorado State Men's Basketball (@CSUMBasketball) December 4, 2021
When the second half began to unfold, it was clear to the crowd that Colorado State was bringing the same power to the court. Roddy was a crowd favorite and the highest second-half scorer of the night, executing 14 points in the second half.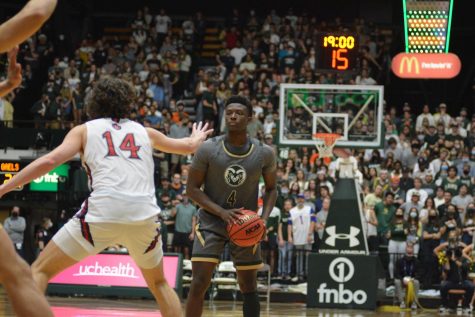 Roddy and Isaiah Stevens were projected to make career history in their game against SMC by reaching 1,000 points each. After the game, Roddy was left at 996 points in his CSU career, while Stevens has 986. Only 30 Rams have scored 1,000 points at CSU. 
As the two inch closer to this monumental moment, Roddy said he plans to "play my game as much as possible, whether it's scoring, defense or rebounds or sharing the ball. … That definitely is a huge milestone."
In the final minutes of the 74-58 triumph, the Rams cleared the bench and drained the clock. Moby Arena closed the game with a standing ovation. Despite the matchup against Saint Mary's College being the last home game of this year, both players are expected to meet this milestone in the next matchup. 
MAKE THAT 9-0!!! THANK YOU #RamNation, @Ram_Ruckus — You were the difference!!!#TeamTogether@FortCollinsDCJH @MW_MBB pic.twitter.com/t861BdfLtm

— Colorado State Men's Basketball (@CSUMBasketball) December 4, 2021

The Colorado State Rams will finish out the year traveling to Fort Worth, Texas, for the Naismith Basketball Hall of Fame Classic to take on Mississippi State University next Saturday Dec. 11. 
Reach Karsyn Lane at sports@collegian.com or on Twitter @karsynlane1.