Rams volleyball prepares for New Mexico, Air Force home games
Bailey Shepherd
October 12, 2021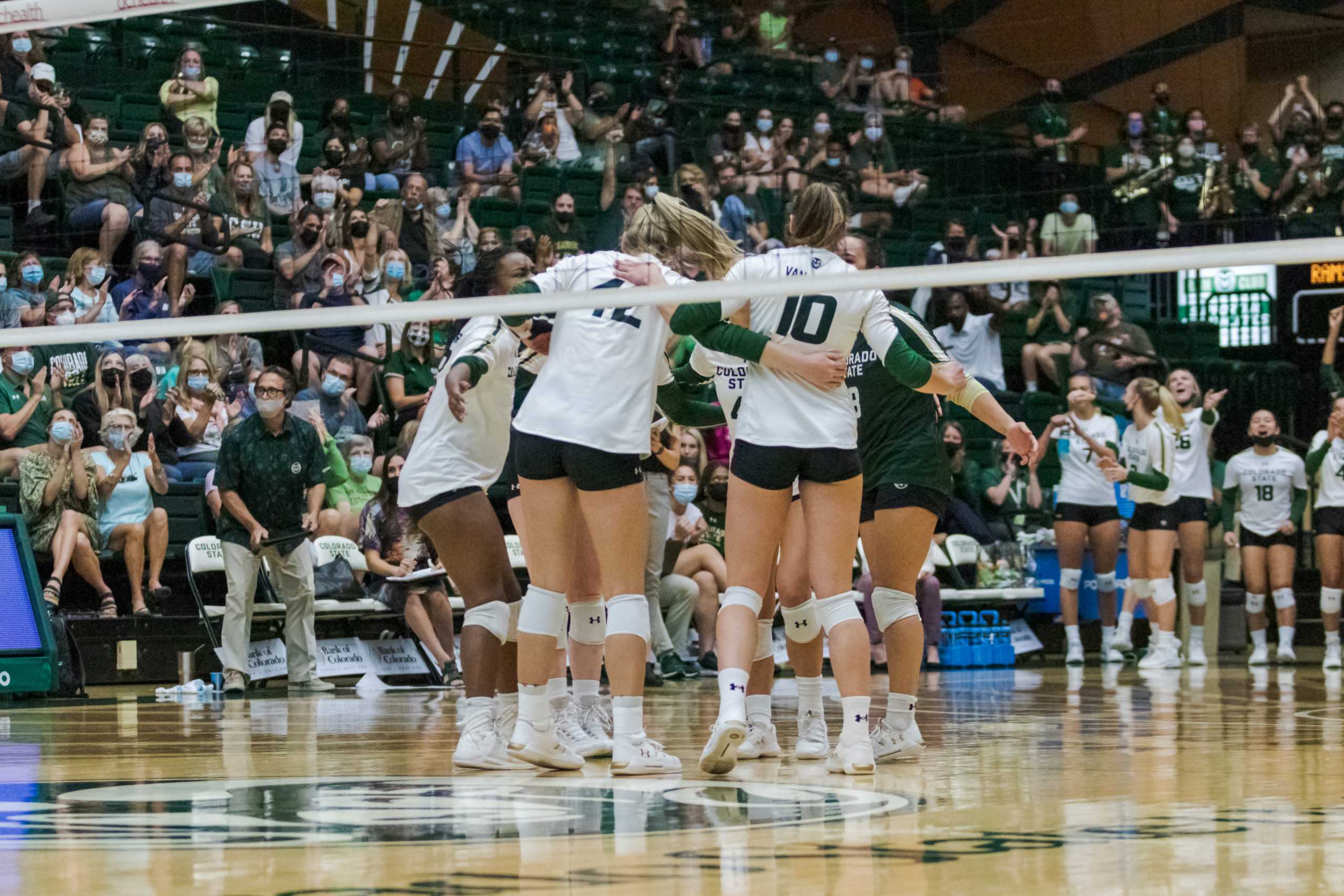 It's an important and consequential week for Tom Hilbert and the Colorado State University volleyball team as they look to extend their two-game conference winning streak against the University of New Mexico and the United States Air Force Academy.
This series is crucial in that the Rams have a chance to gain sole possession of first place in the Mountain West Conference if they can figure out a solid Lobos team and take care of business against the Falcons.
Colorado State's matchup against New Mexico is going to be their toughest test against a conference opponent this season. The Lobos boast an impressive 14-3 overall record this season, which places them on top of the conference standings, tied with the University of Nevada, Las Vegas. There are a few things the Rams are going to have to prepare for if they want to get a positive result against this formidable opponent. 
Any team that can consistently attack, facilitate and defend at that high a level is going to be a handful for any opponent."
For starters, New Mexico plays with a scary level of efficiency. They've only lost seven total sets in conference play through six games. That statistic becomes even scarier if you consider how efficient they've been throughout the non-conference portion of their schedule, as they've only conceded 15 sets through 17 total games this season. In that same stretch, they've averaged a conference-best 13.95 kills per set.
To complicate things a little more, the Lobos are not only efficient but balanced in their play style as well. Not only do they lead the conference in kills per set, they also lead in assists per set with 12.54 and digs per set with 16 on the season. Any team that can consistently attack, facilitate and defend at that high a level is going to be a handful for any opponent. 
Efficiency has not been Colorado State's forte this season. They're statistically average in the categories mentioned, which doesn't look good on paper for the Rams. However, Colorado State has been a different team since they've entered conference play. They are level in terms of record with New Mexico, as both teams are 5-1 in the conference.
If Colorado State can remain alert on defense and improve their offensive efficiency, they have a real chance to knock the Lobos off and claim first place. 
CSU will have a somewhat less daunting test in their weekend matchup against Air Force. The Falcons have struggled this season. They've only managed to pick up four wins in 16 games and one win in conference play. Strangely enough, Air Force's only conference win came from a sweep against California State University, Fresno, who beat the Rams two weeks ago and is Colorado State's only conference loss. 
Take that however you will, but to believe Colorado State will come out of this game with the win seems accurate.
The Rams have had the Falcons' number historically, only losing to them once since 1982. That loss came as a shock from their two-game series last season, but the Rams were coming off a long COVID-19 break, and they've gotten much of their swagger back since then. With that precedent in place, the Rams should get the win easily.
Colorado State will face off against New Mexico Oct. 14 at 7 p.m. for their pink-out game at Moby Arena. Their game against Air Force is Oct. 16 at 1 p.m. at Moby Arena.
Bailey Shepherd can be reached at sports@collegian.com or on Twitter @B_Sheps .