Events: 4 ways to get into the Halloween spirit
Rachel Hamalian
October 16, 2016
It's Halloween season! Everything from Tim Burton, your possibly haunted basement and pumpkin flavored everything are suddenly in demand. You may already be getting into the Halloween spirit with the new season of American Horror Story, but here are some local ways to happily embrace the season, or pee your pants in terror.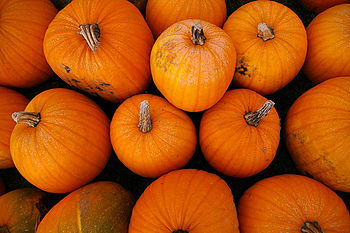 Pumpkin Patch
It's time to find a pumpkin! The Bartels Farm is located northeast of campus and offers a corn maze, "punkin chuckin," farm animals and hay rides along with their ginormous patch of pumpkins. Take a fun trip before going home and carving your creepiest, artsiest, funniest or disastrous jack-o-lantern. More information for the Bartels Farm can be found on their website.
Haunted Corn Maze
For those who enjoy the feeling of being chased by some dude in a mask with a chainsaw, you've gotta go to a haunted corn maze! Jack Lantern Northern Colorado Corn Maze is relatively close by. Their Corn Maze of Carnage is open from dusk until 11PM, with 90 acres of opportunity for directional confusion and tears of fright. For the dedicated adrenaline junkie seeking a little more action, 42 minutes away is Fritzler Corn Maze. Their Scream Acres remains open until 10PM Wednesday – Saturday as well as Monday. You can run away from monsters in the maze or decide to hunt them down in the Zombie Paintball Slayer. Hop on a gnarly school bus and save the world from the Zombie Apocalypse! You can find more about the Jack Lantern Northern Colorado Corn Maze and the Fritzler Corn Maze at their respective websites.
Rocky Horror Picture Show
On October 28th & 29th at 7:00 PM and 9:00 PM, join the Lyric Cinema Cafe in their showing/production of The Rocky Horror Picture Show. Don't expect to just sit there and watch, however. You'll be just as much involved in the movie as the actors at the front of the screen recreating it! Whether you're a dedicated Rocky Horror Picture Show goer or have never seen the movie (a Rocky Horror virgin), it'll be an unforgettable experience. Feel free to bring props of unbuttered toast, toilet paper and a deck of cards to throw around, and don't forget to yell "ASSHOLE" whenever the name "Brad Majors" is said. Tickets are going for $10 online. Don't dream it… go to it!
Find a Costume
It's not Halloween until YOU are the essence of Halloween. Find inspiration at costume shops like Spirit Halloween, Wear It Again Sam, Life of the Party Worldwide and Party City. Whether you decide to go creepy, sexy or funny, there's a costume for you.
Whether your Halloweekend turns out to be full of tricks or treats, hopefully you can find some spooky magic in the air this October. Happy hauntings!
Collegian writer Rachel Hamalian can be reached at blogs@collegian.com or on Twitter at @rachel_erin14.