Food & Fun: Johnson's Corner is a unique dining experience
Alaysha Powell
March 26, 2016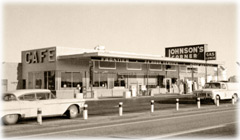 Finding great food places to eat at while traveling can be difficult, but Johnson's Corner  will not disappoint. Located in Loveland on the east end of i-25, Johnson's Corner was established in 1952 by Joe S. Johnsons and station manager Clayton Bearly.
It has served as a popular hospitality spot to this day. With the goal to serve home-style food and provide classic hospitality you have only seen in the movies, it is no wonder people from all over come to eat at this little diner.
While all the food is well-liked by the locals, Johnson's Corner is mostly known for their sweets, especially their massive cinnamon buns. Customers have the option of ordering a classic bun or going out of their comfort zone and trying the unique flavor of the month. Johnson's Corner has their own bakery where sweets are freshly baked every day to keep customers happy.]
You can even buy cinnamon rolls online!
Aside from being a popular restaurant, this establishment also serves as a gas station and a truck stop, accommodating the needs of anyone who stops. While not as close to campus as preferred, many students can still be seen eating there with their families when traveling home.
If you're ever in the mood for a new dining experience, then you may want to consider this restaurant.
Collegian Food & Fun Blogger Alaysha Powell can be reached online at blogs@collegian.com or on Twitter at @alaysha_powell.