Prendergast selected for regionals, Staiano named to All-Conference team
Christian Hedrick
May 2, 2017
The regular season is officially over for Colorado State golf, but individuals from both the men's and women's teams received some good news when conference honors and NCAA regionals were selected last week.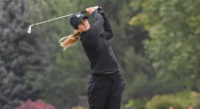 Women's golfer Katrina Prendergast was selected to compete in the 2017 NCAA regionals for the second consecutive year and was named to the 2017 All-Mountain West second team. Men's golfer Jake Staiano was one of 10 golfers named to the men's All-Mountain West team.
In her sophomore season, Prendergast shot an average score of 74.34, helping her land eight top-20 finishes and a fourth place finish this season. Prendergast also tied her own school record that she set last year with a 5-under par 67 at the Julie Inkster Spartan Invitational. She finished the regular season with a 7-over 15th place finish at the Mountain West Championship.
This is Prendergast's second consecutive season qualifying for regionals and her second appearance on the conference's second team. Head coach Annie Young noticed her improved approach to the game this season.
"I think she's worked so much harder this year compared to last year," Young said in a statement. "Last year, she kind of went off of talent, and this year she's put in a lot of work."
While Prendergast is leading the women's team, fellow sophomore Staiano has assumed a similar role on the men's side.
Coming off an 11th -place finish at the Mountain West championship, Staiano can add a Mountain West All-Conference selection to his already strong 2016-17 season. Staiano's first selection to the team marks the first time since the 2011-12 season that a Ram received such honors.
In 33 rounds this season, Staiano led the Rams with an average score of 71.64. Staiano's consistent play also earned him four top-10 finishes in 11 tournaments, including a fourth place finish at the Gene Miranda Falcon Invitational. His best round of the season was a 6-under 65 at the ASU Thunderbird Invitational.
Staiano was voted to the All-Conference team by the league's 11 coaches. The Mountain West traditionally produces some of the top golfers in the nation. Men's golf coach Christian Newton was very pleased that he was recognized as one of this year's best.
"I am very happy to have Jake recognized as one of the best in the Mountain West," Newton said in a statement. "The league has a long history of some really good players. It's nice to see his hard work and dedication pay dividends."
Staiano and the rest of the men's team are still waiting to see if they will join Pendergrast at the NCAA regionals. After finishing in second place at the Mountain West Championship, the men are hoping for an at-large bid to the regional tournament. Men's teams and individuals will be selected May 4.
As the lone women golfer representing CSU at regionals, Prendergast will be competing in the Lubbock, Texas region on May 8-10. The top three individual finishers from the four regional sites will compete in the NCAA championship on May 19-24 in Sugar Grove, Illinois.
Collegian sports reporter Christian Hedrick can be reached by email at sports@collegian.com or Twitter @christianhCSU.