CSU football fails to capitalize on Fresno State mistakes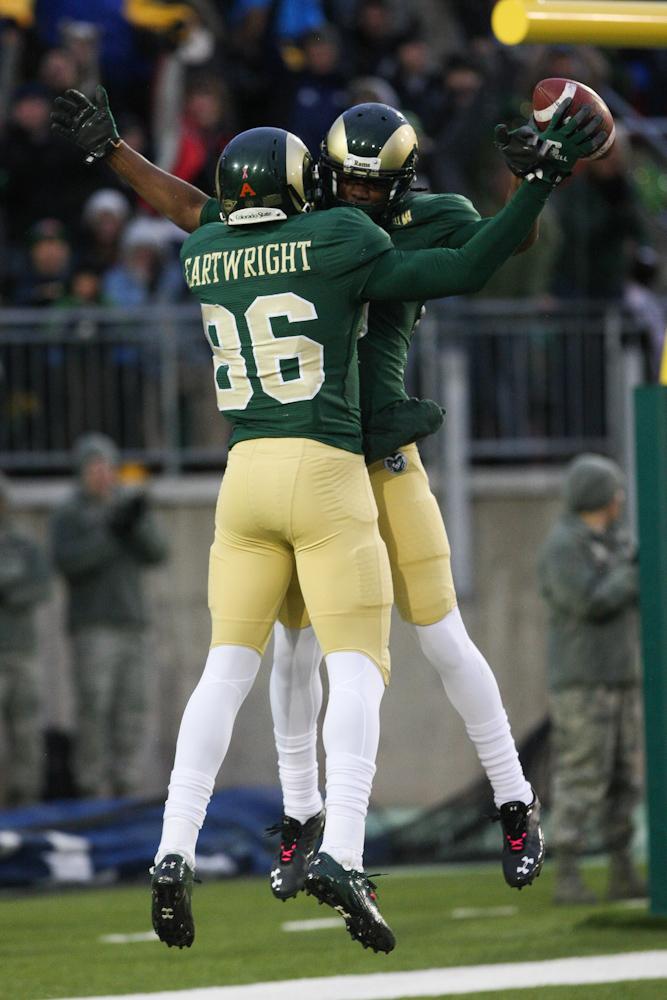 When opportunities arise and aren't taken advantage of in any walk of life, you can sometimes wonder "what if" after the fact.
After their 28-7 loss homecoming weekend to Fresno State, that's exactly what the CSU football team is thinking.
Though they only turned the ball over twice, the Rams squandered multiple opportunities, opportunities that would have made the game this weekend much more interesting.
It all started at the end of the first quarter, when quarterback M.J. McPeek threw a 36-yard touchdown pass to Kivon Cartwright, but the play was called back on a Crockett Gillmore chop block penalty. Four plays later, the Rams punted, halting any momentum they gained from the drive.
"You wanna kick yourself a little bit," McPeek said. "Because it's like we had it, and you don't wanna point to one play in the game and say 'that changed it,' but that definitely changed the way that that part of the game turned out."
It turned out to be a sign of things to come for the Rams.
CSU had its hands on two interceptions which were dropped, one by safety Trent Matthews and one by defensive back DeAndre Elliott.
Either one of those plays could have been a big play for the Rams' struggling offense, with both players having a lot of open field in front of them had they intercepted their respective passes.
"I thought I had it but I just didn't grab it," Matthews said. "I just have to go back on Monday and start catching some more, be a receiver even though I'm a safety."
While the Rams struggled to take advantage of opportunities they were handed during the game, Fresno State continued to turn mistakes made by the Rams into points.
At the end of the second quarter, a Pete Kontodiakos punt was blocked and recovered by Fresno State at the Rams' 33-yard line with 1:49 left in the half.
Thirty-two seconds later, the Bulldogs put the ball into the end zone on a 20-yard touchdown pass from quarterback Derek Carr to Josh Harper.
The score put Fresno State ahead of the Rams 14-0 at halftime and stopped any momentum CSU had heading into the locker room at the break.
The Rams know what they have to do, especially on offense, in order to take advantage of opportunities in the future, but that still doesn't make the sting of five straight losses hurt any less.
"How miserable am I?" said a disappointed Jim McElwain after the game. "I am miserable, but I am not ready to jump off the cliff because I saw the fight in the comeback from what they should have been embarrassed about the week before.
"There was some resolve. There was a huge disappointment because I know what they put into it. (But) they know we come back to work and we keep moving forward."
Football Beat Reporter Andrew Schaller can be reached at sports@collegian.com.