CSU football opens home schedule against defending FCS National Champion North Dakota State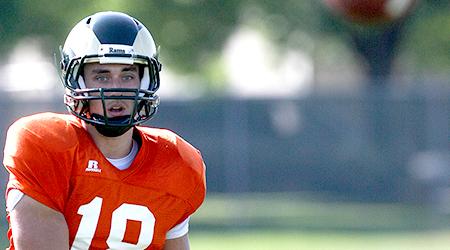 On Saturday afternoon, the CSU football team will take the field at Hughes Stadium for the first time under new head coach Jim McElwain. In order for the Rams to start the home slate off with a victory, they will have to contend with defending FCS National Champion North Dakota State.
The Rams will be without the services of starting running back Chris Nwoke during the game, as he has still not fully recovered from an ankle injury sustained in the second half of the Rocky Mountain Showdown. Backup Donnell Alexander will instead take his place on the field on Saturday.
"Nwoke doesn't look like he'll go," McElwain said. "But the deal there is Donnell Alexander has stepped up and taken a leadership role at the running back position."
The Rams will need production from Alexander and the rest of the offense in order to be successful Saturday, as they are facing a team in North Dakota State that held opponents to only 12.7 points per game last year.
Last week against CU-Boulder, CSU's offense struggled to put the ball into the end zone, scoring two touchdowns in the game only after being aided by a muffed punt and a 15-yard personal foul call that extended a drive.
This week, the Rams will be looking to take advantage of more of those opportunities by turning long drives into touchdowns and replicating the positive things they did in the showdown this week.
"I feel like I missed a few reads that we could have had big plays out of " quarterback Garrett Grayson said of his performance last week. "Read-wise I feel like I was getting to my reads quick and easy, making it easy on the line. We gave up a few sacks, but it's something where I've gotta get the ball out."
North Dakota State will try to make Grayson's life difficult on Saturday as they look to make the Rams the fourth FBS team in the last six years that they have beaten.
For North Dakota State and coach Craig Bohl, to compete with a bigger FBS schools, they have focused on the importance of keeping games close through solid play from the defense.
"We've always felt like if you're really good and sound on defense and play hard, you're able to have an impact on momentum," Bohl said. "If you can hold up on defense, after a while your offense will get on track, so we've always said we're gonna try to be great on defense here at North Dakota State."
While contending with everything North Dakota State will throw at them this weekend, the Rams will also look to ride the momentum off their victory over a Pac-12 opponent in CU last week.
After winning the first game of the season this year, CSU will look to continue that momentum throughout the remainder of the year and avoid a fate similar to last year's team, which won its first two games before losing nine of its next 10 games in a disappointing year.
The difference this year, according to the Rams, is more leadership from the captains of the team in motivating players during practice.
"This year we've got a lot better leadership I think," defensive tackle John Froland said. "As a whole, there's more leadership and more a set feeling of us as a team and us wanting to do it instead of a coaching staff that's the driving force of the team."
Football Beat Reporter Andrew Schaller can be reached at sports@collegian.com.