CSU football continues to search for playmaker at wide receiver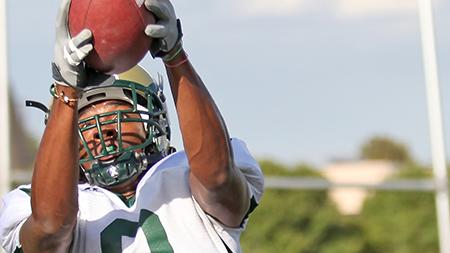 With the end of fall camp in sight there remains a question mark at a position that plagued the Rams for much of the 2011 season—wide receiver.
CSU struggled to effectively utilize its wide outs last year resulting in just 184 passing yards per game, No. 90 in NCAA Division-I football. Only one receiver ranked in the Rams' top four pass catchers.
Of the team's 208 receptions, just 81 were completed to receivers, something new offensive coordinator Dave Baldwin plans to change.
"The versatility of using multiple personnel groupings… should help us in that," Baldwin said on CSU's media day. "I think Mr. Law has probably had the best summer of any of the wide outs. He's taken great leadership. He's finishing his drills. He's catching the ball well. I think Marquise can be a big-time player for us, a playmaker."
Law has been described as a playmaker in the preseason for three years, but the production on gamedays has been difficult to find. He totalled only three receptions for nine yards and no touchdowns in seven games in 2011.
Criticism came early and often for Law and he had a hard time blaming his naysayers.
"I think it was fair because people didn't see the production and they expect the production," Law said. "We weren't in situations that we were able to produce and we didn't. It's fair to get all of the criticism. But I think it'll be different this year because we have guys that are going to work hard. Everybody is trying to make it happen."
"Everybody" includes sophomore Thomas Coffman, senior Lou Greenwood and former defensive back Dominique Vinson. Greenwood led all wideouts in receptions, yards and touchdowns, while Coffman posed as the Rams' deep threat at 26 yards per reception last season.
Young players in the mix have made an impression on coach Jim McElwain this fall as well.
"I was really happy to see Charles Lovett out here. He had a rib kind of thing and he's fought through that… so that tells me a lot about him," McElwain said Tuesday. "Lee Clubb came out and had a really good day today, so some of those guys are steppin' up."
Former NFL wide receiver and new position coach Alvis Whitted might just bring the type of experience and leadership the receivers have been looking for.
"I look up to him big time. I'm always trying to nit-pick his brain to see what I can learn for myself and get all types of tips," Law said. " He's a great guy, so I just try and take everything I can from him and encourage the younger guys to take everything they can from him because this is a once-in-a-lifetime experience."
Progress has been hard to measure throughout fall camp because McElwain doesn't believe any player truly reaches the level of expectation a coach holds for him.
"I get these 'are they where you want them to be (questions).' No, because I don't think you ever get there," McElwain said. "You never arrive. It doesn't matter where you're at, what team you're on and who you are. It's what you do today that matters."
Sports Editor Cris Tiller can be reached at sports@collegian.com.