NBA Heat Check: All-NBA teams
John Scriffiny
April 14, 2016
All-NBA Teams: As the NBA regular season comes to an end, here is a look at what I think are the most fitting choices for the All-NBA teams.
All-NBA First Team
| | |
| --- | --- |
| Steph Curry | Golden State Warriors |
| Russell Westbrook | Oklahoma City Thunder |
| LeBron James | Cleveland Cavaliers |
| Kawhi Leonard | San Antonio Spurs |
| Kevin Durant | Golden State Warriors |
This wasn't too difficult of a decision for me regarding who should be on the All-NBA first team. Steph Curry is the best player in the league this year and last, and his team is currently 72-9. Russell Westbrook is a triple-double machine on a team that could finally make some noise in the playoffs now that their big three are finally healthy. The Thunder haven't had Serge Ibaka, Kevin Durant and Russ healthy for the entirety of the playoffs since making the Finals and losing to LeBron James' Heat in 2012.
Speaking of LeBron James, he has yet another MVP-caliber season, averaging a 26-7-6 on a team that will in all likelihood win the East. Kevin Durant has shown a nice bounce back year from his foot injury a year ago, with a 28-5-7 and shooting splits of 50-38-89 (FG percent, 3-PT percent, FT percent). Kawhi Leonard was the key cog on a Spurs team that was in position to almost take the 1-seed from the Warriors as recently as a couple weeks ago. All five were basically a shoe-in, but the argument could be made for Draymond Green and Chris Paul.
All-NBA Second Team
| | |
| --- | --- |
| Chris Paul | Los Angeles Clippers |
| Kyle Lowry | Toronto Raptors |
| Klay Thompson | Golden State Warriors |
| Paul George | Indiana Pacers |
| Draymond Green | Golden State Warriors |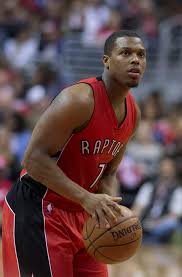 Chris Paul and Draymond Green were obvious choices, but there is a bit of a drop-off after the first team. Paul George put up some nice stats, but the Pacers were inconsistent all year, and in my opinion most likely headed for a first round exit against the Toronto Raptors. This is in large part because of the big step taken by Kyle Lowry, leading the Raptors to a whopping 55 wins and the 2-seed (and a chance for 56 wins). 
Klay Thompson is the second best shooter in the league and the second leading scorer on the Dubs, so that's enough for me to put him on the team. Chris Paul has been exceptional this year, again. He is averaging a 19-10 for the third year in a row, and kept the Clippers at the 4-seed despite losing Blake Griffin for the majority of the year. Draymond Green is the most valuable defensive player a team could ask for, and is a perfect role player on offense. There is a case to be made he deserves Kevin Durant's spot.
All-NBA Third Team
| | |
| --- | --- |
| Damian Lilliard | Portland Trailblazers |
| James Harden | Houston Rockets |
| DeMar Derozan | Toronto Raptors |
| Anthony Davis | New Orleans Pelicans |
| DeMarcus Cousins | Sacramento Kings |
On the third team is where I put outstanding players on really bad teams. Cousins has been cursed with a horrible front office and a revolving door of coaches. He doesn't try hard all the time, but for him to put up the stats he does in his situation is ridiculous. Anthony Davis battled injuries and virtually no bench, but he is Anthony Davis. He can anchor a top-5 defense with the right pieces around him and is one of the most versatile big men the league has ever seen.
Damian Lilliard was a large part of keeping the Blazers afloat despite losing Nic Batum, Wes Matthews, and Lamarcus Aldridge in free agency. The fact they came away with the 5-seed is very impressive. DeMar Derozan put up exceptional numbers on the Easter conference 2-seed, a 23-4-4. James Harden came into the season out of shape and the Rockets fought chemistry issues all season. That being said, he put up a 28-7-6 without another playmaker on the roster and made the playoffs. That's enough for a nod in my book.
There you have it, my choices for the All-NBA teams. Coming soon will be a playoff preview for what will undoubtedly be a very exciting postseason with the stalwart Spurs, the historic Warriors, the talent-laden Thunder, and the enigmatic Cavaliers. It's going to be a fun playoffs. Until next time.
Collegian NBA Blogger John Scriffiny can be reached online at blogs@collegian.com or on Twitter @JScriff.