Spring football: 'Kaizen' principle guiding wide receiver room
Colorado State University football held its second of three spring scrimmages April 15.
At about the halfway point, the team went through red zone plays. On one play, wide receiver Justus Ross-Simmons was one-on-one with a defender on the left hash mark.
Quarterback Clay Millen threw it a little high, but it was no problem for Ross-Simmons, who went up and grabbed it spectacularly with one hand. Touchdown. It was one of a few pinpoint plays between the two during the day, indicative of a growing connection between young QB and younger WR.
"(Ross-Simmons) has been good all spring. … We're expecting him to be that guy for us. He should take a huge jump between year one and year two." –Jay Norvell, CSU football head coach
With less than a week to go for spring football practices at CSU, the Rams are doing what they can to maximize the time they still have left. For the wide receiver room, nothing is different, and there seem to be improvements all around.
"The word we live by in our room is 'kaizen,'" wide receiver coach Chad Savage said. "That means to try to get 1% better every single day."
As long as the 1% is coming from some aspect of the receivers' game, Savage is happy. It can come from getting better at releases in the secondary or even just understanding where to be on running plays.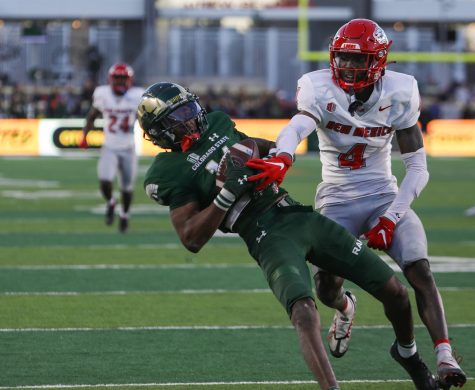 For now, the number of receivers is limited, but standout receiver Tory Horton — who has been limited himself with a minor, lingering leg injury — thinks the extra reps will go a long way.
"It's a huge improvement," Horton said. "I think (the extra reps are) a big advantage for them to showcase their skills and get better, (to be) dialing in on the fundamentals and just going out there and making plays to show the coaches and everyone on the team what they can do."
Saturday was a big day for the receivers showing the team what they can do. It seemed like more than most practices, the receivers were dialed in and catching tough passes but also making the right plays and the easy catches.
Though Horton has been limited and wears a red penny to practices to signify no contact is allowed on him, he said it's important for the younger guys not to get complacent with their game or the work they put in. After all, complacency can steer you away from kaizen.
"Some of the guys that have been here for a year now, some may tend to get comfortable or they start getting lazy or slack off," Horton said. "I just try to preach to never get comfortable, you know. There's always someone out there trying to outwork you, and as soon as you start feeling comfortable, that's when you lose a step in your game."
Ross-Simmons, the No. 2 option in the passing game for much of last season, is taking in what he can from Horton, who has only been able to watch from the sidelines of the Rams' two scrimmages so far.
"You can learn a lot from Tory (Horton)," Ross-Simmons said. "He's a great player himself. He teaches me releases and stuff and how to get open on certain plays and certain routes. He's a big help."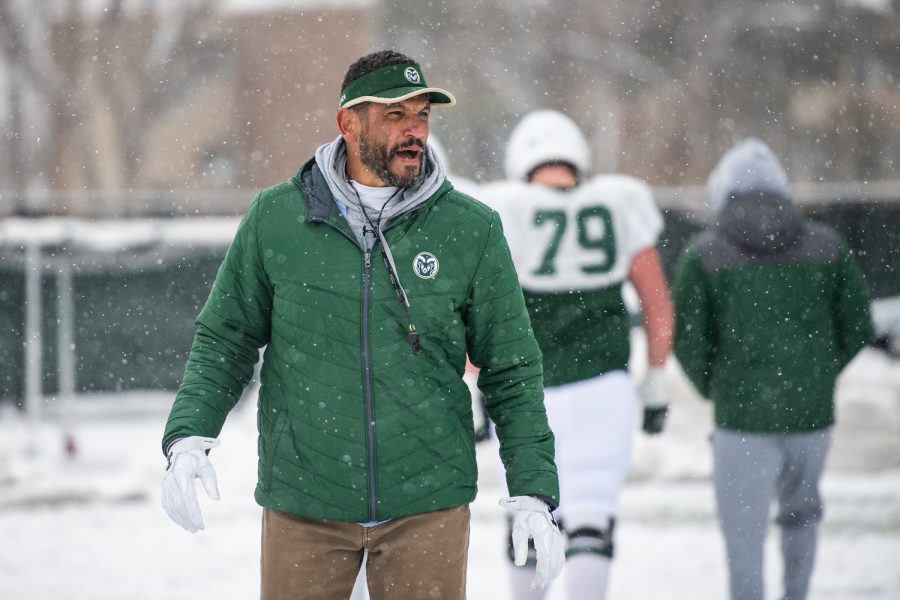 Head coach Jay Norvell has been a fan of the young receivers so far as well.
"(Ross-Simmons) has been good all spring," Norvell said. "The big thing with him and those young receivers, you know, (Louis Brown) and Justus, is to be consistent every day and dependable. We're expecting him to be that guy for us. He should take a huge jump between year one and year two."
Norvell said the team expects to bring in a few more wide receivers to add depth to the room. One of the main targets for Norvell is to sign an older receiver — one that can take a leadership role alongside Horton and bring another level of threat to the Rams' passing game.
The last football practice of spring ball is April 22 for the annual Green vs. Gold Spring Game. 
Reach Braidon Nourse at sports@collegian.com or on Twitter @BraidonNourse.