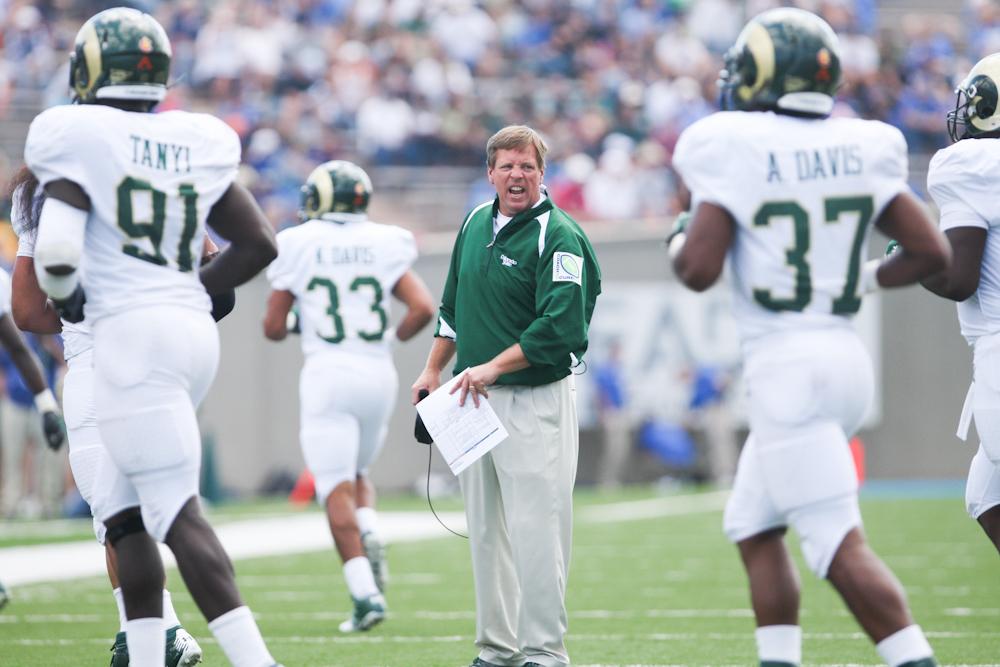 Football is a game of determination.
Coaches and fans can get bogged down with football jargon and excuses for losses, but as CSU coach Jim McElwain has said this past week, execution, discipline and effort often times determine who wins and who loses.
That's why the CSU football team has struggled throughout the first month of the season.
Never was the lack of discipline as obvious this year as it was Saturday afternoon against Air Force, when the Rams got shellacked defensively, giving up 459 yards and four touchdowns on the ground and ultimately losing 42-21.
"It's about imposing your will on an opponent and we're not doing that," McElwain said. "When guys start worrying about themselves more than they worry about the team, the family, you know, that can't happen."
But it did happen. Despite the fact that the Rams said all week that they were focused and ready to execute, that execution was severely lacking on both sides of the ball Saturday.
Five of the first seven drives for Air Force went for touchdowns, four of those five drives took 1:34 or less as the Falcons lined up and ran the ball right at the Rams.
The Falcons got off to a quick start in the game and the Rams once again got off to a slow start on offense and defense and quickly found themselves in a 21-0 hole.
"It's frustrating," linebacker Shaquil Barrett said. "We just work on it all day, every day at practice when we is out there and just … still come out here and still start slow when we know we've been doing that, we've been harping on that since the second week, first week. And we've still been doing it and just like our effort out here was good, but it didn't get the job done."
While the Falcons' offense ran roughshod over the Rams' defense, CSU's offense struggled for much of the game to get into a rhythm, once again, losing the battle at the line of scrimmage.
"I just feel like we're not playing fast at times," said quarterback Garrett Grayson, who became a spectator after breaking his collarbone in the first quarter. "I mean the coaches put us in the right positions. It's just like we're not going with our instincts sometimes maybe."
"I mean, coaches are doing everything they can during the week and they're getting us in the right looks, there's nothing the coaches are doing wrong, it's just, I don't really know to be honest, we're not going when we should be."
It might just be that some of the Rams are lacking the focus and effort necessary to win games. Whatever the cause of this season's struggles so far for the one thing has been made clear — changes will be made.
Although he did not specifically say which players were not playing with enough heart, McElwain has indicated that changes, possibly in personnel on the field, will be made ahead of next week's game against Fresno State.
"(We'll) get back at practice on … Monday and we'll get ready for the next game," McElwain said. "And the guys that are playing in that game are the guys that are gonna play with some heart."
Football Beat Reporter Andrew Schaller can be reached at sports@collegian.com.