ASCSU pass ranked-choice voting resolution, ratifies members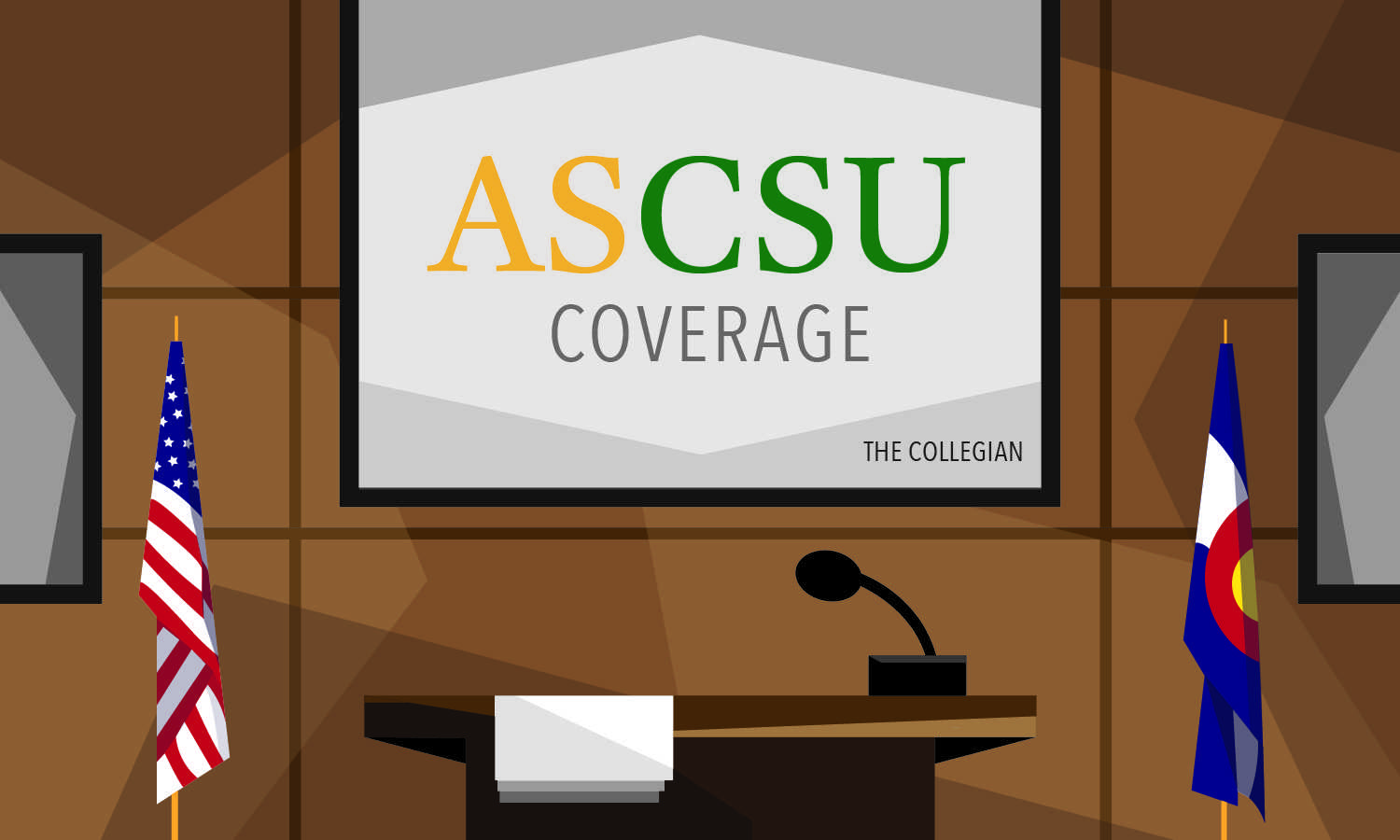 The Associated Students of Colorado State University convened Oct. 13 for their seventh meeting of the semester. ASCSU swore in two new senators, ratified new members to the Student Fee Review Board and the Board For Student Organization Funding and passed Resolution 5102 and Bill 5103. 
ASCSU swore in Noah Burge as a senator for the College of Business and Walter Tulis as a senator for the Student Disability Center.
Director of Off-Campus Life Lindsay Mason also received the Mark S. Denke Service Award, which is given annually through ASCSU. Hannah Taylor, the former ASCSU president, said the award recognizes those in advisory positions who are "not only dedicated leaders themselves but they are ones that contribute to the growth of others."
"During my time working with Lindsay (Mason), I found that she is the type of adviser that will support you through giving you guidance, resources and opportunities for collaboration, who will also empower students to take the lead," Taylor said. "Lindsay is an advisor that genuinely cares about student's input being taken seriously."
ASCSU also held elections for SFRB. One of the candidates, Stephen Laffey, is a first-year student studying economics, part of the dean's leadership council for the College of Liberal Arts, a senator for the College of Liberal Arts and serves on the 4-H Leadership program for the county.
"I really hope to … gain experience and help provide a means for our constituents, our peers really, to be represented in how their fees are allocated," Laffey said. "And I really relish that opportunity to grow in service, providing CSU students with that pathway to representation."
Uriel Diaz, the other candidate for the SFRB, is a third-year student studying psychology with minors in Spanish and business. He is also the accountant for ASCSU and works with El Centro and Rams Against Hunger on campus.
"I just want to get a more general knowledge on the whole process on where our student fees go, … and that way I can help others be heard and not just ASCSU members," Diaz said.
Both candidates were unanimously ratified and sworn in.
ASCSU also approved candidates to BSOF. According to the Office of Finance's website, BSOF allocates a portion of the ASCSU student fee to student organizations for programming as well as fundraising for student organizations. 
Candidates included Nicholas DeSalvo, Grace Newman, Jillian Cook, Sydney Ziegler, Senator Samantha May, Senator Brandon Baum, Recruitment and Retention Officer Ben Torres Doxey, Speaker Kyle Hill and Women's Caucus Chair Treasure Morgan.
"Whether I agree with the organization's purpose or not, it's about what they're doing, the event they're putting on and where that money is going," DeSalvo said. "With that in mind, I think it'll be a lot easier for me to be fair and equitable to each organization requesting funding."
All candidates were unanimously approved.
Later, ASCSU voted on Resolution 5102, "Endorsement of Ranked Choice Voting." The resolution, which passed with 19 votes, was to show that ASCSU approves of implementing a ranked choice voting process for executive elections. According to the resolution, ASCSU will move forward with enacting ranked choice voting before March 2022 by working with Attica Voting developers and CSU Tech staff to create a functional platform.
ASCSU also voted on Bill 5103, "Maximizing ASCSU's Potential with the Business and Non-Profit Community." This bill seeks to add a new position, ASCSU business and community liaison, to the executive job descriptions. The bill passed unanimously with 23 votes.
Piper Russell can be reached at news@collegian.com or on Twitter @PiperRussell10.