UPDATE: All names of those killed in Aurora shooting released by coroner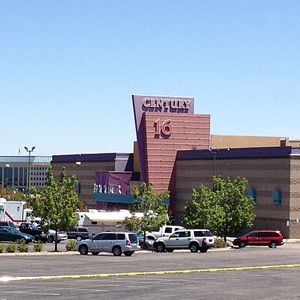 Update July 21 6:10 p.m.
The names of the 12 people who were killed in Aurora's Century 16 theater early Friday morning have been released by the Arapaho county Coroner. According to 9NEWS and confirmed by CNN, the victims are:
Veronica Moser-Sullivan, 6
Micayla C. Medek, 23
Alex M. Sullivan, 27
Jessica Ghawi, 24
Navy Pertty Officer 3rd Class John Thomas Larimer, 27
Matthew R. McQuinn, 27
Alexander "AJ" Boik, 18
Rebecca Ann Wingo, 32
Gordon W. Cowden, 51
Alexander C. Teves, 24
Jonathan T. Blunk, 26
Air Force Staff Sgt. Jesse E. Childress, 29
Update July 21 3:00 p.m.
According to official statements at a press conference police have gained access to suspect James Holmes' apartment after detonating or disarming a number of improvised explosive and incendiary devices.
"This apartment was designed to kill whoever entered it," said Aurora Police Chief Daniel Oats, and was described as an "extremely dangerous environment" by Jim Yacone, an FBI special agent.
"We ask for your patience, and with professionals putting themselves in harms way as we speak, our hearts are with them," said Yacone, "the threat [in the apartment] has not been completely eliminated, it has been significantly reduced."
The explosives in the apartment placed both law enforcement and civilians in immense danger. "We sure as hell are angry" said Oats.
According to Oats, the suspect has received an extraordinarily high volume of packages over the past months, most likely containing the weapons, ammunition, and explosives Holmes used and showing what Oats calls "evidence of calculation and deliberation."
"With regard to the theater, the major crime scene, we have completed a search of that area for further threats and there are none," said Oats. Control of the theater and the area around it is likely to be returned to the owners around Wednesday.
Dr. Michael J. Dobersen, the Arapaho County Coroner, will release the names of the victims at his discretion, probably this afternoon.
Update written by John Sheesley
Update July 21 1:30 p.m.
The Aurora police department released the following update to the status of gaining entry to Holmes' apartment on the
City of Aurora website
:
We have been successful in disabling a second triggering device through a controlled detonation.
Although NOT certain – we are hopeful we have eliminated the remaining major threats.
However, we will not know for sure until we enter the apartment.
Many hazards remain inside. We will continue to be at this location for hours collecting evidence and mitigating those hazards.
In the event that more triggering devices are found, there is a possibility of more controlled disruptions to occur.
Official updates will continue to come through our twitter account (@aurorapd).
More information on today's operation on Paris Street will be addressed at the 2:00 pm.
Victim information for families may be obtained by calling  303-739-1862. Any information about the shootings should be given to Crime Stoppers at  720-913-STOP or emailed to theatershooting@auroragov.org
Anyone offering food donations should call 303-739-6346. This is not for monetary donations. Thank you for your generosity.
Update July 21 11:40 a.m.
The names of six of the 12 people who were killed in Aurora's Century 16 theater early Friday morning have been released. According to the Aurora Sentinel the victims include:
Veronica Moser, 6, Micayla Medek, 23, Alex Sullivan, 27, Jessica Ghawi, 24, John Larimer, 27, and Matt McQuinn, 27
This list will be updated as more names are released.
Update July 20 12:24 p.m.
9news reported that Holmes' initial court date will be 8:30 a.m. on Monday. He will not be eligible for bond.
Update July 20, 12:21 p.m.
According to Oates, the first 911 call came in at 12:39 a.m. and the police responded and apprehended the suspect within a minute and a half. Holmes was apprehended outside the theater's back door near his white Hyundai and surrendered "without any significant resistance" according to Oates. He used an AR15 assault rifle, Remington 87 shotgun, and two .40 caliber Glock handguns.
There will be a staging area for victims and their families at Gateway High School.
Aurora Mental Health will remain open 24 hours a day for the weekend, according to Aurora District Attorney Carol Chambers. A hotline has been established that people needing help can call at 303-617-2300.
Police reported that the mall adjacent to the movie theater will be closed for the day in the interest of cooperation with the police.
Update July 20, 11:56 a.m.
Aurora Police Chief Daniel Oates reported at a press conference that 71 people were shot and 12 people died. Ten people died in the theater while two passed away later at area hospitals.
Update July 20 11:49 a.m.
At a press conference in Aurora, Colorado Governor John Hickenlooper expressed his condolences for the victim and said that the community will pull together.
Colorado is a state that has always come together and supported its community.

We will come back strong than ever from this, although it's going to be a very hard process.
Update July 20 11:45 a.m.
The University of California Riverside posted that Holmes graduated from UCR in the spring of 2010 with a bachelors degree in neuroscience. He attended the university from 2006 to 2010.
Update July 20, 11:37 a.m.
Current CSU sophomore wide receiver David Anderson was also in the theater during the shooting and posted a video in response to what he saw.
Update July 20, 11:15 a.m.
There will be a vigil tonight at the Aurora Municipal Center tonight at 7 pm for those wishing to honor the victims, according to a report in the Aurora Sentinel.
Update July 20, 10:42 a.m.
One of the victims confirmed dead was Jessica Ghawi, a sports broadcasting intern for 104.3 The Fan in Denver.
Chris Bianchi of Mile High Sports wrote a Remembering Jessica post that is featured heavily on the station's website.
There are no words to express our collective sadness at the loss of Jessica and the rest of the victims so tragically taken from us. We've lost a friend way too soon.
Update July 20, 10:25 a.m.
A Colorado state football recruit was wounded last night in the Aurora theater shootings.
The Westword  has reported that:
Many Gateway High School football players were at the midnight screening of The Dark Knight Rises a the Aurora Century 16 when shooting broke out. Fellow players say Zack Golditch, a star CSU recruit, was among the wounded."
Update July 20, 9:94 a.m.
CBS reported that police say Holmes'apartment was booby trapped with 'highly sophisticated' explosives, and subsequently evacuated five surrounding buildings.
Aurora Police Chief Dan Oates says bomb technicians are determining how to disarm flammable or explosive material in the third-floor apartment. He says police could be there some time.
Update July 20, 8:51 a.m.
At 12:39 a.m, dozens of 911 calls were made to police reporting a shooting in an Aurora, Colo. movie theater. The Denver Post reports:
About 50 people were shot — 12 fatally — early Friday when a gunman opened fire at an Aurora movie theater during a premiere showing of the new Batman movie."
It was early reported that 14 were confirmed dead, but the number has been changed to 12.
CBS News adds to the chilling details:
The information speaks. He walks into the theater at 12:30 a.m, he has an AK-47, he has a shotgun, he has a handgun. He is dressed completely in black in tactical gear…what you see here is, is indications of  an awful lot of pre-planning, preparation and research that went into this… "
"He" is suspect James Holmes, 24, who was found behind a car in the parking lot of the theater and was arrested.
CSU President Tony Frank responded to the shooting in an email to university personnel. He said:
All of us are horrified and saddened by last night's shootings in
Aurora, and our hearts are with the families and friends whose lives
have been shattered by this senseless act. If any members of our
campus community have been directly affected – or if you simply need
help processing this tragedy –  please know that we have counseling
and support services ready and available. Let's all take time today
to think of those who were lost and those still fighting for their
lives. Take care of each other.

-tony
National news sources are already connecting this deadly attack with the Columbine shootings. As The Huffington Post UK mentions:
Aurora is less than 20 miles from Columbine High School, where 13 people were killed in a shooting carried out by senior students Eric Harris and Dylan Klebold in 1999."
FOX News talked with witness Darrell Wilmoth, who mentions how many young people were in theater 9 at the time of the shooting:
The sad part is the majority of the theater was kids. It was just, crazy,' he said. 'My concern was just, getting those kids that were injured up to the ambulances. And praying. That's what I'm doing now, praying for those kids that were injured.'
By Michael Elizabeth Sakas
Related articles