Fort Collins band SHEL raising money to finish debut album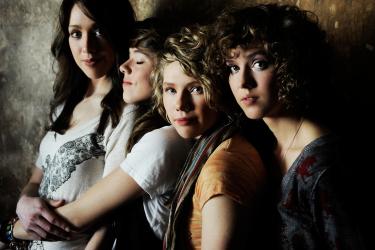 Sarah, Hannah, Eva and Liza Holbrook grew up in musical household in Colorado, forming their group SHEL (a combination of the first letter of each of their names) in 2005.
Here's more about them from the group's website:
"SHEL is… four classically trained musicians who happen to be sisters ranging in age from 18-23. From the artist colony of Fort Collins, Colorado, SHEL is sophisticated and youthful, emotional and lighthearted, classic and eccentric."
While recording their debut album, the girls unfortunately ran out of money. You can hear what they have so far on their music page.

They've started a
Pledge Music campaign
, hoping offers of homemade cookies, signed posters and custom top hats (among other creations) for fans that donate will raise enough money to finish their album.
Their letter to supporters reads:
Dear World,
We're so pleased to tell you that we are working on our very first full length album. We've already recorded a few tracks in Nashville, and we think they sound smashing! The excitement we feel, simply cannot be expressed in English. Probably we could express it in Finnish, but we don't speak Finnish, so really we can't express it with words at all. The only way we might be able to show is through song. If you have pledged you will get to witness first-hand all of the excitement the sisters SHEL have built up in their tiny hearts the last few months.
In all truth, we just can't do this without you! Pledging will not only get you something awesome (ie. homemade cookies, stylish top hats, fancy lanterns, the album on vinyl…), but it will also open up a whole new world (don't you dare close your eyes!). You'll get exclusive access to videos, advances of the album tracks and more!
Thank you for pledging and may the odds be ever in your favor- I mean…. We hope your day is most fantastic!
Yours truly,
SHEL
There are 18 days left for them to reach their goal, of which 66% has already been made. Good luck ladies!
(below: video from SHEL's Pledge Music page)