CSU volleyball goes 3-0 in MW, sweeps Border War
Tyler Meguire
September 29, 2021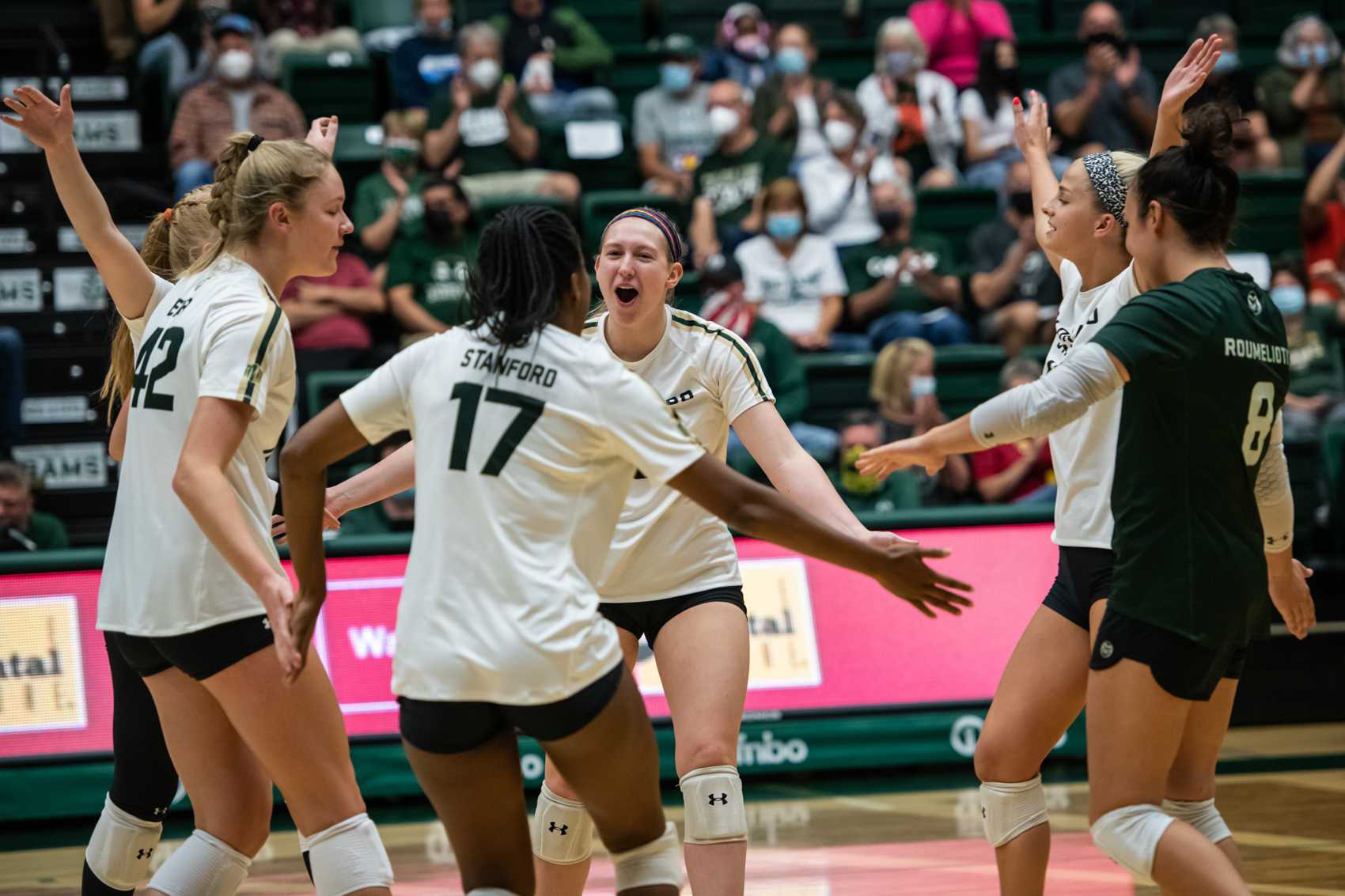 The Colorado State Rams volleyball team knocked the University of Wyoming Cowgirls off their saddles last night for the annual Border War match. 
CSU entered this year's Border War with a two-game winning streak at stake. After a dominant performance, the Rams left Moby Arena extending those streaks, adding their third sweep in a row and fourth of the season. 
The Rams (7-5) hosted the Wyoming Cowgirls (8-7), and with an attendance of 2,500, fans were ready to see CSU's most historic rivalry. Prior to Wyoming, CSU swept its first two Mountain West opponents, Boise State University and Utah State University. Before MW play, the Rams were sitting at 4-5, worrying their followers. 
It is safe to say the Rams turned things around at the beginning of conference play. After Tuesday's aggressive performance, the Rams have now won nine straight sets.
A key leader in the Rams turnaround has been Kennedy Stanford. The sophomore outside hitter earned Mountain West Offensive Player of the Week, Stanford's first career weekly award.
𝙱𝚘𝚛𝚍𝚎𝚛 𝚆𝚊𝚛 frames 📸

📷 https://t.co/LlGzSyM5CU pic.twitter.com/RyzQ0i3R4E

— Colorado State Volleyball (@CSUVolleyball) September 29, 2021
Set one
The match got going similarly to the rest of the matches in CSU's run — both teams were unwilling to allow the other to get ahead in set one. However, it did not take long for the Rams to pull away from the Cowgirls. Midway through the set, CSU went up 11-10. After a few plays and errors made by Wyoming, the Rams found themselves up 15-12.
Then, just a few points later, the Rams extended their lead 21-16. After Wyoming scored two consecutive kills (21-18) — making the crowd wonder if there was going to be a first set comeback — CSU scored four straight to win the set 25-18.
Set two
Set two did not get interesting until late in the round. CSU was scoring in bunches, scoring three or more consecutive points three times for a lead of 21-9. The Cowgirls found some momentum after this score to cut into the deficit; however, CSU closed it out 25-17.
Set three
About midway through the third set, it seemed like Wyoming was ready to cut the cord on the sweep streak. Both teams were scoring at will and were all evened up at 11. The Rams scored four consecutive points to go up 15-11. Still hanging on by a thread, the Cowgirls stuck with the Rams, finding themselves down 19-18.
The Rams, however, have been able to put some points together late to close out matches — and this one was no different. CSU scored four straight to extend the lead 23-18 but still had Wyoming lingering around. After the Cowgirls tried to make things interesting, the Rams completed the sweep with a final score of 25-22.
CSU earned its 24th straight win against Wyoming with the sweep.
The streak continues… 2️⃣4️⃣#PointRams pic.twitter.com/jizI2TNlVJ

— Colorado State Volleyball (@CSUvolleyball) September 29, 2021
"We have embraced the fact that serving is our biggest weapon of disruption," coach Tom Hilbert told csurams.com. "We do it well, and we're consistent. Now we have a three-match road swing. If we can do that on the road too, I feel real good about where we're at."
Kills: Annie Sullivan (14)
Aces: Ciera Pritchard and Alyssa Bert (2)
Blocks: Karina Leber (5)
Assists: Pritchard (28)
Digs: Alexa Roumeliotis (14)
Points: CSU 54.0 – Wyoming 43.0
Kills: CSU 41 – Wyoming 36
Aces: CSU 5 – Wyoming 4 
Blocks: CSU 8 – Wyoming 3
Assists: CSU 36 – Wyoming 32
Digs: CSU 40 – Wyoming 43
The Rams head to California on Thursday to face California State University, Fresno, for their first conference away game.
Tyler Meguire can be reached at sports@collegian.com or on Twitter @TMeguire.