Cornelius: Thank you, Collegian, for the best experience of my life
Editor's Note: Traditionally, graduating seniors working at The Collegian are given the chance to write a farewell note at the end of their tenure at CSU.
For the past five years, working at The Rocky Mountain Collegian has been something I've loved doing more than anything else in the world. At some point during their career, every photographer feels like they have mastered photography. For me, it was my freshman year, when I first joined The Collegian. The second I stepped foot into that meeting, I was immediately humbled. Everyone there had been taking photos for at least five times as long as I had. I realized I still had a long way to go.
That moment has driven me in every single thing I have done here. Anytime I am out on assignment, I am always thinking about how my visuals can give the reader a glimpse into the life of my subject or even a view into my mind at the time. I always want my visuals to allow people to really get into a story and feel the emotions that my subjects and I are feeling.
"This year has been the best one of them all. Seeing our editorial staff grow into the journalists they are now has truly been an incredible experience."
I have this burning passion to make every shot amazing, and that passion really bonded with The Collegian itself.
I never wanted to be in management, but making the leap to photo editor and then to photo director would change that for me. It really sparked my love for the paper as a whole. When I became photo director, my passion moved from being just about photojournalism to making The Collegian the best it could be. I began campaigning for a new website, making changes to our workflows, really pushing for more visual variety in our photos and more visuals in our paper as a whole.
I loved every minute I spent working. It didn't matter if I was in Las Vegas shooting a basketball tournament or if I was at home reading through thousands of lines of HTML to find the one that was affecting the styling of a breakout box on our website — everything I did was fulfilling. In my final year here, I became digital and design managing editor, and I was ready for the challenge.
I've poured my heart and soul into this paper as we have fully transitioned from a rigidly styled daily to a fluid and colorful alt-weekly. This year has been the best one of them all. Seeing our editorial staff grow into the journalists they are now has truly been an incredible experience.
Watching Falyn Sebastian lead the design department into uncharted territory with our page layouts and designs all while being able to take taking my god-awful sketches of the cover and turn them into something people would actually want to read and look at (trust me, they were bad) is something that I will never forget.
I have to thank Jake Sherlock for being the main advisor for not only The Collegian but the entirety of Rocky Mountain Student Media Corporation — his passion for journalism and for the students that work here is something truly amazing, and I'm not sure where any of us would be without him. I have grown so much as a leader and am editor this year in large part to Jill Mott and Luke Bourland, who have always pushed me to get creative with how we use visuals and what we use visuals for.
I would not be able to do my job without the support of Katrina Leibee and Serena Bettis. They are the most dedicated and passionate people here. I have watched them work tirelessly this entire year to ensure we are always doing our duty as journalists by reporting on news and stories that are accurate and important to the Colorado State University community. Nobody has worked harder than these two have, and I have loved every argument, every laugh and every production night I have spent with them.
I am indebted to The Collegian and all of the people I have worked with over the years; I will never forget my time here.
Thank you for the best experience of my life.
Devin Cornelius was the digital and design managing editor and can no longer be reached a managingeditor@collegian.com but can be reached on Twitter @devlyThings.
Leave a Comment
About the Writer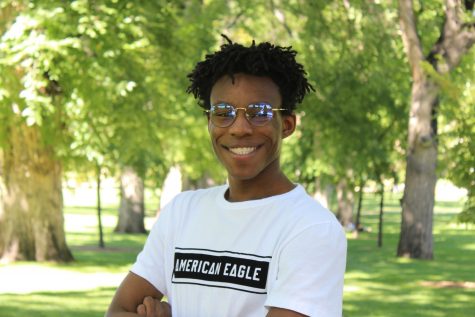 Devin Cornelius, Digital Managing Editor
Devin Cornelius is the digital managing editor for The Collegian. He is a fifth-year computer science major from Austin, Texas. He moved to Colorado State...