DFW report shows some classes challenge, hold back students
Laura Studley
October 21, 2019
Some courses have developed infamous reputations for being the hardest courses at Colorado State University, according to students. 
This can be seen through the trends of the D/F Unauthorized Withdrawal Report, which illustrates the courses that students received either a D or F in or withdrew from without authorization from the University. 
"It is important to recognize that there are many causal factors involved," wrote Kelly Long, vice provost for Undergraduate Affairs, in an email to The Collegian. "I want also to be careful not to conflate 'hardest' courses with those that have the lowest average grades or higher rates of students failing to meet expectations."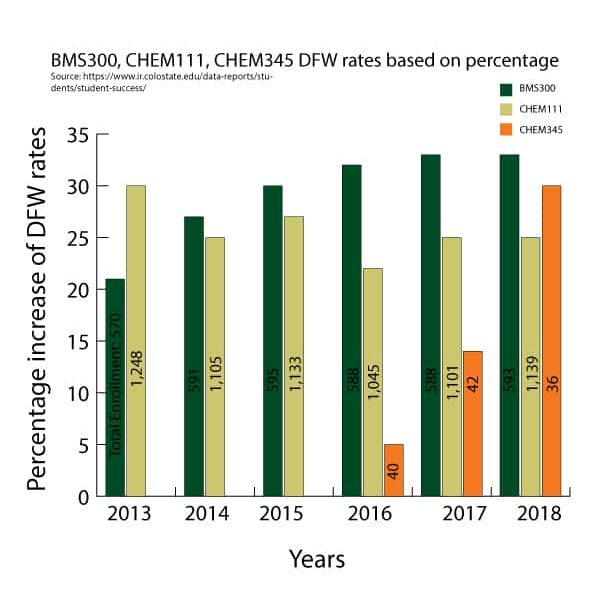 Biomedical Science 300 has a consistent increase in DFW rates since 2013. Chemistry 111, general chemistry one, has seen mostly consistent rates of students receiving low grades or withdrawing since 2013, and Chemistry 345, organic chemistry one, saw a drastic jump from 2016-18.
"There may be variation between sections of the same course, with some having higher DFW rates than others of the same course," Long wrote. "Does that mean the course is hard, or does it indicate something else?"
Long also asks students to consider that some courses are more difficult because students have few opportunities to demonstrate their learning, shown by the total course grade consisting of few high-stakes exams. Does that make the course hard, or are the assessment tools inefficient for helping students show and assess what they are learning?
"(BMS 300) was probably the hardest class I've ever taken at CSU, but I absolutely loved it," said Elise Parker, human development and family studies major. "(John Walrond) has a super unique way of teaching where he tells a story for every lecture. Being able to piece together the story, make sense of it and then (being) able to apply it to his test questions just took a lot of energy and effort."
As an MT major, I have some background science knowledge but not enough or as in-depth as they expect you to have in this class. I only need a 60% to pass the class and haven't even been able to do that." -Sierra Dunn, music therapy major
BMS 300 is a course that requires big-picture concepts and analyzing why things happen a certain way as opposed to only knowing facts, said zoology major Abby Johnson.
"The class itself is one of my favorites because it challenges you to think in a different way than most courses do," Johnson said. "Walrond explains all the stories and why things happen by drawing on the board. He doesn't try to trick you. He just wants you to understand causes and effects."
Sierra Dunn, a fifth-year musical therapy major, has taken BMS 300 four times. It is one of the main reasons she has had to stay at CSU an additional year and take out a student loan.
To access the DFWU Report, go to CSU's student success website, click "course grades" and then enter your eID.
Dunn knows of only two peers who have passed the class the first time around. There is no structure or supplemental material for practice besides the quizzes, Dunn said. 
"I really wish I liked this class, but as a normal student with a part-time job and other priorities in school, I am frustrated and upset that it has come down to this," Dunn said. "As an MT major, I have some background science knowledge but not enough or as in-depth as they expect you to have in this class. I only need a 60% to pass the class and haven't even been able to do that."
According to Dunn, BMS 300 provides extra credit opportunities consisting of either online or in-person tutorials and after-lecture quizzes, which are only worth 0.1 points each if students get all five questions correct. The average for every exam is a score of 60-70%, Dunn said.
"What is so difficult about the class are the tests, which are the only grade(s) besides a little extra credit," said health and exercise science major Corie Wachter. "The tests are much more about application. (They) are very similar to (medical college admission test) questions. The only saving grace is that there is a curve added." 
Though these classes have proven difficult for students, there are resources available for students to get help on course material. The Institute for Learning and Teaching provides tutoring for biology, math, physics and chemistry. Students can also visit the Chemistry Learning Resource Center and the PACe Learning Center among other academic support resources. 
"We have many extremely challenging and rigorous courses across the curriculum in which students as a whole do very well," Long wrote. "These courses would be labeled rigorous, hard and demanding by students. They might also note a number of strategies in the courses that are enacted by instructors or by themselves to make success happen." 
Laura Studley can be reached at news@collegian.com or on Twitter @laurastudley_.