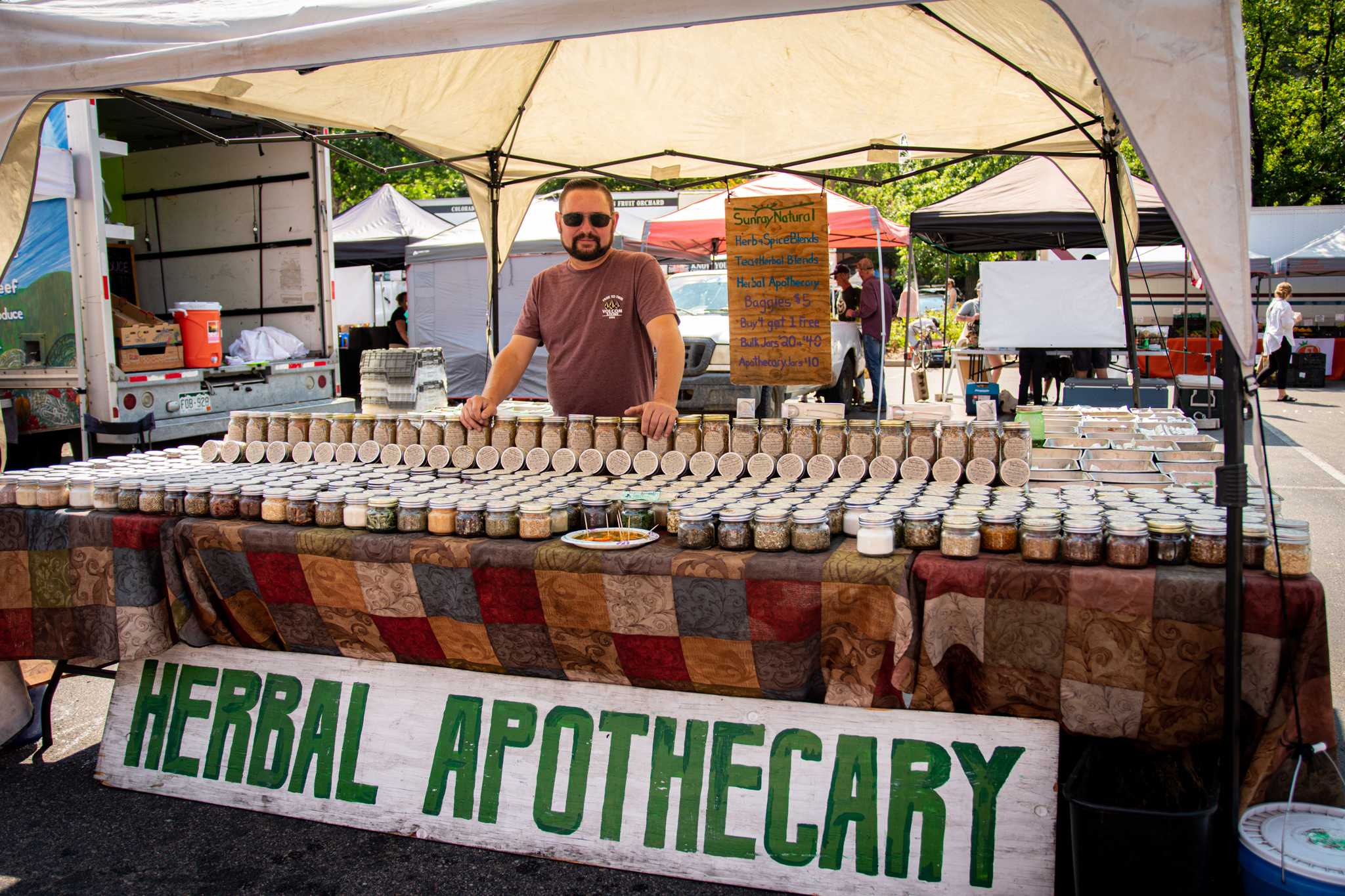 Meet the duality of Fort Collins — traditional architecture and modern structures, longtime residents and 4-year-university students and activities for both the homebodies and the outdoor enthusiasts. Yet one thing is everlasting: the mass of small businesses and passionate locals.
Farmers markets provide local businesses, particularly farmers and other natural food suppliers, opportunities to sell their goods directly to consumers while networking with people either involved with or interested in small business. This is also, as evidenced in my experience, not exclusive to farmers.
I had not been to a farmers market until this past weekend, so I headed out with some friends and went to the Fort Collins Farmers Market on Drake and the Larimer County Farmers Market. One downside was there were only a handful of occupied tents on Drake and not a large crowd. However, there's one theme you quickly notice — farmers market vendors care deeply for their jobs.
Cake Escape Bakery is a home business owned and operated by Nicole Ehrlich, who said she wanted to do something she loved when she started in May.
"Working for someone else, it's easy to be unhappy with the way they run things," Ehrlich said. "Working for yourself, you understand yourself in a much better way and (how) to be happy."
This creative endeavor surely paid off — when sampling pumpkin bread, the moistness and flavor skyrocketed me out of early September and straight into the cozy arms of autumn. I also bought a slice of blueberry coffee cake with such a unique and welcoming flavor, I'll probably end up going right back.
Under the still, hot sun and blindingly white tents were also Palisade Peaches, Miller Farms, Cracked Bean Coffee Co. and Whiteside Honey Company LLC. 
It's this kind of passion and dedication to work that makes up the heart of farmers markets."
On the other hand, the Larimer County Farmers Market was almost so overwhelming in capacity alone that it made me wonder why I hadn't gone there first. Over 20 multi-colored tents filled the concrete outside the Larimer County Courthouse Offices, and a substantial group of people there were enjoying the splendors of local business, from abundant farm-fresh produce to chocolate truffles to succulents to authentic tamales.
There was also a business that caught my attention: lovelevel jewelry. With a small tent operated by co-founder Stacy King, lovelevel produces handmade birch wood jewelry sealed in beeswax, no chemicals involved.
"I'm really inspired by nature," King said. "I love lightweight jewelry. … I love attending farmers markets, supporting local — local and small."
The earth influence as well as the handmade charm is clear in the array of beautiful wooden earrings and necklaces shaped like leaves, flowers, moons, suns and creative geometric designs with small gems. 
Across from lovelevel was a large tent for Sunray Natural Farm, a family-owned herbal apothecary run by Josh Hillhouse, with an undeniably impressive and colorful collection of herbs and salts in Mason jars.
Over the first few years of operation, the Sunray garden grew from "reasonable to crazy," so they found farmers markets and started selling their abundance, and they've been at markets for about eight years, according to Hillhouse.
"We want to help our community get healthier," Hillhouse said, motioning to two large folding tables covered in plastic bags of hand-picked herbal combinations for teas, such as a Dream tea with chamomile, valerian, lavender, cinnamon and much more.
"I'm a huge fan of watching the tiniest seed turn into 50 pounds of food," Hillhouse said. "(I) got 'nerded out' on the whole gardening thing."
It's this kind of passion and dedication to work that makes up the heart of farmers markets and the local businesses that find their community and benefit there. It's also just a heartwarming environment, businesses aside — there are dogs, a bubble machine and someone singing "fresh farm produce" as they walk by.
In addition, this was, in my opinion, the best first-time farmers market experience I could have gotten. Fort Collins is a town of small businesses, and I firmly believe in supporting them over the unsustainable conglomerates. And of the places I gladly purchased from, never did I receive anything less than a smile.
As usual, farmers markets occur seasonally. Both of these markets are open Saturdays from 9 a.m. to 1 p.m., and the Larimer County Farmers Market specifies its end on Oct. 30.
Renee Ziel can be reached at entertainment@collegian.com or on Twitter @reneeziel.