Students raise oppressed voices with R.E.D Zine and mixtape
Lauryn Bolz
April 28, 2019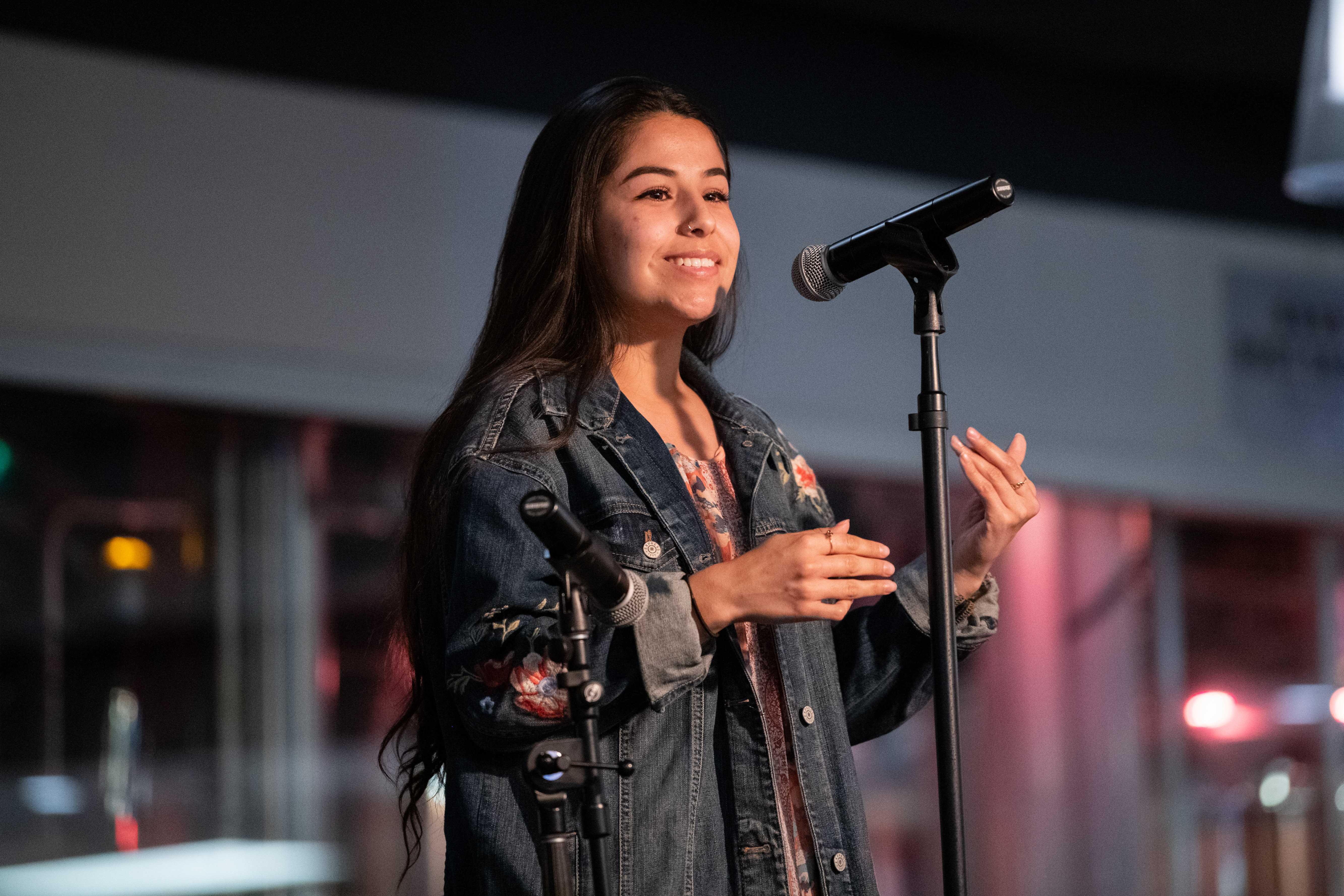 The fourth edition of R.E.D. (rebel, empower, dismantle) Zine, released in conjunction with a mixtape, aims to strike down oppressors and lift underrepresented voices on campus.
A release party was held on April 24 at the Ramskeller to celebrate the hard work that was put into both the zine and mixtape. Musicians, poets and artists featured in this year's editions performed and spoke about their experiences that inspired their art.
Organized by the Red Whistle Brigade, the R.E.D. Zine is an anti-oppression mini magazine that supports student voices through different mediums of art.
"This is one of our most diverse zines ever," said co-editor and cover artist V Bellinger. "We have people who have submitted their art, their poetry, and we have people who have submitted edited photography. There's a lot of great stuff in there."
The zine started as a creative space for survivors of sexual assault, but last year submissions were opened to anyone on campus who feel the weight of oppression in their everyday life.
"We don't talk enough about the things people go through when it has to do with racism, sexism, ableism, and all those -isms. – V Bellinger, co-editor and cover artist for the R.E.D Zine
"We felt like it was just too linear," Bellinger said. "We would get a lot of submissions that didn't have to do with survivorship, and it felt weird to turn them down or say they couldn't be in the zine because they weren't survivors."
Since expanding the theme for the zine, Bellinger feels that they can cover a wider range of issues that affect CSU students, on campus and out in the world.
"For me as a person of color at CSU, I think (CSU) is basically a microcosm of America, we like to think that nothing is wrong, but under the surface there's a lot of things wrong," Bellinger said. "We don't talk enough about the things people go through when it has to do with racism, sexism, ableism and all those -isms. So we give people a space to submit the things that they made for themselves in collective with other people sharing their stories with the rest of the campus."
By keeping the submission guidelines so open, R.E.D. allows students to share their voices and experiences in any way that they feel comfortable. Keiko Friar, an interdisciplinary liberal arts major, has found that they can best share their experiences with their mental health through poetry.
"I feel like poetry conveys feeling a lot better and doesn't have to fit within grammatical conventions," Friar said. "It breaks away from the colonial, proper english we're taught."
When Friar was asked by a member of the Red Whistle Brigade to submit their poetry, they pulled from their archive, which had mostly remained private. Friar read their poem "Ideations" at the release party. It was only the second time they had read live.
"I wrote ('Ideations') when I was really depressed," Friar said. "Poetry is really important to my healing process."
In conjunction with the zine, the Red Whistle Brigade also released a mixtape that featured a collection of diverse student voices. The mixtape was organized and produced by Red Whistle Brigade member Peter Constas.
"I'm super into music, and I thought I could bridge my passions for social justice and music through this project," Constas said. "Music is such an important medium for this kind of stuff. Some things that you want to say about a certain experience can't be expressed through the written word."
To create the mixtape, Constas reached out to his friends in the music community that inspired him.
"Fort Collins has an amazing music scene," Constas said. "I got in touch with all the artists I thought would be awesome for this mixtape. I know a lot of them very personally, and when I hear their music I'm enthralled by it. The folks that are on this mixtape really have something to say, and it's been a privilege to provide a way that they can say what they want to say."
The zine and the mixtape create a diverse body of artistic work that support and uplift people that face oppression at CSU.
"We say we want to uplift your voice about anything in your life with something that has come from you," Bellinger said. "Art as a medium, no matter what genre it is, is important to share because it is a way for us to get to know the students on our campus without having to have those difficult conversations. By putting that art into a zine that is now being put out into the world they have the possibility of impacting or connecting with another person."
Lauryn Bolz can be reached at entertainment@collegian.com or on Twitter @LaurynBolz.