11 Oscar Party Appetizers that Deserve an Award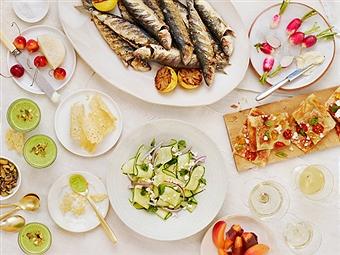 The 88th annual Oscar Awards are right around the corner, and according to an article in Bustle, it's time to start planning. The decorations are easy and so is the guest list. However, you may be having issues planning out what you will have on your menu. Do not fret, dear friend. This article includes a list of amazing appetizers that are sure to wow your guests. The food will definitely be the main topic of conversation at your gathering. So, why not make your neighbors jealous of your amazing cooking skills? Hop to this list:
Beef and Horseradish Crostini. This recipe comes straight from The Kitchen Alchemist cook book. The juicy, tender beef will be a huge hit with meat-lovers.  That, mixed with the creamy horseradish and crunchy crostini, will have taste buds watering.
Spicy Goat Cheese and Butternut Squash Triangles. This recipe comes to us from the Adventures in Cooking blog. The hors d'oeuvre is perfect for guests with a vegetarian diet. It also sounds fairly fancy, so the stars have to be eating something similar to it, right?
Easy Soft Pretzels. This recipe comes straight from The Comfort of Cooking, and I do not think it's any secret why. Pretzels are the ultimate comfort food, and it would be silly to want your guests to feel anything less than comfortable. Try pairing the pretzels with a yummy fondue!
Butternut Squash and Pecorino Tart with Crispy Shallots. This recipe is a goodie from the foodie blog The Kitchn. If you can't tell by there being fancy cheese and fresh vegetables on a tart, this dish is pretty fancy. Definitely try this recipe out if you're looking to impress your guests with amazing baking skills. You will look like a five-star french pastry chef to them.
Ricotta and Blueberry Toasts. This dish can be found on the blog A Beautiful Mess. These finger foods are the perfect balance between sweet and savory. The thick, soft ricotta serves as the perfect blanket for the sweet, delicate blueberries.  It would be a sin not to try it out at your party.
Easy Chicken Satay. This recipe from food blog Damn Delicious will have your guests appetite satisfied. The protein from the chicken will fill up bellies, and the flavorful seasonings will definitely be a hit. YUM.
For the final five recipes that you should have at your Oscars party, click here.