How Conference Organizers Can Create Better Attendee Experiences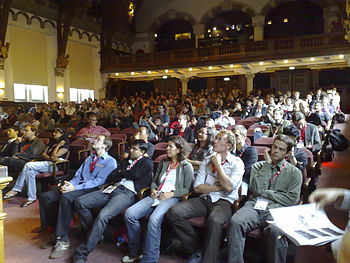 According to an article from Open Source, one of the major things most public speakers struggle with when giving presentations at conferences is making the experience more engaging and enjoyable for attendee's.  Since this seems to be such a common problem, experts have taken it upon themselves to create a detailed outline telling speakers how to make conference experiences better for attendees.
A great place to start with these issues is with these tips:
Creating clear communication.  Under communicating with listeners is often the downfall of speakers, but one can never communicate too much to an audience.  Take the time to explain things in depth and really let information sink in to the audience.  Doing so will allow for less confusion and time-exhausting questions for the speaker.
Train and delegate the staff.  It's no secret that putting on events is a very detail oriented task, so it's important to delegate each detail to a staff member to be in charge of.  Having just one person carrying the burden of multiple tasks is just setting the event up for an organizational disaster, and attendees will take notice of this.  Once delegating staff, make sure the time is taken to educate them on what their specific job entails.
Have a code of conduct.  Even if no problems have been reported in the past, it doesn't mean they didn't happen.  As nice as it is to believe that every event attendee is a respectful and responsible adult, this isn't always true and this must be considered.  Write out and announce what is considered respectful behavior at the event in order to avoid an uncomfortable situation with an attendee.
Make sure the content suits the expected audience.  Understand the demographics of the audience and make sure the content of the speakers suits their needs.  Don't become to excited about a keynote speaker without first making sure the audience would be just as excited about him or her.  Encourage the speakers to include information that could be more relevant to a wider audience, in order to insure every attendee understands the content of the conference.
Provide a more accessible environment.  Accessibility is the one thing that will make the conference more enjoyable for all your attendees.  This goes past just having elevators and ramps, but also includes different food options for specific diets such as vegetarianism and non-alcoholic drinks.
Click here for the final 5 tips.