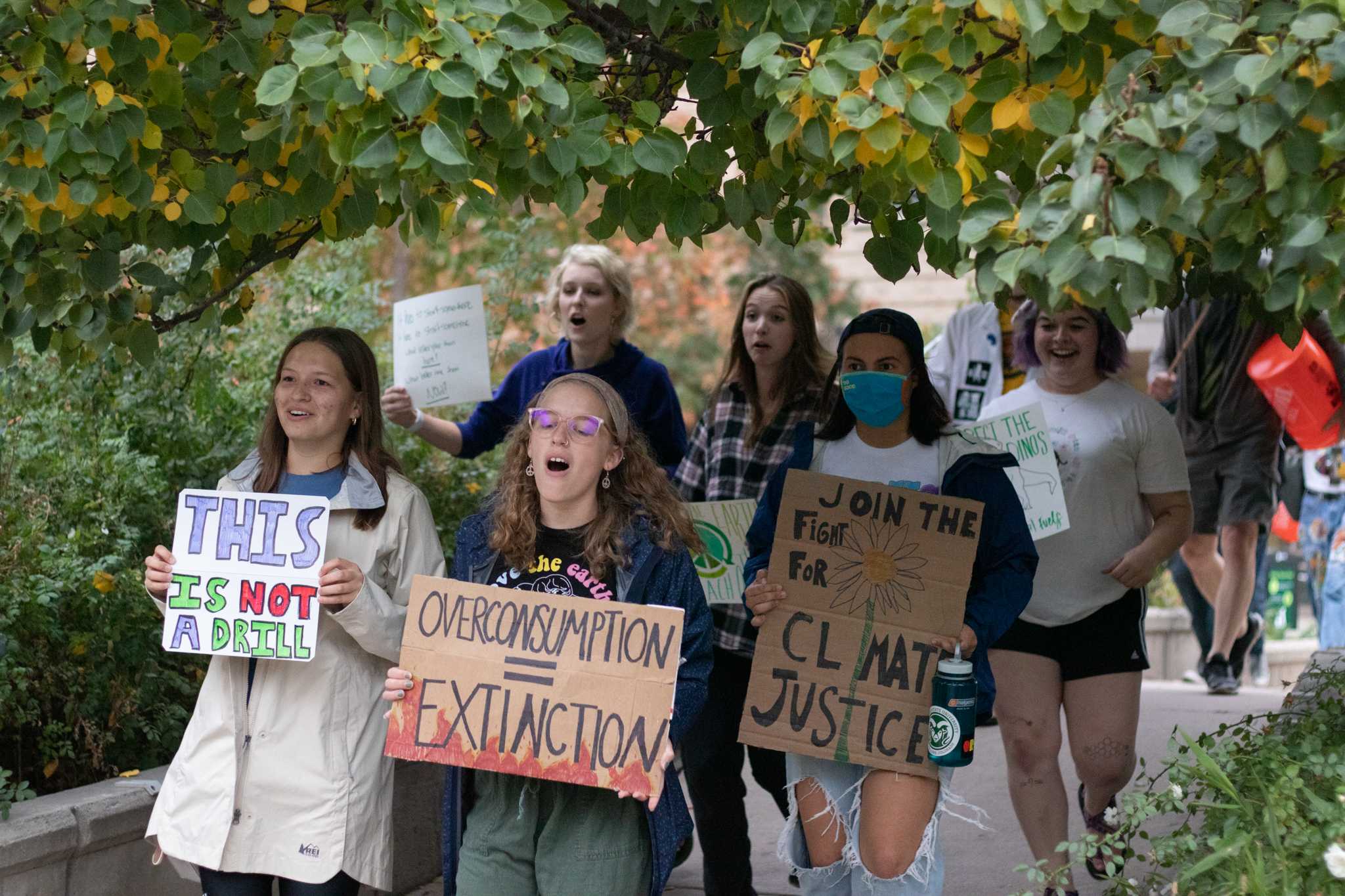 Editor's Note: All opinion section content reflects the views of the individual author only and does not represent a stance taken by The Collegian or its editorial board.
The climate strike that took place on Colorado State University's campus Oct. 8 brought a variety of different causes together under a collective call for systematic change and radical action.
Climate activism is intersectional by its very nature. Rather than focusing on environmental issues alone, climate activism addresses other causes because a vulnerable climate system complicates everything contained within it. Literally nothing on Earth is untouched by a compromised climate.
The protesters clearly understood this. Speakers called for more financial transparency with the CSU Foundation's endowment fund, better pay for workers, cuts in the wages of administrative executives and Indigenous land restoration with reference to the Hughes Land Back movement.
If CSU wants to demonstrate its commitment to social justice, service and integrity, it should respond to the climate strike's demands. Not doing so makes very little sense and would reflect poorly on this impressive institution.
More than anything, protesters emphasized that making connections in one's community is the surest way to enact real change. Ehret Nottingham, a mechanical engineering student at CSU who spoke at the strike, called this "relational organizing."
"The only way anything changes (is with) us and our connections to our friends and new people we meet," Nottingham said. "It is those grassroots networks that will actually do something."
To back up that truth, Food Not Bombs and Clothe The People, two grassroots mutual aid organizations, were present at the strike. Esme Holden with Clothe The People helped organize the strike and offered food, clothes and hygiene products to everyone.
"If we can't provide for one another, we'll fizzle out," Holden said.
Associated Students of CSU President Christian Dykson attended the strike and acknowledged the University has real room for improvement. Dykson referenced grassy areas on campus that are "ornamental (and) serve no real value" within the context of Colorado's arid climate.
"I would argue that matching up with our actual environment, … (to bring in) native grasses from all up and down the Front Range, … we can do that," Dykson said.
Dykson also said ASCSU applied for a $10,000 grant to go toward the sustainability fund.
The presence of mutual aid groups and Dykson's grant announcement speaks to the kind of action the strike wanted to see. Rather than talk about how important food and clothes are, Holden and her fellow organizers provided it. Rather than talk about sustainability on campus, ASCSU applied for an opportunity to do something about it.
These examples are certainly limited, but imagine if our University, with its national clout and impressive resources, approached issues with a similar determination. 
If CSU wants to live up to its name and become a better example to follow, it should listen to its students and respond to the demands of the climate strike."
President Joyce McConnell's email about Indigenous Peoples' Day reflects the CSU administration's comfort with rhetoric at the expense of real action.
"We have a lot of work to do in addressing issues and priorities that Indigenous people in our own community and across the country have identified as urgent and important," McConnell wrote. "We are doing that work, and we are taking positive actions that will make demonstrable differences."
It's unclear whether this refers to Hughes Land Back, and that is exactly what is so frustrating. Indigenous land restoration and climate change adaptation go hand in hand, so why is the University still avoiding a definitive decision?
Perhaps the University still doesn't understand what the climate strike protesters understood. Social injustices — hunger, land theft, unsustainability, etc. — are not isolated incidents but rather interconnected expressions of a global problem. 
If CSU wants to live up to its name and become a better example to follow, it should listen to its students and respond to the demands of the climate strike. Anything less is hypocritical for an institution with such capabilities and obligations.
Cody Cooke can be reached at letters@collegian.com or on Twitter @CodyCooke17.