Nestled in a picturesque brick building off of Pine Street in Old Town Fort Collins sits Nuance Chocolate, a store dedicated to high-quality treats and the world's largest selection of single-origin chocolate, so named for the beans that come from a single source. 
Founders Toby and Alix Gadd never imagined they would become chocolatiers, and they certainly weren't going for any records when they developed their single-origin chocolates. They were hobbyists following a passion that would soon outgrow their at-home kits and become a beloved staple of the Fort Collins food scene. 
"We sometimes joke that chocolate was our favorite food from very early ages," Toby Gadd said. "In fact, we both have siblings who, on Halloween, would trade us their low-grade chocolate for anything resembling candy at terrible rates: … 10 things of Skittles for one thing of chocolate."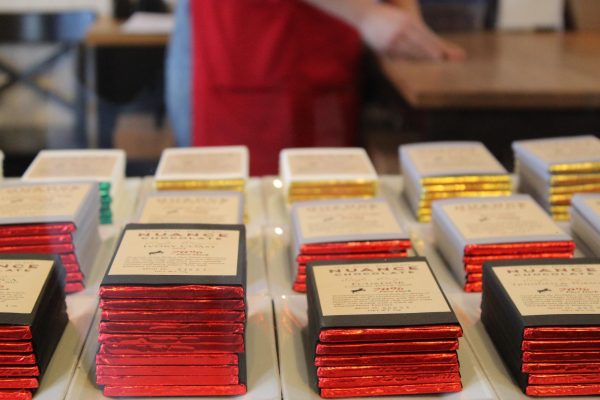 Coming from the worlds of science and marketing, chocolate was always more of a hobby that began to morph into a full-blown business plan after a fateful trip to Costa Rica. Interested in fully enveloping themselves in the culture, the Gadds tend to look for local gems rather than tourist attractions while traveling. 
Driving around Costa Rica, they eventually crossed paths with a small hand-painted sign reading "chocolate museum." It was at the end of this road that the two encountered a man in a Speedo and rain boots with the toes cut off and Kendra, the woman who would become their guide and honorary patron saint of Nuance Chocolate. 
"She took us through the forest and pretty quickly figured out that we like to taste things," Toby Gadd said. "She walked up to this funky-looking tree with big pods on it and cut the pods off and offered to give us a taste. It didn't taste like anything familiar — kind of a tropical fruit and Jolly Rancher kind of stuff. … That was the first time I'd seen a cacao pod." 
The unique flavors of the pod spurred an interest in the process of making chocolate. Upon returning home, the Gadds found a mentor, John Nanci of Chocolate Alchemy, and began to dive into the art of chocolate. 
Their hobby had serious business potential. About a week after Toby Gadd drew up a business plan, they decided it was a worthwhile adventure, opening a storefront in 2014. Nuance Chocolate is named for the subtle nuance found in their products. 
"In Fort Collins, because of the beer culture, there's a lot about chocolate that people already understand," Toby Gadd said. "People know the beer tastes different upon fermentation and different kinds of hops and things like that, so people picked up on it pretty quickly."
Chocolate has the same complexities found in wines and beers, and focusing on single origin brings out those traits depending on how the beans are processed. Each batch of chocolate at Nuance requires 90 hours of processing and endures meticulous testing and experimentation from both Alix and Toby Gadd. 
Focused on single-origin chocolates and their unique flavor profiles, the pair unwittingly accumulated a selection of chocolates that rivaled others in the bean-to-bar industry. Now with 21 to select from, Nuance at one point claimed 23 single-origin options.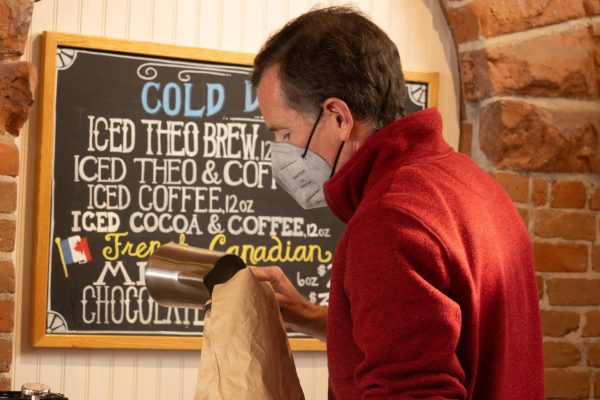 While their artistic accomplishments are noteworthy, Toby and Alix Gadd value more than just the flavor of the beans they work with; they also want to produce an ethical and sustainable product.
"Most industrial chocolate is harvested with child slave labor and is a terribly unethical thing to use," Toby Gadd said. "And of course, we are not going to buy those kinds of beans. Everything is ethically and sustainably sourced. It's a very, very big part of what we do here."
Nanci, Toby Gadd and Alix Gadd share the ideology that in order to make something good, others shouldn't come into harm's way. Because of that, they make extra effort to ethically source cacao beans. Toby and Alix Gadd look to experts in the area to determine which beans are ethical rather than traveling and confirming themselves. 
"If you drop me in a place like the Ivory coast, I have zero cultural awareness," Toby Gadd said. "So they could literally take the kids away, they could go to a different plantation, they could blow smoke all day long. I don't have the language or the cultural awareness to know if it's true or not."
Nuance has to depend on third parties to validate whether or not beans are produced ethically. Nobody is perfect, Toby Gadd said, but they do their best to make sure that their values are reflected in their business. 
"The two big items are pricing and lack of slave or nonconsensual child labor," Nanci said. "I make the last point as many small farms are family run and excluded from fair trade status because they put USA morals on a different society that finds children assisting as part of being a family acceptable. On pricing, I make it a point to pay what is asked. I don't dicker." 
Toby and Alix Gadd aim to be as socially and environmentally conscious as possible in their business. From the energy they consume to the distilleries they work with for their bourbon chocolates, the business is guided by moral principles rather than principles of marketing. 
They can justify selling bars for $8-15 knowing that money supports sustainable and ethical practices in small farms and cacao-producing communities around the world.
As Nuance remains in the Fort Collins community, they will continue to achieve the high bar they set. Though they may not lay claim to the cheapest chocolate, they do offer an ethical, sustainable and delicious way to interact with the art of chocolate making.
Reach Ivy Secrest at entertainment@collegian.com or on Twitter @IvySecrest.