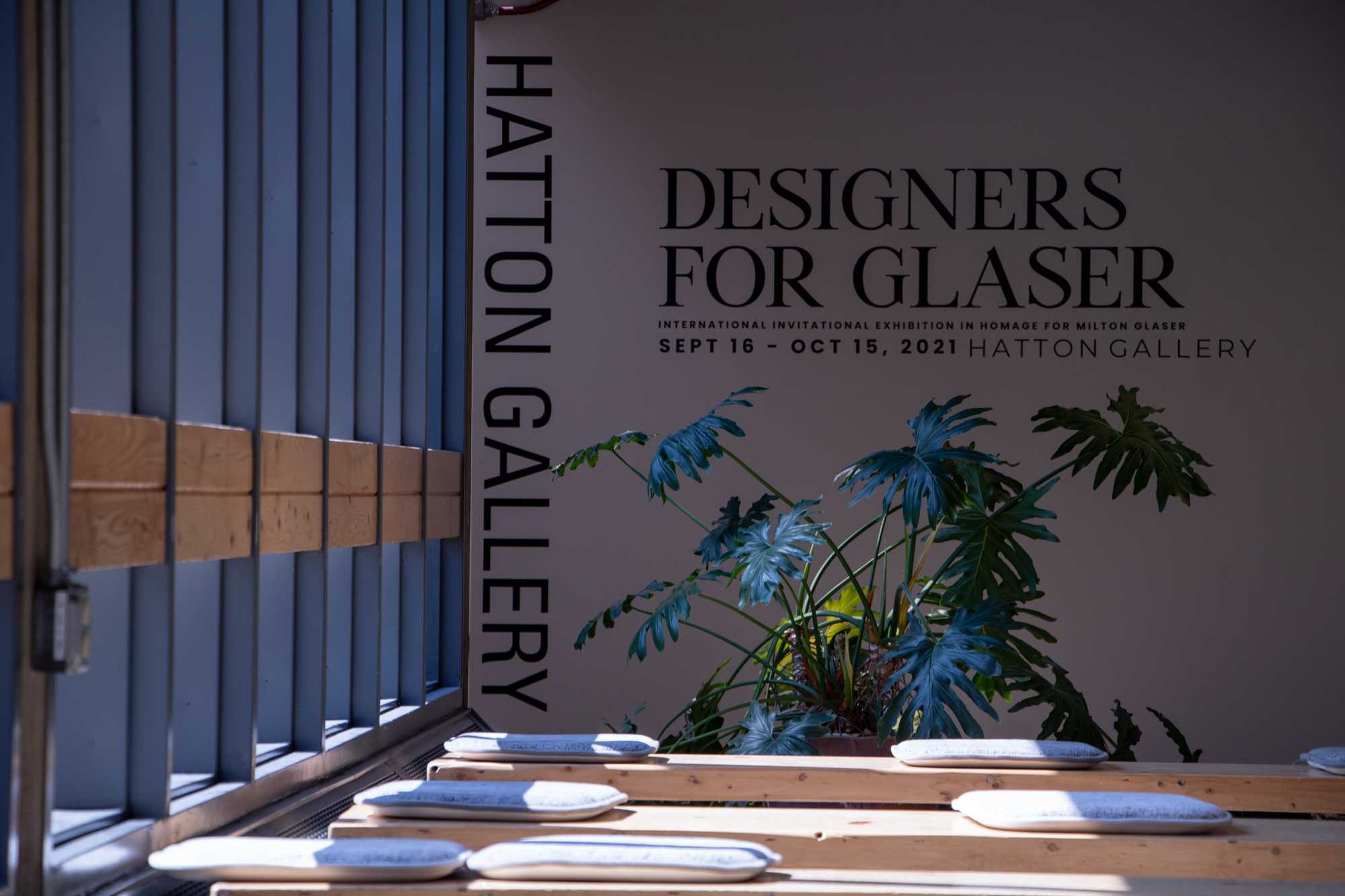 Colorado State University's Clara Hatton Gallery presents "Designers for Glaser," a homage to the designer responsible for some of the more prevalent images in pop culture. 
Milton Glaser died in 2020 at the age of 91 and spent his lifetime creating posters and other designs. He was most well known for the "I Love New York" graphic as well as a Bob Dylan poster.
"Artists and graphic designers came together to create graphic posters in homage to Milton Glaser's life and his work," said Silvia Minguzzi, director of the Hatton Gallery & Digital Performing Space. "We have a collection of 86 posters coming from all over the world. … It's a real international effort."
Glaser founded Push Pin Studios in the mid-1950s with Seymour Chwast and Edward Sorel. This studio came to be one of the most influential design organizations in U.S. art history, pushing through memorable works to public audiences. 
"(Glaser and Push Pin Studios) had a different approach about graphic design and illustration, which was very multiculturally influenced," said John Gravdahl, a graphic design professor at CSU.
Jason Frazier, an assistant professor of graphic design at CSU, said this exhibit shows exactly how influential and big an artist or designer's life can be. Some of those working on the exhibit hope that after seeing the show, visitors can consider the immense impact Glaser had on not just the U.S. but also the world.
Because graphic design was a relatively new means of art and visual communication, Push Pin Studios artists and other designers of the time were limitless in how they created posters, shirts and other designs. Graphic design offered a new means of speech and communication as a whole. 
"It's all about the idea," Gravdahl said. "In design, it's the idea first, and if it doesn't have a (good) idea behind it, it's just a patterned wallpaper. If there (are) no communications behind it, it doesn't matter (regardless of) what media it is."
In Glaser's life, he did not stick to a single medium or design type. He went from posters to advertisements to magazine covers and more. Frazier said this really shows people the way in which design impacts our lives.
Frazier said that from the exhibit, audiences will get "to see that design can be a lot bigger than one thing and, additionally, that it can be a lot of fun — that you can use humor and silliness as a perfect part to (express) an important message."
Roberto Muntoreanu, assistant professor of graphic design, said the participants in this exhibition are from all over the world. It includes artists from Russia and Bolivia. 
"We have some designers that did a deep exploration," Muntoreanu said. "I think looking at the posters, we can see that it's very broad, the inspiration of Glaser."
Muntoreanu added that some of the designers featured even knew Glaser personally, while others only knew him through his work. 
"Designers for Glaser" is presented this fall thanks to a collaboration between the Colorado International Invitational Poster Exhibition and Bienal del Cartel Bolivia along with a few other partners.
After BICeBé struggled to promote their exhibition during the pandemic, they reached out to CIIPE and CSU's department of art and art history. After being offered an exhibition on the University's campus, the collaboration began. 
Thanks to strong relationships between BICeBé and CIIPE, especially between Gravdahl and BICeBé director Susana Machicao, the exhibition survived the challenge of COVID-19 closures.
In addition to these leaders, the Golden Bee, the National Design Biennial UBA — Argentina and the International Poster Festival of the University of Buenos Aires worked alongside Diseñadores Gráficos Bolivia and the Aurea Foundation for the Visual Arts and Design to produce this curation of designs.  
"This exhibit (is happening) in Bolivia because this is a partnership with BICeBé," Muntoreanu said. "We also are going to have the same exhibit in Buenos Aires and Argentina." 
"Designers for Glaser" opens Sept. 16, in the Hatton Gallery inside of the Visual Arts Building on CSU's main campus, located at 551 W. Pitkin St. in Fort Collins. Viewers can celebrate the opening alongside gallery staff and experts on Glaser from 4:30-7 p.m. in the gallery.
The exhibition continues until Oct. 15 and is free and open to the community. The Hatton Gallery is open from 10 a.m. to 4:30 p.m. Monday through Friday and closes for University holidays, breaks and football games.
The Hatton Gallery is wheelchair-accessible and a space to check coats and bags will be provided. It is asked that guests do not bring food and drinks into the gallery in an effort to preserve the exhibition works. For those who are unable to see the exhibition in person, an online catalog is available on the exhibit's website.
Kota Babcock can be reached at entertainment@collegian.com or on Twitter @KotaBabcock.