We pretty much all love Halloween, but as much as we love something, some of us still find a way to put it off. If you are lucky enough to have someone you do everything with, chances are they put it off too. Here are a few options for those of you who did not rummage the thrift store a month ago.
Iron Man and the Hulk, Black Widow and Hawkeye
Unless you are some weird millennial who never got a cell phone or someone who spends most of their time in Central Perk, chances are you do not have five friends to make the Avengers complete. That is the great thing about superhero teams though; sometimes they do their own thing or break off into duos.
Iron Man and the Hulk are lonely souls who find a flourishing bromance and a boy-girl coupling could consider Black Widow and Hawkeye. 
You can find Hulk hands and Iron Man accessories very easily. Green body paint, ripped clothes and maroon, or red, clothing should make for an easy last-minute costume. If you get any kind of bow and arrow, all black clothing and maybe a red wig, then boom you are Black Widow and Hawkeye.
LeBron and D-Wade
If you have red, black, maroon or white basketball shorts and any combination of Cavs, Bulls or Heat gear then you are good. A few earrings and a headband would top it off, but if you are really trying to make the night memorable just slice a couple inches off that hairline.
The Step Brothers
All you need is khakis, a collard, long sleeved shirt and an argyle sweater vest. They are all items that will not be hard to locate because it is Halloween. Great Halloween costumes take hours or no time, there is no in-between.
The type of dedication you have to put into a costume like this is the same type that makes a 40-year-old still live with his parents; look at you getting into character.
Of course, you could always go the matching tux route as well.
Andy and April (Bert Macklin and Janet Snakehole)
Most of us are not lucky enough to be in a relationship with our best friend, but if you want to remind everybody that you are the dorkiest, coolest and least-caring lovers around then Andy and April from "Parks and Rec" will work. Do not be those people who just dressed up as other normal people though, reprise their Halloween roles as Bert Macklin and Janet Snakehole.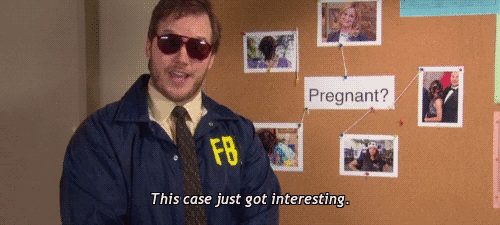 All you will need is any tie and shirt that matches reasonably, some dark shades and a blue jacket with yellow-taped FBI on it for Andy as well as a black dress and shoes for April. You should be able to throw together a widow's veil for April's character from any craft section and the same could be said about her cigarette and holder. Then you can get down to the case at the Snakehole Lounge.
Amy Poehler and Tina Fey
Even though you know Hollywood under-represents women, you really realize it when looking for women Halloween female duos that are not enemies, backstabbers, barely related, animals or condiments.
Luckily, Amy Poehler and Tina Fey are there with a variety of costumes from Hillary Clinton and Sarah Palin, to Liz Lemon and Leslie Knope and of course to the cool mom and the math teacher. Whatever their role, the right kind of glasses, clothing, hair ties and some beauty products is about all you will need.
If you just want to slay though, your best route may be to throw on a dress and grab, or make, a couple trophies so you two can have a night out at the Emmys.
Reporter Mack Beaulieu can be reached at entertainment@collegian.com or on twitter @Macknz_James