In defense of the underrated "Boy Next Door"
Hunter Goddard
April 30, 2015
Sex and death are the two ultimate facts of life, the beginning and the end, the alpha and omega. When love and violence come together, it can be impossible to look away.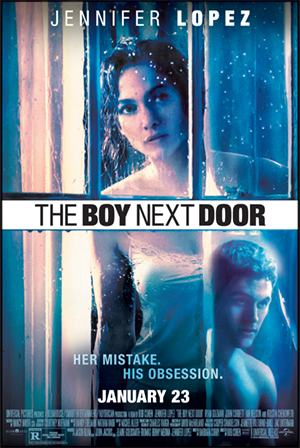 "The Boy Next Door" is coming to Netflix May 26. The film is a psychological thriller starring Jennifer Lopez as a high school teacher who sleeps with a new student (Ryan Guzman). The titular "boy next door" develops a dangerous obsession which threatens her career and her family.
Critics did not respond well when the film was released in January. Its Rotten Tomatoes rating is 11 percent, and the critical consensus condemns it as not even good enough to be a guilty pleasure.
Yes, the movie is far from a cinematic masterstroke. Kristen Chenoweth is bizarrely miscast as the vice principal, and the screenplay relies on a number of stale clichés (the flawed protagonist with everything to lose, the antagonist's mysterious past, the cut brake lines, the ridiculous climax).
That being said, how original can a film really get in the "psycho stalker" subgenre? Beyoncé's 2009 star vehicle, "Obsessed," drew inevitable comparisons to Glenn Close's classic, Academy Award-nominated 1987 performance in "Fatal Attraction."
What people seem to forget is that "Fatal Attraction" itself parallels a work that came before it, Clint Eastwood's 1971 directorial debut, "Play Misty for Me." Everything, from the scorned villainess's attempted suicide to her knife-wielding descent into madness, is derived from it.
"The Boy Next Door" does something refreshing by casting the MALE in the role of the evildoer and the FEMALE in the role of the victim. Statistically speaking, this is more realistic. According to the Bureau of Justice Statistics, women are at greater risk for stalking than men.
The movie also succeeds where "Obsessed" fails. "The Boy Next Door," "Fatal Attraction" and "Play Misty for Me" all work because the heroes actually consummate their relationships with the villains, so there is more tension, whereas Ali Larter has no reason to be so "obsessed."
Larter's catfight with Beyoncé is the only redeeming quality going for "Obsessed." It is easily the weakest of these four films. Obviously, there is no comparing "The Boy Next Door" to "Fatal Attraction," which is also superior in a lot of ways to "Play Misty for Me."
However, in the battle between "Play Misty for Me" and "The Boy Next Door," Jennifer Lopez fares decently against Clint Eastwood. As disturbing and unforgettable as "Play Misty for Me" is, it is equally primitive. The genre did not become what it is today until "Fatal Attraction."
Conversely, "The Boy Next Door" benefits from its era. Filmmakers know better now than ever before what works and what does not work when crafting their erotic thrillers. "The Boy Next Door" may not be as shocking as the boiled rabbit in "Fatal Attraction," but it still excites.
Not only is it entertaining, but "The Boy Next Door" also features moments of brilliance behind its suspense that you would not expect from reading its reviews. Guzman and Lopez's whispered exchange in the kitchen comes to mind, with her husband and son in the next room.
Sometimes, a movie is made for you to have fun, not for it to change the world, and "The Boy Next Door" is aware of its own limitations. It does its best to play with and tease its tired conventions.
Ultimately, it seduces us, if only for one night.
Collegian A&E Writer Hunter Goddard can be reached at entertainment@collegian.com or on Twitter @hunter_gaga.