Film? Review: "Mortdecai"
It seems I've stepped on to the set of a mediocre film.
Sometimes, it can be a good experience to go see a film so tremendously bad, so blatantly awful, that it actually refreshingly reminds you about how good the best films are. Seeing "Mortdecai" was one such experience.
These are those times of the year when movie theater travelers resort to watching whatever is on Netflix and trying not to think about how horrible the lineup of box office films right now is, save for "American Sniper."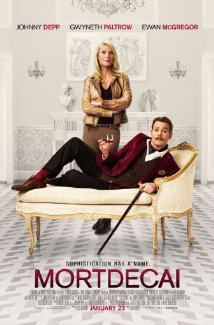 But first of all, the flop that we refer to as "Mortdecai" was not Johnny Depp's fault. He was actually one of the only good things about it. And his career is most certainly not dead, despite his awful choices recently. His career will be over when he says it's over.
But, man, this film was terrible. Sitting through a comedy that doesn't make you laugh is just the most awkward thing ever.
To director David Koepp, the man who writes really good screenplays most of the time, ("Jurassic Park," "Spider-Man" and "Panic Room") while sometimes ruining others, ("Indiana Jones and the Kingdom of the Crystal Skull" and "The Lost World: Jurassic Park") you really need to stop directing. Just keep writing. Stick to what you are good at. Think of "Mortdecai" as a learning experience.
And to screenwriter Eric Aronson, I don't really know what to tell you. New career choice? Maybe?
For those who don't know, "Mortdecai" stars Johnny Mustache as a weirdo who somehow used to have money but doesn't anymore, and he's gotta find some stolen art for MI5, even though there's a million other art enthusiasts who could do a better job than him.
Mortdecai basically sucks at everything, just like the film. One really has to respect the people who made this film, though. It isn't easy to take a heavyweight cast like Johnny Depp, Gwyneth Paltrow and Ewan McGregor, and completely ruin everything.
Now, in case you couldn't already tell, I pretty much hate modern comedies.
Movies like "Mortdecai" and "The Interview" and "Top Five" are just silly stand-up jokes compiled into what seems to pass for a film and feature the slapstick comedy I thought we all agreed was bad 60 years ago.
Comedians, please think twice before deciding to make movies; you might end up making everybody else look bad.
By now you've probably got the gist. Don't go see this movie. I don't care if you have a really great date and "Mortdecai" has the only showtime that works. I don't care if you're a mild fan of Johnny Depp. Just don't see it, okay? Thank you.
Go see "The Imitation Game" or "Birdman" or "Wild" or "Whiplash" or "Foxcatcher" or "American Sniper" or "The Grand Budapest Hotel." Those are the best films of the year, all playing right now. Go see those. Please.
Collegian Film Beat Writer Morgan Smith can be reached at entertainment@collegian.com or on Twitter @MDSFilms.