Stephen Hawking biopic 'The Theory of Everything' is worth the wait
Morgan Smith
December 1, 2014
"The Theory of Everything" is one of the must-see films this year, garnering massive critical appraise for its script and its acting.
The film is a biopic about the life of famous physicist Stephen Hawking, giving special attention to Hawking's relationship with his wife, Jane Wilde.
Oscar-winner James Marsh directed this adaptation of Wilde's memoirs. But like any good romantic drama, there is an equal showcasing of Hawking's struggle to continue his work while having Lou Gehrig's disease.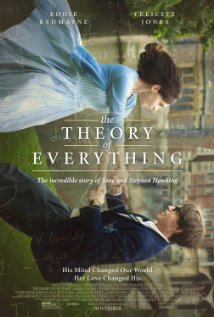 There is a recent change in the style of biography films in Hollywood. Prior to a few years ago, biopics would focus on a subject's entire life, rather than one select part. These films would be long, detailed epics, like "Gandhi," "Patton" or "My Left Foot."
Such films have become condensed in the past decade, focusing only on one dramatic portion of a person's life. "Lincoln" is only about the 16th president trying to pass an amendment to the Constitution. "The Wolf of Wall Street" is a biography about the short crime spree of Jordan Belfort. "The Imitation Game" focuses only on Alan Turing's contributions and personal struggles during WWII.
"The Theory of Everything" follows suit, showcasing Hawking's lesser-known personal life, rather than the scientific achievements he became famous for.
The result of this style of filmmaking is a less informative, but much more dramatic, experience, with no additional loss of historical accuracy.
Hawking actually came to watch an early screening of the film and cried after seeing this portrayal of his younger self.
"The Theory of Everything" stars Eddie Redmayne as Hawking and Felicity Jones as Jane. The film follows the entirety of the romantic relationship between the two.
Redmayne's performance is spectacular in this film. He naturally resembles Stephen Hawking, but he also put his entire being into his character. He perfectly imitated the facial expressions and body movement of an ALS patient.
The film was shot out of chronological order as most productions are, so Redmayne had to research the progression of Hawking's physical deterioration based on the particular scene being shot at anytime. This means Redmayne had to master the entire evolution of Hawking's disease and be able to replicate any stage of it at any time.
This film has been the passion project of screenwriter Anthony McCarten for more than a decade. He came up with a draft soon after Jane Hawking published her memoirs of her life with Stephen. He had trouble finding support and money for the film, but it was certainly worth the wait.
Hawking said the film was "broadly true" and offered to record dialogue with his own iconic computerized voice for extra authenticity.
"The Theory of Everything" won't appeal to a massive audience in the same way bigger films like "Mockingjay" will, but it should. It is more powerful and far more entertaining, and deserves more attention.
Redmayne is currently the favorite among critics for a Best Actor win, with Jones in good standing for Best Actress, and McCarten poised for Best Adapted Screenplay.
Collegian A&E Film Beat Writer Morgan Smith can be reached at entertainment@collegian.com or on Twitter @MDSFilms.