Fort Collins TriMedia Film Festival wraps for another year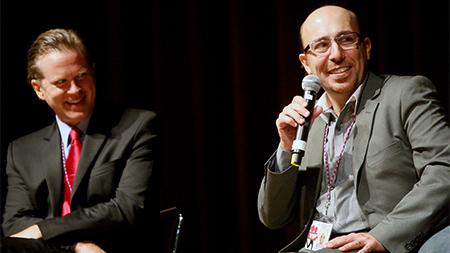 Quality breweries, a vibrant bike scene and friendly people. These are the things that Fort Collins is known for.But one weekend a year the annual TriMedia Film Festival — which wrapped on Sunday and displayed 50 unique productions at three separate locations — shows off the town's less-pronounced cinema culture with a mix of local, national and international films."The Horsetooth Productions mission is to put Fort Collins and Colorado on the map for film and television," said Francie Glycenfer, executive director of TriMedia and vice president for Horsetooth Productions, the sponsor for the festival and an educational non-profit organization.  Glycenfer is also a special appointment instructor for the CSU honors program.
Glycenfer said that the Festival's films are chosen with students and their opinions in mind.
"We have to attend one of the events for Francie's class, Creativity and Action, and we're going through all the different types of creativity there is in the world," said Jessica Ness, a freshman engineering major. "Things like this shows creative things about people that are different."
Sam Kadi, a former engineer from Syria, directed his first feature length film called "The Citizen," which premiered at the festival Friday night. "The Citizen" won the Director's Award from TriMedia.  Co-star, Cary Elwes, also won the Trailblazer award for the festival.
Inspired by a true story and filmed in just 22 days, "The Citizen" depicts the struggle of a Lebanese man who comes to New York to become a U.S. citizen during the aftermath of 9/11.   Kadi also used elements of his own experiences when he came to America just a year after 9/11.
"As an actor I have the benefit of going to school constantly every time I go to work. I have the joy of discovering a new character as well as a new profession," Elwes said during his acceptance speech at the festival's opening night screening.
"Of the human condition I have made this small observation, and that is we have an obligation to help one another on this planet and to do the best we can to put our best foot forward," he said.
It was not only through watching the films and performances that the audience could learn. A question and answer session with Kadi, Elwes and producer Chris Wyatt came after the film.
Saturday also welcomed professionals from the film, theater and television industries such as screenwriter Robert Greywolf and producer Julie Pearson to answer questions. Kadi and Wyatt were also present.
The experience continued on Sunday with documentaries, one of which was made by local nature photographer Bryan Maltais. His film, "Metamorphosis: Tale of a Wetland," shows a year in the life of a Fort Collins wetland, Maltais' rare discoveries and his conclusions on how humans are impacting the delicate ecosystem. The film is available to watch on his website, www.WildernessShots.com.
"When you're just driving around in your daily life you don't realize what's around you unless it's put in front of your face," Maltais said.
"They say movies don't change the world, but the people who watch them can," Kadi said.
Related articles