Words From the Pope: Could Colorado State's academic standing really land it in the Big 12?
Keegan Pope
January 26, 2016
The topic of conference expansion has been on the mind of college football fans, especially Colorado State fans, ever since the Big 12 became the Little 10 and the Big 10 expanded to a 14-team league between 2010 and 2013. 
The Pac-12, SEC and ACC didn't sit on their hands either, and the five biggest conferences in college athletics collectively formed what we now know as the "Power Five." In layman's terms, those five conference are all the rich kids who didn't have to eat school lunch, while everyone else is left eating pizza made with rubber cheese or week-old chicken and mashed potatoes. 
Since the expansions, those conferences have capitalized on the ever-growing market of college sports, football in particular, raking in loads of money from apparel contracts, ticket sales and most of all, television contracts. 
According to tax returns obtained by USA Today, the SEC alone brought in $527.4 million in revenue in the fiscal year ending August 31, 2015, a figure that is 60 percent greater than what the conference reported for the fiscal year ending in August 2014. In 2014, the league split $455.8 million between its 14 member schools, which comes out to $31.2 million per school, a number that will surely rise when the SEC announces its per-school distribution amounts this May. 
The Big Ten isn't far behind, reporting that member schools received somewhere in the range of $32 million for the 2014 fiscal year. 
Quite a bit farther behind are the Pac-12, Big 12 and ACC, who are reportedly distributing somewhere in the neighborhood of $20 million to each of their member schools, a shortfall of anywhere from $100-$150 million per year in revenue, with most of that disparity coming from the Big Ten and SEC's massive television and radio rights contracts. 
The Pac-12, which launched its own network in August 2015, has yet to see the financial windfall that the SEC and Big Ten have seen with their respective networks, and the Big 12 and ACC are yet to begin their own networks. For the Big 12, the University of Texas' Longhorn Network, which has so far been a financial failure for ESPN, has held the league back from pursuing its own network, instead "settling" for a deal with FOX Sports and ESPN. 
Even with four teams — Texas Tech, Baylor, Texas and TCU — in the football-crazed state of Texas, the rest of the league has been unable to draw big TV ratings in some of its other markets, such as Iowa, Kansas and West Virginia, a fact that has more than likely been cause for a lot of concern in the Big 12 offices. Hence, the talks of expanding the conference back to 12 teams after losing Nebraska, Colorado, Missouri and Texas A&M to the Pac-12, Big Ten and SEC, respectively. 
The conference added TCU and West Virginia, but despite TCU's recent football success, it hasn't translated in terms of television ratings. 
So where does Colorado State fit into this equation? Well, nowhere, at least for now. 
Until a recent ruling by the Division I Council, conferences with any less than 12 teams were prohibited from holding a conference championship game, something that the College Football Playoff committee hinted may have been the reason the Big 12 was left out of the inaugural playoff in 2014-15. However, the ruling allowed for a conference such as the Big 12, who only has 10 teams, to hold a title game as long as it either: a) splits the conference into two divisions or b) plays a full round-robin schedule with each member playing every other Big 12 team once during the regular season.
That put the talks of league expansion, and possibly adding a school like Colorado State, on hold for the time being. 
It doesn't however, solve the Big 12's revenue or academic problems. 
You see, with the loss of Nebraska and Colorado, the Big 12 not only lost two of its more important athletic members, but it may have lost its two most prestigious academic institutions in the process. 
Both universities are members of the Association of American Universities, a group of 62 (60 in the United States) universities who are recognized for "being on the leading edge of innovation, scholarship, and solutions that contribute to the nation's economy, security, and well-being.  The 60 AAU universities in the United States award nearly one-half of all U.S. doctoral degrees and 55 percent of those in the sciences and engineering," according to the AAU's website. 
The AAU also puts heavy importance on issues that are important to research-intensive universities, such as funding for research, research policy issues, and graduate and undergraduate education.
CSU, which totaled $308 million in research expenditures in the fiscal year 2014, compares somewhat favorably with Big Ten members Rutgers and Iowa, who each totaled around $450 million in R&D expenditures in the 2014 fiscal year. Just one Big 12 school, Texas, ranks among the top 50 universities nationwide in that category. 
While CSU isn't yet an AAU member, the university is one of 108 Carnegie I members, a designation given to universities deemed "RU/VH" or a very high research activity institution by the Carnegie Classification of Institutions of Higher Education. 
Among the Power Five conferences, the Big 12 is the least academically prestigious, with the breakdown looking like this:
Big 10: 14 members, 14 Carnegie I, 13 AAU
PAC-12: 12 members, 12 Carnegie I, 8 AAU
ACC: 15 members (including Notre Dame), 11 Carnegie I, 5 AAU
SEC: 14 members, 11 Carnegie I, 4 AAU
Big 12: 10 members, 4 Carnegie I, 3 AAU
While CSU isn't yet a member of the AAU, it is one of five schools who have been mentioned for Big 12 expansion that is currently a Carnegie I institution. CSU, along with South Florida, Central Florida and UConn, are schools who could conceivably generate enough research expenditures over the next decade to be considered for AAU status.
If the Big 12 were to expand, geography would come into play, and because of their distance from the majority of Big 12 schools, Central Florida and South Florida seem like unlikely candidates. UConn is also more than a hop, skip and a jump away from the Midwest, leaving CSU as a pretty viable candidate. 
Besides its academic standing, CSU also has its potential for television revenue as bargaining power. Denver, where the largest portion of Colorado State's alumni base lives, is the 18th-largest TV market in the country.
The big question is whether that market can realistically be tapped into. Fan support for the football team has been fickle over the past decade or so, and CSU's current attendance numbers would be among the lowest in the current Big 12. The average attendance at a Big 12 game in 2014 was 58,102, while CSU averaged just 26,525 fans per game. 
Now would that change if the likes of Oklahoma, Baylor and Texas came into town every other year? Probably. But having a brand-new stadium that is partially filled by opposing fans isn't exactly what the Big 12 is looking for.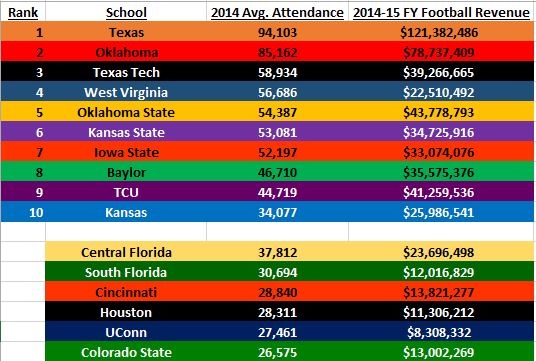 There are also wild card schools such as Houston and Cincinnati, who are both Carnegie I members, but aren't currently on a track to receive AAU status anytime soon. Cincinnati could be a viable travel partner for West Virginia, and Houston's recent football success makes it attractive from that standpoint. However, I'd guess the Big 12's Texas schools aren't jumping at the chance to give Houston a leg up in one of the biggest recruiting hotbeds in the country. 
 None of the aforementioned options, including CSU, guarantee a substantial amount of additional revenue, which is why the Big 12 has been hesitant to expand. While commissioner Bob Bowlsby had stated that adding new members wouldn't dilute each member school's television money distribution, it would lessen the amount they receive from the college football playoff, other bowl games and the NCAA Tournament. 
Currently, that would mean somewhere around $2 million less for each school. That doesn't mean much for schools like Texas or Oklahoma, but that's not chump change for the likes of Kansas, Kansas State or Iowa State. If it were to come down to a vote, it'd be a surprise if those schools were in favor of conference expansion. 
CSU, who ranks among the top "Group of Five" schools in terms of athletic department revenue, could desperately use the money and prestige that would come from joining a league like the Big 12, but for now, don't hold your breath. 
Collegian Senior Sports Reporter Keegan Pope can be reached at kpope@collegian.com and on Twitter @ByKeeganPope.