CSU football working to fix the little details before Saturday's home-opener
At his weekly press conference on Monday, Jim McElwain explained that there's a difference between being discouraged and disappointed. While there has been plenty of disappointment surrounding his team in its first two games, both of which ended as losses, the CSU football head coach insists that confidence among the Rams remains.
"Look, you can be disappointed. There's no doubt about it, you should be," McElwain said. "Discouraged? No. Disappointed? Yes, because disappointment deals with the expectations. Now the discouraged part, when you get discouraged that sinks into your confidence, and there's no reason for our confidence to take a hit, it should take a bruise."
McElwain said the disappointment lies in the fact that the team holds a 0-2 record when they had a realistic chance to be at 2-0 after heading into the fourth quarter with a lead in both games.
Saturday, strapped with a ten point lead heading into the fourth quarter against Tulsa, the Rams could not manage a single first down to maintain possession and secure the win. Instead, Tulsa had the ball with just enough time to set up a last-second field goal for a 30-27 victory over CSU. The Rams are just 6-of-31 on third down conversions this season.
For McElwain and the players, it comes down to focusing on the little details throughout the week in practice in order to come away with a victory on game day.
Senior tackle Jared Biard said it has been terribly frustrating to see things go the way they have so far this season, but admits that the offense is further along than it was a year ago.
"We're executing out there, you can look at the film and watch everything else," Biard said. "It's very, very small things that are causing us to slump or have disappointing performances so far."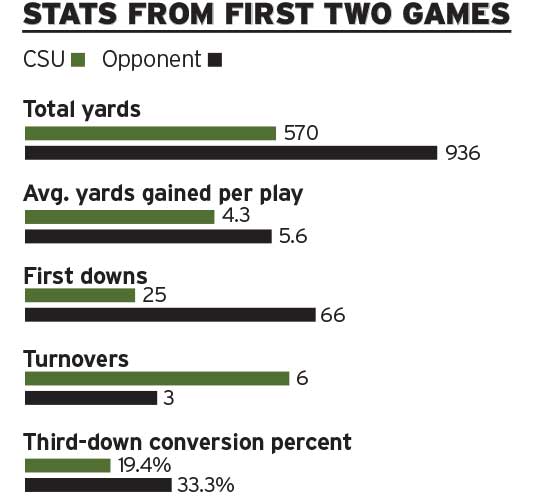 On Tuesday quarterback Garrett Grayson spent extra time with his receivers after practice, focusing on the extra efforts the team can do to improve. His biggest personal goal is to improve on his footwork that he said was ineffective last weekend.
"That's what we're trying to do now just staying out with (receiver Rashard Higgins) right now just trying to get my feet right because that's a real big thing about quarterback," Grayson said. "If you get your feet right, everything else will be okay. You just have to relax and just play."
This week the Rams will face a Cal Poly team that uses the triple-option offense, something the team spent time covering in fall camp and that they will also see when they meet Air Force and New Mexico later this season.
"We've got our work cut out for us, but it's a beautiful thing about athletics, just like in life," McElwain said. "Every now and then things don't go exactly to script and it's really how you deal with it."
The Rams will play their home opener at Hughes Stadium on Saturday against Cal Poly. Kickoff is set for 1:30 p.m. MT.
Football Beat Reporter Katie O'Keefe can be reached at sports@collegian.com