CSU improves to 5-0 with 85-69 victory over Northern Colorado
Listening to players talk after the CSU basketball team's 85-69 victory over Northern Colorado, you'd think they lost the game instead.
"We're pretty disappointed in the way we came out tonight," senior guard Wes Eikmeier said. "We got out-toughed, and that's something we hang our hats on."
Part of CSU's lack of early fire can be attributed to the absence of senior forward Pierce Hornung, who sat out the game due to an illness.
"He's the pulse of this team, and it kind of deflated us," CSU coach Larry Eustachy said.
Northern Colorado lead by as many as seven points early in the game, and held onto the lead until sophomore Jon Octeus made two free throws with 6:43 remaining in the first half to put CSU up 26-24.
The Rams scored the final eight points of the first half to take a six point lead, and kept their foot on the gas for the remainder of the game.
Senior center Colton Iverson gave the Rams their biggest lead of the game with a two handed dunk that put CSU up 69-50 with 9:17 remaining.
Iverson recorded his third consecutive double-double with 18 points and 13 rebounds, and provided a presence in the middle that CSU lacked much of last season.
"It's a luxury that we're not taking for granted," Eikmeier said. "Colton's been great, Pierce has been great. They're the heart and soul of our team so far, and why we've been successful."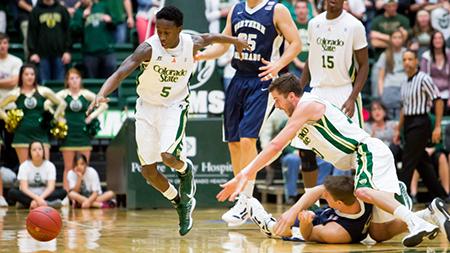 That size has contributed to a decided rebounding edge for the Rams, who won the battle on the boards for the fifth consecutive game, pulling down 37 to UNC's 28.
"I thought their size one through five wore us out a little bit on the backboards," Northern Colorado coach B.J. Hill said.
Five CSU players scored in double figures as the Rams shot 53.7 percent from the field, and held Northern Colorado to 42.4 percent shooting.
Senior guard Dorian Green lead CSU with 19 points and seven assists, while Eikmeier scored 17 points in 27 minutes.
The Rams will take a day off Tuesday after playing three games in the last seven days, and plan to focus on the slow starts that have plagued them this season.
"When we come back to practice we're really going to get after each other and realize that has been our weakness so far," Eikmeier said. "It comes down to us being mentally prepared from the get go."
With the win CSU improves to 5-0 on the season, the team's best start since 2005, but that doesn't mean the Rams are satisfied with where they're at.
"We've won two road games, we're 5-0 and we get no recognition whatsoever. None," Eustachy said. "We've got a chip on our shoulder, and it's motivating all of us."

Assistant Sports Editor Kyle Grabowski can be reached at sports@collegian.com.