Like a growing number of modern chefs, Raghavan Iyer didn't discover cooking until he was in his mid-20s. Upon moving to the US from his native India, Chef Iyer made a shocking discovery: he still needed to eat, but had no clue how to cook.
Thankfully for us, he used his memories of the tastes and smells of his mother's kitchen, along with his chemistry degree, to turn his tiny apartment into a test kitchen. The result was five cookbooks, an Emmy award-winning documentary, numerous restaurants and even a line of fine spices.  We sat down with him to talk about food, spices, cookbooks and potatoes.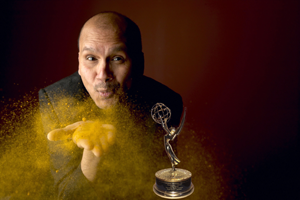 His aim in all that he does, from writing about cooking and his annual food-centric tours of India, is to teach. This week's event at Corbett Dining Center is no exception. Chef Iyer wants diners to leave with a memorable experience, but also to learn a little about a different style of eating. The traditional Indian plate focuses less on a protein and sides (think steak and potatoes) and instead on a single, all-encompassing dish.
While Indian food tends to be very vegetable-forward, vegans, vegetarians and carnivores alike will find something to nosh on. This is because Raghavan believes that the food of his homeland is comfort food: warmly-spiced, simple and savory. Eastern spices, such as turmeric, cardamom and curry leaves add depths of flavor to the everyday staples of beans, peas and potatoes. And speaking of potatoes, you can be sure to find them on the menu tonight. Chef Iyer's newest book elevates the lowly tuber status as one of his favorite foods and takes a global approach to eating the thousands of varieties of potatoes grown worldwide.
Chef Raghavan left us with a quick and easy recipe for Indian-inspired turmeric hashbrowns:
2 pounds russet potatoes, peeled and shredded
1/2-cup finely chopped cilantro (stems included)
1 1/2 teaspoons salt
1/2 teaspoon ground turmeric
1 habanero chile, finely diced
2 tablespoons vegetable oil
Mix the shredded potatoes, cilantro, salt, turmeric and habanero in a large bowl. Heat the oil in a large skillet over medium-high heat. Once the oil appears to shimmer, spread the potato mixture in the skillet in an even layer. Reduce heat to medium and allow the potatoes to cook without stirring until crispy brown on the underside, 10-12 minutes. Turn the thick patty over and brown the second side the same way, 8-10 minutes.
Collegian Foodies Matt Lawrence and Cody Moore write about food every Thursday. They can be reached at entertainment@collegian.com or on Twitter @LawrenceFoods and @codymoorecsu.