Corona/Hentze "Leaving CSU Better Than We Found It."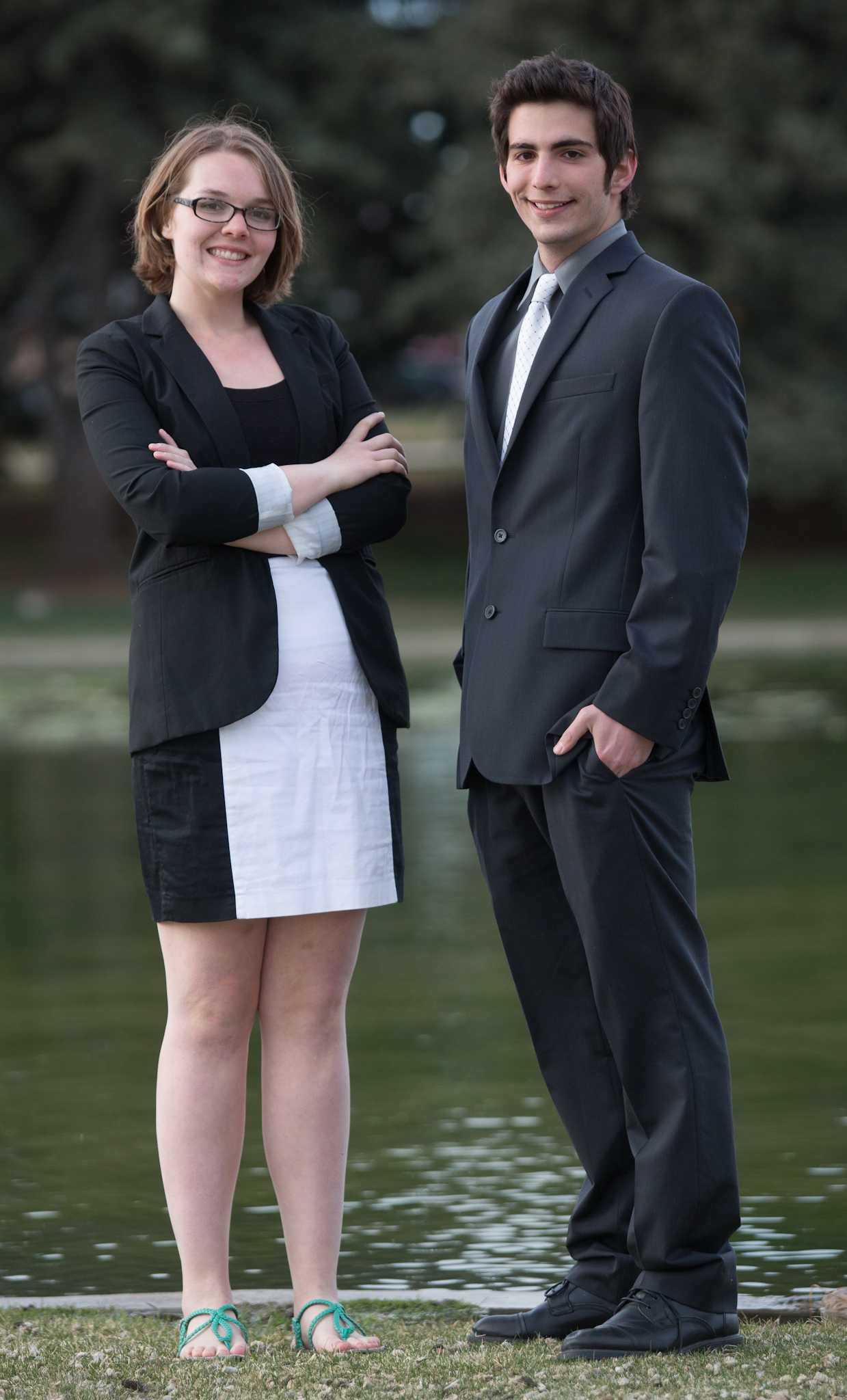 Alex Corona and Iris Hentze are a different breed of ASCSU presidential candidates, but not because of their quirky personalities.
"I think that we are sort of like the libertarian party of the election," Hentze said.
Unlike the opposing candidates, Corona and Hentze have not acted as members of ASCSU prior to running. However, according to Corona, the pair does not believe that this puts them at a disadvantage.
"We're just normal students trying to get involved," Corona said. "I'd like to get people more excited about CSU and leave CSU better than we found it. To get people more involved, I have to get involved myself."
Before ever deciding to run for president and vice president, Corona and Hentze were good friends.
"At the end of the day that's what we are," Corona said. "During campaign hours business is business, but we don't let it affect our friendship. We're still bros."
The two met during a political science class and hit it off. They then began talking about running last fall. According to the pair, they joined in hopes of tackling the issues that impact the general student body and have included a poster board at their booth for students to share their thoughts.
"I see a lot of things that I can help with and that I think Alex can help with," Hentze said.
According to friends and family, it is not uncharacteristic of either candidate to want to help people. Tara Corona, Alex's mother, said that since a very young age Alex has always cared about the people around him.
"I'm a lucky one," Tara said. "I could trust him from a very early age. I never had a lot of the problems that other parents had."
Tara said she is proud that her son has decided to put himself out there and thinks that he is a worthy candidate for election.
"My son is a very strong (individual)," she said. "He is not one to be led down a path. You can't convince him of something by telling him that it's true."
According to close friend Quinton Thai, he has been able to rely on Corona for help in the past.
"If you come to (Alex) with an issue and ask him what his advice is, he doesn't just tell you how to fix it, but says 'Here's what I would do,' and walks you through it," Thai said. "I think that if he had the ability to affect me on a personal level like that, then he can definitely have an affect on the student body."
Corona helped Thai found two separate gaming clubs on campus: CSU Starcraft 2 and the CSU League of Legends, a club with almost 600 members.
Hentze and Corona have an equal appreciation for giving back, and according to Emily Hansen, she is not surprised to see her best friend running for vice president.
"There's something really unique about her that is hard to describe," Hansen said. "She's always been really accepting of others, but she's good at balancing being her own person."
The two have been friends since high school and Hansen remembers when Hentze first decided to run.
"She's talked about running for several years, but never thought that she could," Hansen said. "She always thought that there is a certain type of person that runs for president, but I think that it's great that she is doing it."
Outside of campaigning and trying to balance their busy school lives, Corona said he enjoys gaming and playing bass guitar, while Hentze is a hobby artist and likes to make crafts in her free time.
Collegian Reporter Natasha Leadem can be reached at news@collegian.com.