CSU Senior will perform in Super Bowl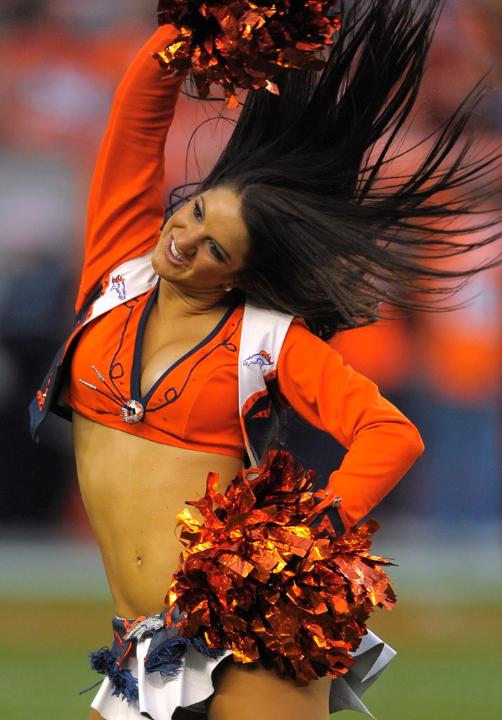 Angela Wood is one of those rare people who carries around the genuine smile that comes from fulfilling your dreams before you've even graduated from college.
At the age of 21, the senior dance major is a professional cheerleader for the Denver Broncos and is headed to the Super Bowl.
"It has not sunk in," Wood said. "Even when I say it, it doesn't seem like real life. It still feels like a dream."
Wood has been dancing since she was three years old and has had dreams of being a member of Denver Broncos Cheer since the age of eight. She danced competitively for years to build up her resume, even cheering for the Colorado Mammoth and the Denver Outlaws.
Here at CSU her focus is ballet, which is very different than the style performed by the Broncos Cheer team. Wood said that everything CSU has taught her has contributed to her success.
"Everything that we do helps my dancing in general with things such as flexibility and technique," Wood said. "It's the foundation."
Her hard work payed off when after auditioning last April, she landed a spot on her dream dance team.
Friends and coworkers said that there was never a doubt in their minds that she'd make the team.
"She's just so good, I knew she'd make it," said Samantha Purdy, a friend of Wood and junior dance major.
Purdy was in class with Wood when she was in the audition process. She watched as Wood spent much of her time practicing, worrying and even studying for the intensive written football exam. Studying for the exam had her flipping through note cards with pictures of referee gestures, player positions and even the average height and weight of players in every position.
"She was so nervous, but I just knew the whole time," Purdy said.
Katie Bhappu saw the other side of the audition process. Bhappu was also auditioning for the first time and remembers being impressed by Wood.
"In the classes leading up to auditions, I would kind of watch her and think, there's my competition," Bhappu said.
Even now, after being on the team together, Bhappu said she still admires Wood's talent.
"I'm constantly using her as an example to push myself and better myself," Bhappu said.
Between classes and Broncos practices Wood dances about 30 hours a week, not including games or training time on her own. She also has to make the trip from Fort Collins to Denver and back at least three times a week.
"Yeah, it's not normal," Wood said. "People think I'm insane."
The Broncos Cheer Team practices on Tuesdays and Thursdays and Wood dances with CSU Tour Dance on Monday, Wednesdays, and Fridays. This doesn't include game days or Broncos charity events.
"While she's going to school she already has a professional job and I honestly don't know how she balances it all," said Megan Adams, friend and sophomore dance major. "Her life is unlike any other student here."
In addition to practices and dancing on game days, the women of the Broncos team attend several charity events and promotions. These are a favorite part of the job for Wood.
"I've had such amazing experiences on the field, but it's so much more," Wood said. "The dancing, of course, is unreal and feels like a dream, but the stuff we do in the community is so incredible and it really brings you back down to earth."
Wood grew up knowing many former Broncos Cheerleaders in dance classes and studio sessions and attributes not only their talent, but their love for giving back as one of the reasons she wanted to join them.
"It always inspired me to see what amazing women they are," Wood said. "Everything that they do in the community, the charity work they do and their commitment, it drew me in and I knew I needed to be one of those women when I grew up."
Part of her job also includes being a representation of the Broncos franchise, a task that she welcomes.
"It's an unreal feeling to be able to help represent them," Wood said. "I've always loved the Broncos. This whole state loves the Broncos! Everytime I see something Broncos-related, it hits me all over again. It's that good feeling and amazement over and over again."
The good feeling will continue this weekend as Wood and the 25 other members of Broncos Cheer head to New Jersey to live their dream by performing at the Super Bowl.
The weekend offers a packed schedule beginning with appearances on "The Today Show" and "Good Morning America" on Friday, practices every day leading up to Sunday, and a few promotional events where the women will perform what they call sideline routines.
"I don't know if it's ever going to feel real," Wood said. "There are girls who are on the team for years and never get this opportunity, so it's been amazing and more than I could have ever asked for."
Wood plans to make the most of this experience and hopes to continue calling Broncos Cheer home for years to come.
"I really feel like being on this team has made me a better person. It just makes you feel so humble and grateful every day," Wood said. "It's the best thing that's ever happened to me. Definitely."
Collegian Diversity Beat Reporter McKenna Ferguson can be reached at news@collegian.com.