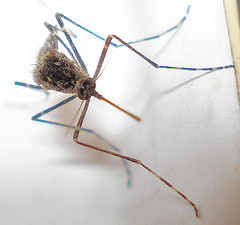 Longmont health officials are urging residents to be cautious when it comes to those pesky mosquitoes. Resent tests conducted in Boulder county show that mosquitoes in 5 of the 11 pools currently tested weekly are carriers of the West Nile virus.
The Longmont Times reported that this year mosquitoes tested in pool in two other counties – Larimer and Mesa – contain the virus carrying bug.
There is no need to be overly concerned as there are steps you can take to prevent bites that might lead to contracting the virus.
Officials with the Health Department suggest the best preventative measure are to wear insect repellent, drain standing water where mosquitoes lay their eggs and to limit outdoor activities during dusk and dawn when mosquitoes are most active.
Symptoms of the West Nile virus include mild to sever illness, fever, aches and can even lead chronic disability and death.
Currently there are no reported cases of the virus which are tracked by the U.S. government online.