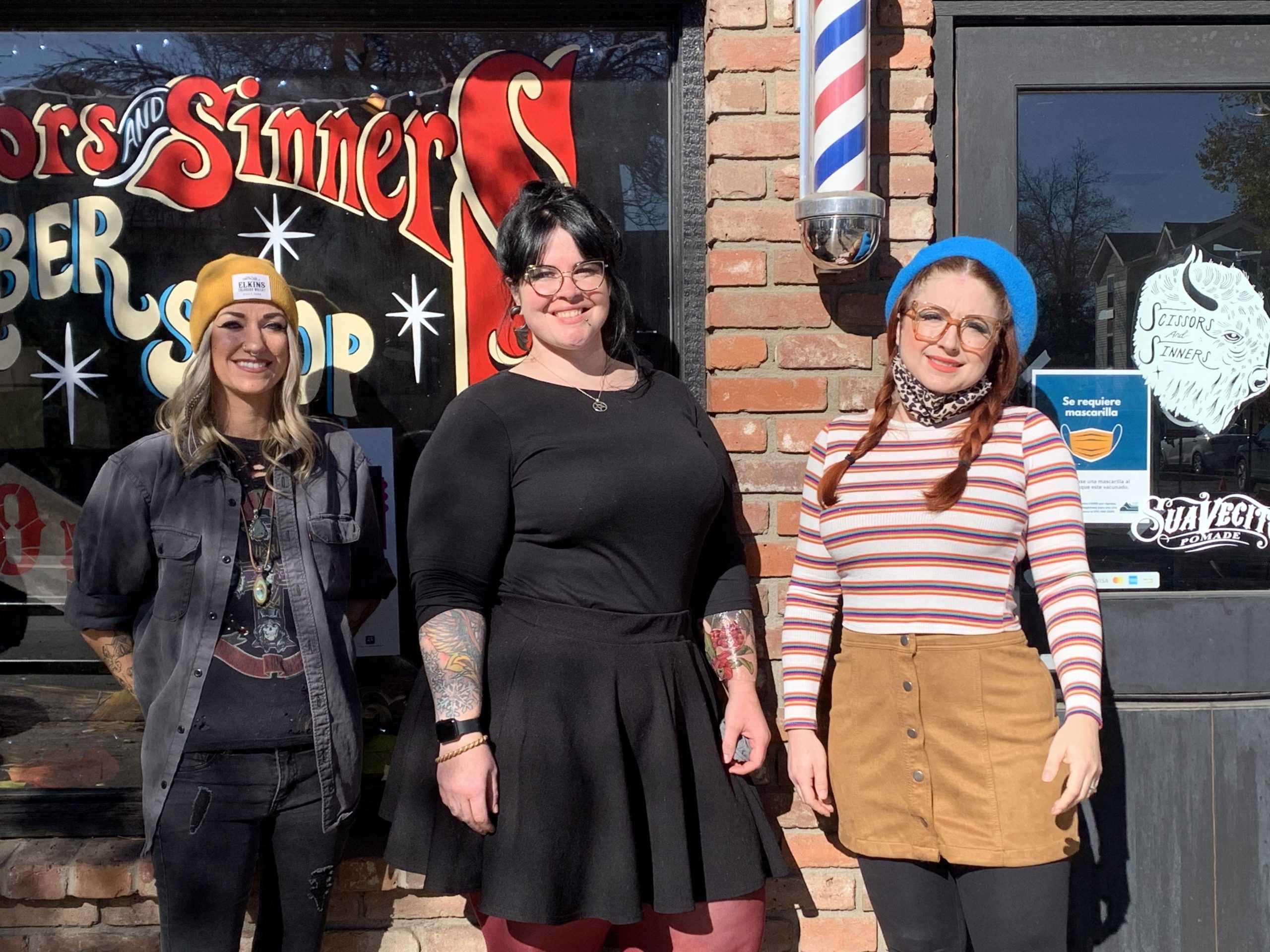 Located at Laurel Street and College Avenue in Old Town, Fort Collins, Scissors and Sinners offers customers a unique and affirming barbering experience. Since barbering experiences are often tailored to men, the barbers and stylists at Scissors and Sinners strive to work with a variety of lengths, styles and gender expressions in their work. 
"(Scissors and Sinners is) an inclusive environment where everyone feels comfortable getting their hair cut, whether it be feminine or masculine or nonbinary styles," said Rachel Reed, owner of Scissors and Sinners and barber of 13 years.
While many shops charge more for women's haircuts than men's, Scissors and Sinners charges based on length, ranging from buzz cuts to long cuts, with options for fades and other specialty barbering services. By charging based on length, the shop avoids overcharging based on gender stereotypes.
"We specialize primarily in haircuts and beard work, whether it's for men, women, children or whoever," said Mikki Maddalena, manager of the shop with 13 years of barber experience. "The beard work we do (includes) straight-razor shaves … and regular beard trims as well."
From basic beard trims starting at $10 to the "Royal" package at $60, Scissors and Sinners offers a variety of services for just about any occasion. 
For those in serious need of a haircut on a budget, the shop offers quality short cuts for under $30 and an even more affordable buzzcut option for $20. Regardless of what style you go for, Scissors and Sinners' barbers work to make everyone in their shop feel comfortable getting any style they want. 
"We're not just limited to the masculine side of barbering," said stylist Tabitha Petersen, who has been barbering for 15 years. "Most of us are both cosmetologists and barbers or at least worked in a barbershop for an extended period."
All of the barbers and stylists said one of the most rewarding parts of their job is the relationships they form with others. 
"You just form relationships with people when they come to you time and time again," Petersen said. Each of the barbers agreed that the feeling of giving someone a haircut they like after they've been struggling to find a good barber is one of the best feelings. 
While barber-client relationships often seem more focused on an adult getting a service from another adult, Maddalena said one of her college-aged clients has been going to her since he was in elementary school. Seeing him drive himself to his own barber appointments reminded her how strong and important a barber's relationship can be with their client.
In addition to offering a variety of services from experienced barbers and stylists, the shop hopes to provide an experience and space where clients can enjoy themselves and potentially start that relationship.
"We just want a place where people can come in and (experience) an updated classic barbershop," Maddalena said. "It's a super laid-back environment, and we're such a small crew that I think that really helps."
To book with any of the barbers or stylists at Scissors and Sinners, visit their website or check them out on Instagram @scissorsandsinnersbarbers.
Reach Kota Babcock at entertainment@collegian.com or on Twitter @KotaBabcock.