First of four Casual Fest shows sparks DIY scene revival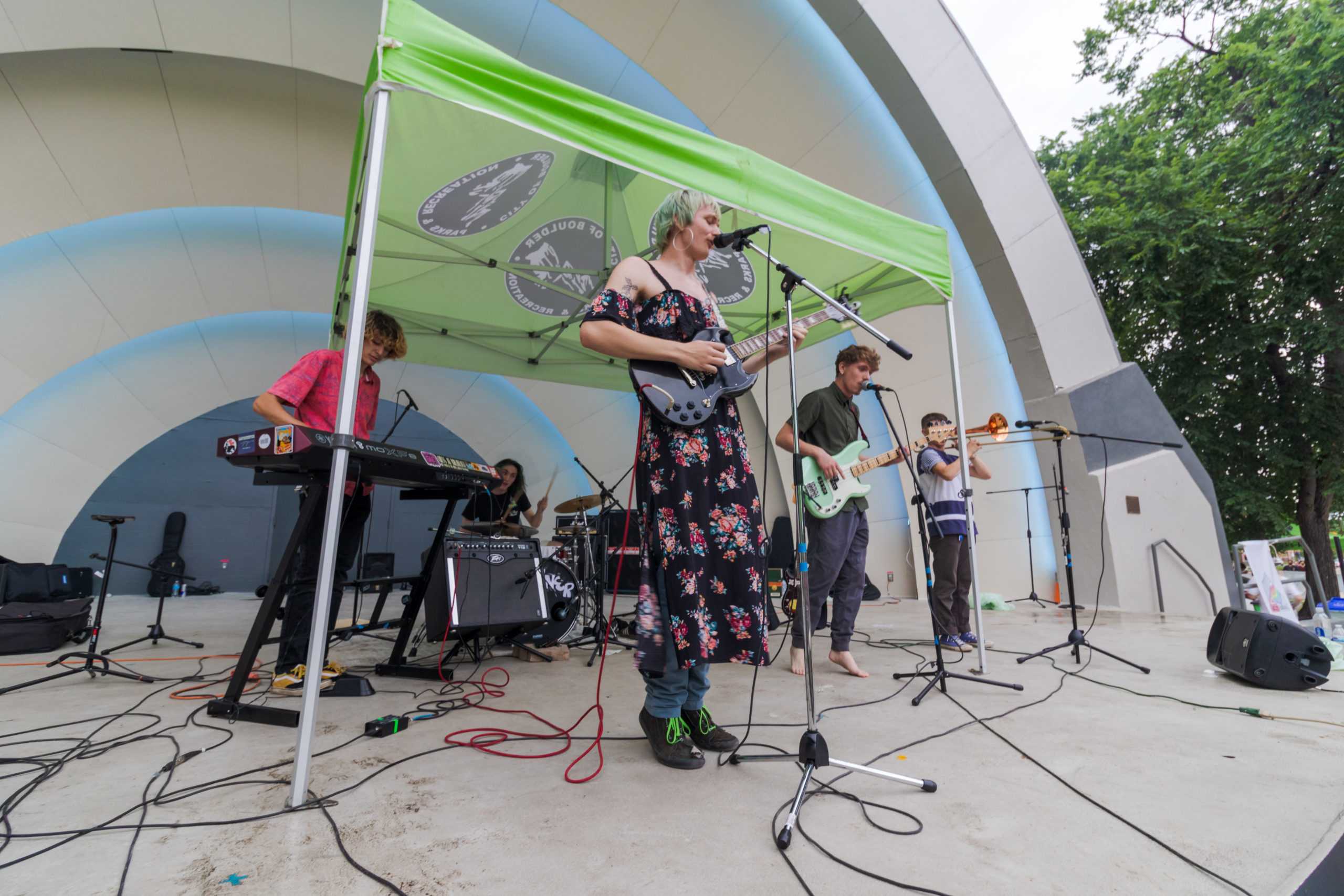 In an ambitious attempt to bring the DIY scenes of Northern Colorado out of their pandemic-induced dormancy, Casual Fest brought a variety of sounds and styles to the main stage, giving listeners a taste of the musical diversity within the local scene.
The organization behind the event, DIY Casual, was started in 2018 by director Rane Miranda as a way to label their informal promoting company as they started booking shows in their home. The practice of inviting bands to perform in one's own home may sound strange to some but is common in underground scenes across the U.S. Miranda also fronts local band Sunnnner, which performed at the first of four Casual Fest events.
These house shows, also known as DIY shows, have provided an environment for many independent musicians to flourish.
"I've experienced so much hospitality and care in DIY communities all over the U.S.," Miranda said.
We've been apart for so long and any opportunity to make music with someone else is so desirable right now." -Lauren Black, vocalist of Lu
Miranda's active participation in the DIY scenes of Boulder, Colorado, and nearby cities was a major influence in the values that DIY Casual holds as an organization.
"We're trying to make art more equitable and diverse," Miranda said.
With the COVID-19 pandemic bringing all live music to an abrupt halt, Miranda's goals shifted away from the DIY scene that existed pre-pandemic, resulting in the current state of DIY Casual.
"DIY Casual exists to teach the greater community all mediums of art," Miranda said. "We believe that art should be accessible to all people, regardless of their financial limitations."
Today, DIY Casual is more than a name of an informal booking agency. The organization functions as a nonprofit that seeks to create a space for artists and musicians in the Boulder community, giving them resources to further their creative goals.
Over the last two years, DIY Casual has put on over 100 shows and raised over $5,000, along with becoming a registered 501(c)(3) in Colorado. 
"I'm trying to do something by the rules of the system that can also represent and amplify underrepresented voices," Miranda said.
The future Miranda said they see for DIY Casual includes creating a maker space in a permanent location.
"(The lack of) space to do music and art is one of the largest things that I see in the way of having a more diverse and … authentic representation of who's in the community and what they're doing," Miranda said.
The space would include access to recording equipment, art supplies and instruction from experienced local artists, aimed at providing resources at an affordable cost.
"The goal of DIY Casual is to make art more accessible," said Ana Caroline De Carvalho, a member of the DIY Casual team and an organizer of Casual Fest.
For now, the DIY Casual team has begun the project by focusing on a series of events called Casual Fest, honing into the skills they've built booking shows.
"I've run shows for years, so I wanted to create an event like this to showcase independent artists," Miranda said.
The first of the four scheduled Casual Fest events occurred last Friday on July 23.
Although this rendition of Casual Fest didn't feature the independent art market the DIY Casual team said they plan to include in the future, the festival's lineup of local musicians provided an engaging performance.
"I think it's really cool we can get a bunch of artists together after the pandemic," said Lauren Black, vocalist of indie pop group Lu. "We've been apart for so long, and any opportunity to make music with someone else is so desirable right now."
From the catchy alternative rock of The Sickly Hecks to the complex melodic tones of jazz pop band People In General, Casual Fest presented its audience with a diverse selection of artists and bands.
"Any opportunity to expose people to new and different music, especially local music, is always a good thing," said Charles Von Vitic, bassist for Nub.
In the end, Casual Fest is a positive indication of how the independent arts community evolves after the devastation of the COVID-19 pandemic.
Max Hogan can be reached at entertainment@collegian.com or on Twitter @macnogan.