`Tis the season: A cynic's guide to possibly enjoying the holidays
Nick Botkin
November 15, 2017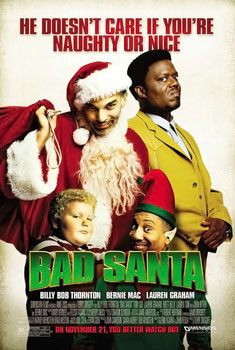 The holidays might put you in a bad mood.
In an era saturated with commercialism and politicization, it is easy to think of giving and goodwill as myths.
Thankfully, there are ways to stay cynical, while maybe having a hint of a good time. Just a hint.
And if you end up enjoying the holidays, then who am I to judge?
1. Have a movie marathon
You might dislike being saturated with "It's A Wonderful Life" or "Miracle on 34th Street." Perhaps they seem infused with too much cheer. Too much idealism.
But for the true cynic, fear not. There are movies especially for you.
Watch "Krampus" if you like demons.  Immerse yourself in "Santa's Slay" if you want to see a jolly old elf gone psycho.  Of course, there is also the king of cynical holiday films, "Bad Santa."
The story of a department store robber, played by Billy Bob Thornton, disguised as Santa Claus, the movie is the embodiment of everything anti-holiday. Thornton's foul-mouthed protagonist is memorable. Perpetually inebriated, he punches a donkey in a fit of rage.  Unabashedly lecherous, he also makes love in a department store fitting room and uses a child's home as a crash pad. On top of that, he is planning a robbery.
Who could ask for anything more?
2. Go on an Amazon shopping spree
You might love the mall as much as a root canal. Plus, the lines look like something out of Soviet Russia.
Go online and shop around with a few clicks. Who does not like the array of goodies online?
The upside: That leaves you the rest of the day to stay cynical.
3. Get together with friends or family
 Relish the cynicism. Yes, said visit might end up in conflict. Uncle Bob might talk politics all night. A turkey might get impaled in some mishap.
But relish the uniqueness. Rethink the squabbling and the family rituals. Think about Ralphie's family in "A Christmas Story" with BB-guns, family feuds and ostentatious leg lamps.  Maybe that quirkiness describes your family or friends.
If that is not the holiday spirit, what is?
4. Listen to holiday music without cheerful lyrics
 If you do not want to be inundated with messages of dreidels, turkeys or Santa Claus, there is a solution: Go instrumental. 
In particular, "The Nutcracker" might be your thing. Tchaikovsky's score evokes smiles every holiday season. Maybe magic exists.
Listen to "Dance of the Sugar Plum Fairy" and tell me it does not fill you with a whimsical spirit. 
5. Turn off the media
Two turtle doves, three French hens and a trampled shopper in a Walmart parking lot. The media is another source of holiday cynicism. Stories of hope and giving do not get good ratings. No wonder you might be so cynical.
Instead of goodwill and peace, you might get subjected to constant stories on the alleged "War on Christmas" or Black Friday fights. Talk about holidays.
Does it get any more cynical?
Upcoming holiday event in Fort Collins:
Horse-drawn carriage rides
Where: Old Town
When: Dec 1–31
Collegian reporter Mir-Yashar Seyedbagheri can be reached at entertainment@collegian.com or on Twitter @dudesosad.