Roastin' with Rick: Bruce Banner wax
Disclaimer: Under Colorado law, the use of marijuana is restricted to those aged 21 and older or those with a valid medical marijuana license. Colorado State University does not allow the possession or consumption of marijuana, recreational or medical, anywhere on campus. The Collegian does not condone underage consumption of marijuana.
(Edited by Lawrence Lam)
Last time, I said I'd be reviewing a concentrate (i.e. hash, oil, wax, tincture, etc.), and I'm happy to announce that I found an amazing wax when I went looking for something to observe and report. Looking through the massive selection of concentrates, I picked out a new favorite — Bruce Banner wax.
I traveled over to the Infinite Wellness Center on North College Avenue, and I purchased 1 gram of Bruce Banner wax, a product of Mahatma Concentrates, for a total of $58.71. In my opinion, it was a little expensive, but with one dab of wax providing the effects of an entire bowl of flower, a gram of wax can satisfy for quite a while. And, seeing that the Bruce Banner strain has one of the highest THC percentages (for the flower, around 29 percent THC a gram at about $17), the wax will last me, with its 78.4 percent active THC level.
To be clear, wax or hash — concentrates in general — are made through THC extraction methods — using either butane, CO2, water and ice or alcohol as a solvent — to gather large quantities of THC from either the plant's flower or it's leaves. These concentrates, also known as dabs, come in two types: wax or shatter.The concentrate is then placed upon a hot nail made of glass, quartz or titanium and then inhaled as it vaporizes. They hold a THC percentage that is four to five times more potent than the traditional flower, sometimes reaching up to 80-90 percent THC.
That being said, making marijuana concentrates is done by the professionals in controlled areas that are under strict supervision. It's a dangerous business so don't go trying to make some hash at home. Leave it to the pros.
The Bruce Banner strain has gorgeous flowers that are mostly dark green with yellow and orange hairs creeping out from each of its crevices. A crossbreed of the sativa-dominant hybrid strains OG Kush and Strawberry Diesel, Bruce Banner wax is strong on the sativa effects — energy, euphoria, happiness — but the strain also produces indica effects — body buzz and relaxing and calming effects.
The Bruce Banner wax is much cleaner and less gooey than a lot of other waxes, which made it incredibly easy to pick up with the dabber and dab into the rig. It had this beautiful golden color to it with a creamy smooth texture, and the smell was amazingly sweet. There were definitely traces of the strong Diesel aroma, but the citrus, lemon-assertive scent, common to OG Kush, is evident too. I made sure that the wax I got was 100 percent Nug Run, meaning that instead of being concentrated from the THC on and within the trim of marijuana buds, the wax is made purely from the buds themselves. Concentrates made from Nug Run usually have a more flavor and tend to be a little more powerful.
For how flaky the wax looked inside of its container, it was surprisingly malleable. I could easily crush it between my fingers and roll it around into little balls to drop into the nail of our rig — no sticky residue whatsoever.
To dab this wonderful wax, I used an oil drum rig with a banger bucket nail from Roastin' with Rick's new sponsor, Kind Creations, located at 828 S. College Ave. This rig, which had virtually no splash-back at all during the inhale, made dabbing so much smoother, and coughing was suppressed to only a few quick hacks. Personally, I think the banger bucket nail is the most effective nail for dabbing — it's a favorite — and it utilizes the hash to its fullest.
Taking the dab, I was able to experience the full flavor profile from the sweet vaporized Bruce Banner wax. The flavor was super clean and crisp, almost refreshing in a way, and woke me up instantly. For a moment, the effects weren't too intense, but about five minutes after I took the dab, I realized why this concentrate is called Bruce Banner (the alter-ego of the Incredible Hulk). Slowly, but surely, I was hit with a strong and subtle wave of euphoria, and I felt an extreme loosening up of my muscles. The sativa elements in the wax were highly evident, but at first it was the indica effects making themselves powerfully noticeable.
Thankfully, after the initial, powerful wave passed – which lasted about 10 minutes – things became less intense and the euphoria turned into a creative buzz. I was super-energetic and found myself more active and spry, but the body high kept me very physically relaxed and less tense. The high was also very uplifting, and I was often laughing and giggling. I wasn't too hungry, and was able to concentrate on other activities until a while after smoking when I ordered some delivery to satisfy the hunger.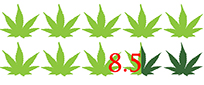 Overall, I thought this wax was great. I can't think of anything too bad to say about it. I wasn't a huge fan of the the powerful rush, which came moments after the first dab, but once the intensity subsided, it was great. I had a great time. In the end, I think I'll have to give the Bruce Banner wax 8 1/2 leaves out of 10, just like the Moby Dick sativa strain that I reviewed last time.
For the next Roastin' with Rick, I'll be reviewing something random — maybe a different strain of flower, a different concentrate or maybe even an edible. Keep an eye out for it online Monday, June 1.
This column is sponsored by Kind Creations.
Collegian Senior Reporter Rick Cookson can be reached at entertainment@collegian.com or on Twitter @RickCookson1.