Rams football prepares for short-week game against Utah State
Jeremiah Janzen
October 20, 2021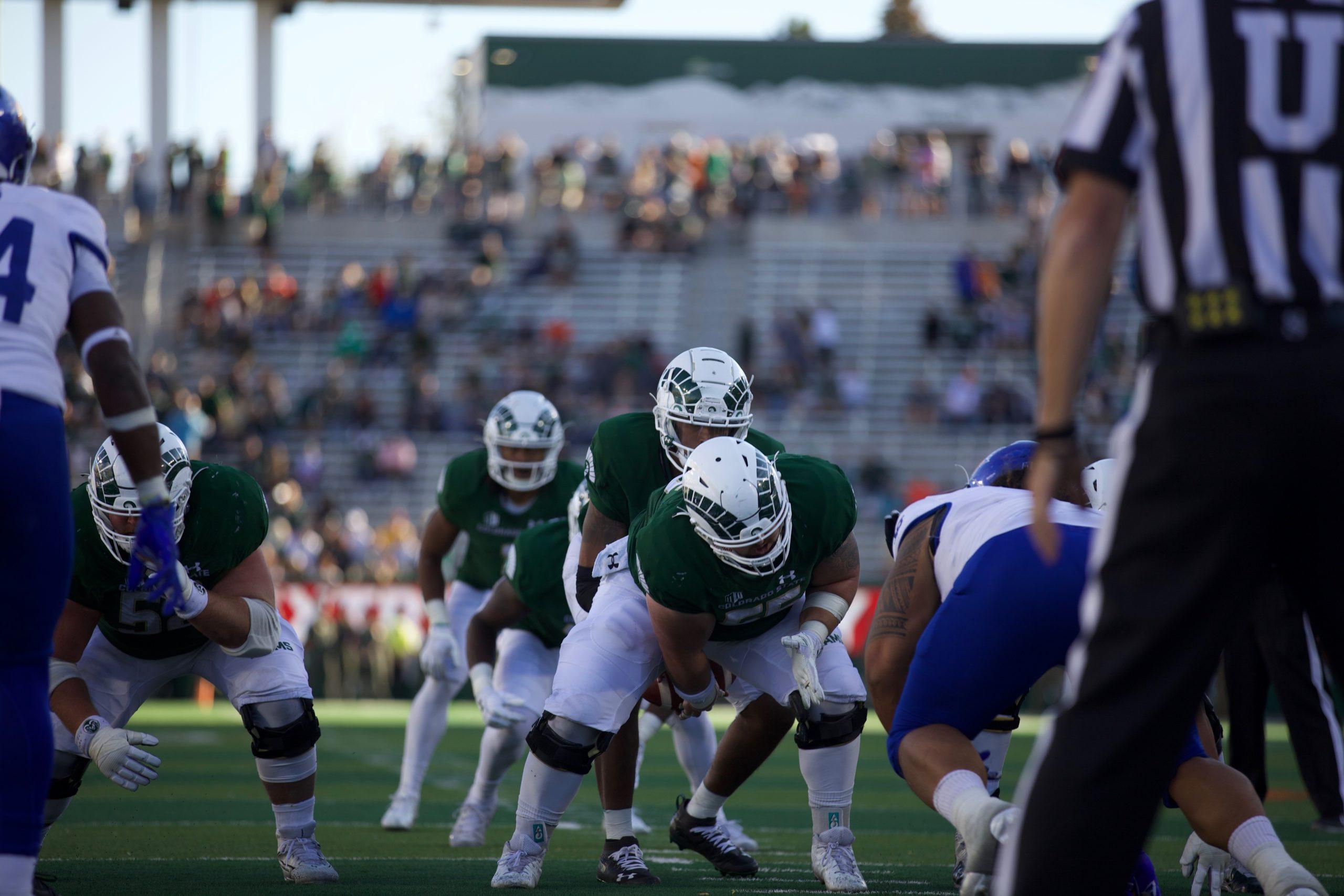 The Colorado State Rams football team (2-0 Mountain West Conference, 3-3 overall) will travel to Logan, Utah, to take on the Utah State University Aggies (2-1, 4-2) Oct. 22. This contest marks the third MW game for the Rams as they look to secure their third win in as many games.
Defense led the way for the Rams in their last outing, as they forced three turnovers and allowed only 69 yards in their win over the University of New Mexico. 
Utah State is coming off a 28-24 victory over the University of Nevada, Las Vegas, a game during which the Aggies struggled early on but turned things around in the second half thanks to a strong offensive effort.
(The Aggies have a) really good running back, outstanding receivers, good upfront, explosive offense; … they've done a great job." -Steve Addazio, head coach 
"It's going to be quite a great challenge for us, going out there on a short week on the road out to Logan," head coach Steve Addazio said at a press conference Oct. 18. "It's going to be quite a task against an outstanding football team."
Stopping this Utah State offense will certainly be no easy task for Colorado State, as the Aggies currently boast the No. 15 ranked passing attack in the NCAA Division I Football Bowl Subdivision. Conversely, the Rams enter the contest as the No. 9 ranked total defense in the FBS. A classic case of a top-ranked offense battling a top-ranked defense makes Friday's contest a very intriguing matchup.
Key factors
1. Secondary success
While many spectators believe Fred Biletnikoff Award hopeful Trey McBride is the best offensive player on the field for this game, Utah State has a star wideout of their own in Deven Thompkins. Thompkins enters Friday's contest with an impressive 819 receiving yards and six touchdowns on the season. The senior wideout eclipsed the century mark in all but two games this season and is coming off a game in which he hauled in 12 receptions for 180 yards and two touchdowns.
Utah State quarterback Logan Bonner threw for over 270 yards with a pair of touchdowns in each of the Aggies' last two outings, while also throwing an interception in each of these contests. Pressuring the quarterback has been key for the Rams all season, but their secondary will be most crucial to the team's success against the Aggies. This Rams unit will be up for the task as they look to make it their fourth straight game with an interception on the defensive end.
"I think they have an elite quarterback, … a really good running back, outstanding receivers, good upfront, explosive offense; … they've done a great job," Addazio said.
2. Special teams
While the Rams held the New Mexico offense scoreless last week — the Lobos' lone touchdown of the game came off a 63-yard punt return by Luke Wysong — Colorado State will need to tighten things up in their return defense, as Utah State return man Savon Scarver is one of the best to ever do it. Scarver is one of only five players in FBS history to have seven career kickoff-return touchdowns. Scarver is one return touchdown away from breaking the FBS all-time record, and the Rams need to do everything in their power to make sure it doesn't happen on their watch.
"I thought we played gritty as a team," Addazio said. "We really felt like we were disappointed in a couple of coverage issues. We also realized after watching the tape that we had some real penalty issues on our kickoff team. … We've got to do a better job coaching and getting through that stuff, but those are a couple of concerns we had that we want to get fixed."
3. Stretch the field and score touchdowns
Colorado State quarterback Todd Centeio has stepped up big in his last two outings, passing for 521 yards and two touchdowns across that stretch. Part of Centeio's recent success came from the emergence of junior wideout Ty McCullouch. McCullouch helped the Rams stretch the field recently, coming up with a 60-yard touchdown against San Jose State University and a 41-yard reception against New Mexico.
Tight end Gary Williams also made a big play last weekend against the Lobos, as he hauled in a 43-yard reception of his own. While Addazio normally seems to look to his tailbacks to carry the offensive workload for the Rams, having big-play threats from McCullouch and Williams has added a new element to a Rams passing attack that desperately needs it.
Jeremiah Janzen can be reached at sports@collegian.com or on Twitter @JeremiahJanzen.