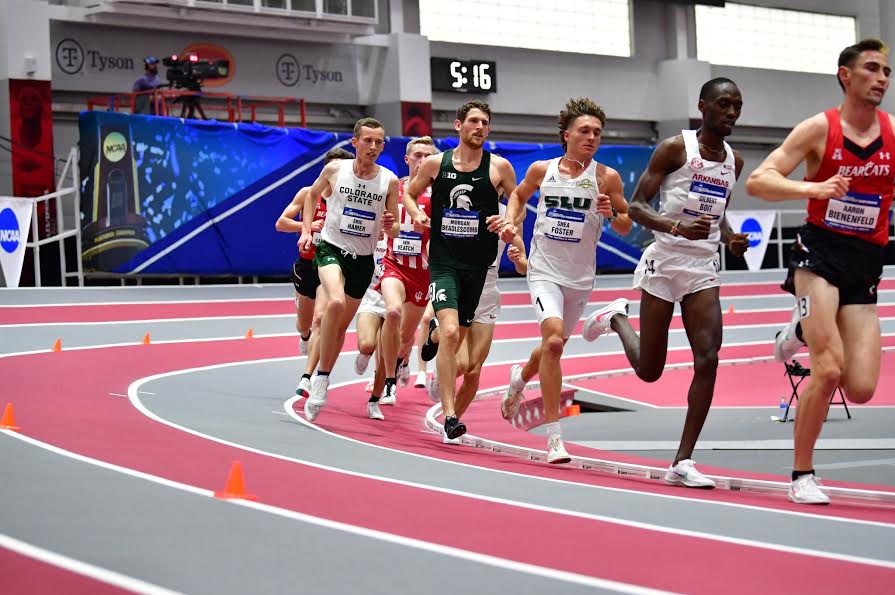 Colorado State's track and field program competed in this weekend's NCAA Championship in Eugene, Oregon, at Hayward Field. Ram athletes Eric Hamer, Maria Muzzio and Adam Dawson concluded this year's 2020-21 track and field season with stunning stats this Saturday at the NCAA Championship.
As Hamer's career continues, his collection of awards has only grown, and recently added to his long list of achievements was his 10,000-meter performance at the 2021 NCAA Outdoor Track & Field Championships Wednesday evening. Starting off the championship with a bang, Hamer finished in fifth place, earning him an opportunity on the First Team All-America honors, but Hamer didn't stop there.
With an astonishing time, 27:44.87, Hamer exceeded his own school record by 24.08 seconds and qualified him for a competition even greater than nationals — the U.S. Olympic Trials. Hamer has finished both competitions for his category, following up with a 14th-place finish in the 5,000-meter for a second-team medal and a school record. 
Hamer described his emotions as "a little bit of disbelief when you see the time, but also part of you believed that it could happen. I signed up for the Olympic Trials yesterday, which was the last day to do it. I'm glad I did because you never know when it could happen." Hamer will now be returning in two weeks to claim his Olympic jersey and continue pursuing his track and field career.
As for Dawson, his first event was Friday afternoon with a competition in the discus throw. Recently recovering from an injury, Dawson had a close finish of 12th in his event with a throw of 56.06m/183'11", only missing the finals by three points. Dawson said he's "happy with my marks; I have been really consistent since coming back from injury earlier in the season. Being able to be here is always fun and a great way to end a season."
Dawson's efforts earned him Second Team All-America honors with time left for more. In response, he said, "I still have time left here at Colorado State, so I'll be aiming for First Team All-American next year. That's all that's left since I already got the other two."
"Adam (Dawson) put himself in a position to reach finals and was competitive at the meet, when just a few months ago, we didn't know if he would be throwing this season," head coach Brian Bedard said.
Finishing off this season strong, Dawson will return ready for more in his next two years. 
Closing out the 2020-21 Colorado State track and field program, the Rams come home with four All-American honors."
Muzzio was the last Ram in action for Colorado State athletics and concluded the 2020-21 calendar season by earning an All-America honorable mention honors in the discus throw Saturday afternoon. She came in 23rd place with a throw of 51.61m/169'4″, ending her career with a personal record and making CSU history. 
Muzzio has made consistent strides improving in all three of her discus performances. From the NCAA Regional level in 2018-19 to most recently finishing 10th and qualifying for her first NCAA Championships appearance, Muzzio has demonstrated consistency and growth as a competitor.
This recent competition was also Muzzio's second-best throw of her career to date, as she earned two of her greatest performances as a Ram and concluded a great season with a considerable career. After finishing the season, Muzzio  said she was "blessed to have had the season that I did. I obtained a few PRs and am just happy that I made it this far to end my career at the highest stage in college."
Closing out the 2020-21 Colorado State track and field program, the Rams came home with four All-American honors. Bedard finished the season saying that he was proud of the effort shown by the program and looks forward to the 2021-22 season.
For final results, visit the NCAA track and field website.
Karsyn Lane can be reached at  sports@collegian.com or on Twitter @KarsynLane1.