CSU QB Nick Stevens ready to lead loaded Rams offense into 2015 season
Keegan Pope and Quentin Sickafoose
September 4, 2015
Nick Stevens may have never played football if he didn't take matters into his own hands.
Colorado State's 2015 opening day starter developed an early interest for the game which he was solely responsible for; not his father, Matt, or older brother, Jake. He wanted to play, but it wasn't that easy.
He asked his parents several times, and his mother, Stacy, refused to take the chance of him getting hurt. She wanted to see him focus that drive into baseball, which he also played.
But Stevens remained persistent.
Knowing it would require a drastic measure, he approached his mother in fifth grade and offered to fund the football fees himself if she would finally be willing to give him her blessing.
"I knew at that point he was serious about it," Stacy said. "Obviously, we didn't actually make him pay for it. But when he came to me and said that, I thought, 'well, this kid is ready to play now.'"
Stevens starred at California prep football power Vista Murrieta High School, where he rewrote the record books in just two seasons as the starter.
Putting on the pads
Eager with his first opportunity to play football, Stevens made it a point to be a team-first player, offering to play any position on either side of the ball in middle school. Before finding a home at the quarterback position, he was introduced to a role that had a night-and-day difference.
His first coach asked the team who would be willing to fill the role at center, to which nobody raised their hand — except Stevens.
He spent his first year snapping the football, and a member of the offensive line the next. He also tried his hand as a tight end and on defense until he ultimately found a spot as the team's backup quarterback in eighth grade.
That shift benefitted him as he entered high school and joined a Vista Murrieta freshman squad that was thin at quarterback.
"The thing about Nick that sticks out to me is that he was always such a team player," said Coley Candaele, who has been at the helm of the Vista Murrieta program since the high school's inception in 2003. "It was more than just what us coaches wanted. He was always that guy that was there for all of his teammates and found that true leadership trait as he grew older."
After his sophomore season, Stevens found himself in a race for the starting quarterback position along with Randy Beggs, who now plays safety for the Naval Academy.
Both Stevens and Beggs brought skills to the table that Candaele had interest in. But as the summer of 2011 began to wind down, he knew that Stevens would be the one taking snaps on Friday nights during the upcoming fall.
"I knew once Nick got behind the center and I saw his presence," Candaele said. "Our offense took off when Nick started distributing the ball and started being that unselfish quarterback that makes everybody feel that his presence on the field makes everybody better. He just creates an environment of winners."
Rewriting the record book
During his junior and senior seasons as the main catalyst for the offense, Stevens led Vista Murrieta to 27 victories in the 28 games he played.
The biggest trouble Stevens brought to opposing defenses was that he remained a dual-threat with an ability to pass and run the football. In 2012, he racked up 661 yards and 11 touchdowns on the ground.
He owns school single-season passing records with 24 touchdowns, 2,316 yards and 149 completions, while the Broncos made two consecutive appearances in the CIF Championship game, claiming the crown his junior year.
"That was a proud momma moment," Stacy said. "Luckily, we were at a school where he got a lot of recognition and other parents would come up all the time saying how awesome he was, even when he didn't have his most awesome game."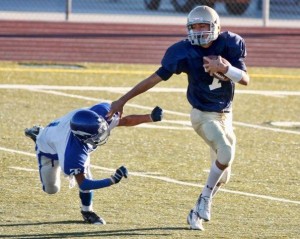 As Stevens began to find success his junior year, reaching milestones and shattering high school records, his dreams of playing at the collegiate level started to become real.
His numbers led to recognition from Division I programs as he received a three-star prospect rating from ESPN.com and two-star ratings from Scout.com and Rivals.com.
"I liked the attention. I know a lot of people don't really like it, but I liked it a lot," Stevens admitted. "It kind of motivated me a lot during practice when a coach was out there to try to be the best I can. Even when there wasn't one there, I knew that there might be one the next day at the next practice, so I had to get better during that practice."
During the summer following his junior year, Stevens and his mother skipped out on a family vacation to Lake Powell, an annual trip that became somewhat of a tradition, to check out a number of different colleges.
The two main schools on the docket were Colorado State and Utah State, both of which had offered him scholarships.
"I was never one of those moms that was like, 'Oh yeah, my kid is going and getting a scholarship,'" Stacy said. "It was all very humbling, and I was shocked when we got the first offer. Nick did a lot of the talking to the coaches all on his own. He was our first kid going through something like this."
Along with a nearly undefeated high school football career, Stevens was exceptional in the classroom, graduating with a 4.21 grade-point average, while being named to the Southwestern League all-scholastic team in 2011 and 2012, the same years he was Vista Murrieta's starting quarterback.
"Nick is basically a rocket scientist. His test scores and GPA are off the chart," Candaele said. "In 20 years of coaching and having countless players go on to college, to play football or not, Nick Stevens was the last person I would ever worry about in terms of grades."
 Letting go
When Stevens returned to California to train for his upcoming senior season, he told Candaele that he had found his next home.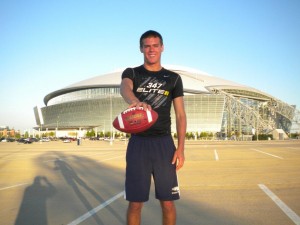 Colorado State had won Stevens' choice by being the first to offer a scholarship to him. He had been on one official visit and taken another unofficial one at a time when Jim McElwain had taken over the program with a vision to get the Rams back on the rise.
"It's kind of nice to get away from California and all the craziness," Stevens said. "People really don't care about anything but themselves out there sometimes, the hustle and bustle all about yourself. I liked the community (at CSU). A lot of people cared about everybody else, also the community."
Stevens' family supported his decision. They made the trip out to get him moved into his dorm in the fall of 2013.
"I didn't cry in front of him, I wouldn't let myself," Stacy said.
Stacy, Nick's biggest supporter, didn't want to leave him feeling like he was doing any wrong for deciding to pursue higher education outside of the state he was born and raised in.
She refused to let her son take a step back and feel like he had to be there for her.
"As soon as we dropped him off and got in the car, that was a different story," she said. "That's when the tears started to roll."
The big jump
Adjusting to life in college is a tall order for almost every young adult. And when you're doing so nearly 1,100 miles away from the town you grew up in, while balancing a full course load and training as a Division I athlete, it only adds more to your plate.
That was the case in the fall of 2013 for Stevens, who landed on attending CSU after spending his life in California; but life on the football field was a different world.
He had come from dominating high school teams in his junior and senior seasons to suddenly going back to being the low man on the totem pole. In his first couple weeks playing with the Rams, Stevens remained in good contact with Coley Candaele, his former coach at Vista Murrieta High School.
"I remember checking in on Nick a few times to see how things were going," Candaele said. "He told me that the work they put in was about the same, but I still remember him saying 'Man, these guys are just a lot stronger and faster.'"
That adjustment was something all of the new Rams were tasked with getting used to.
"When you come here, everybody is just as good as you, if not, better," Stevens said. "It's kind of cool being on a team of superstars because everybody out there really earned their scholarship."
During his freshman year, Stevens was paired up with Elroy Masters, Jr., another freshman who signed to play wide receiver at CSU, to live with in the Parmelee dormitory.
Living with one of his teammates helped with the transition for Stevens, who said they spent their first summer playing volleyball with other incoming CSU athletes, including transfers from the basketball team.
They understood the process and helped one another along the way.
"(It was) just the basic things like waking each other up for 6 a.m. workouts, to all being on the same schedule, to coming back to our dorm at the same time," Stevens said. "We'd all relate our struggles with balancing football and academics and a social life, basically all help each other out in that aspect."
Making his debut
After redshirting during the 2013-14 season, Stevens stood in the mix of a team that was plentiful at quarterback. Upcoming senior Garrett Grayson had come off a career-best season with CSU, which left Craig Leonard and Stevens vying for backup spot.
On April 12, 2014, the Rams held a team scrimmage at Dick's Sporting Goods Park outside Denver, in which he shined in the playing time he was given.
Stevens ran with every offensive team the Rams had, and even led the first-string offense late in a two-minute drill practice. He finished the day completing 12 of his 18 attempts for 166 yards and two touchdowns.
"Nick's a good player, guys," then-CSU coach Jim McElwain said after the scrimmage. "He took them right down the field. I feel good about him being a player for us."
However, Stevens would have to sit on the bench a bit longer before he got his first chance in a real game.
His time to shine finally came on Sept. 13. The Rams were up by three touchdowns on UC Davis late in the game, and Stevens knew he'd eventually get the call.
In attendance was his girlfriend of four years, Haley Scheer, who now attends San Diego State University but has been with Stevens since they met when he was playing junior varsity for Vista Murrieta.
"Yeah, I was definitely nervous for him. This isn't high school anymore and some of those guys are 300 pounds," Scheer said. "But we kind of knew it was coming when they were up by that much."
He completed all three of his passes against UC Davis for 27 total yards. A week later, he threw his first collegiate touchdown to All-American wideout Rashard Higgins from 36 yards out against Tulsa, although he refused to take the credit for it.
"It's kind of a milestone getting that first touchdown," Stevens said. "But obviously, I'll credit Rashard. It was a 2-yard throw and he took it (the rest of the way)."
Back at the Stevens household, Nick's debut in the UC Davis game proved to be a landmark moment. His parents, Matt and Stacy, were watching on the downstairs television, which was a few seconds behind the one his brother Jake was watching upstairs.
"It was quite the ordeal at my house," Stevens said while laughing.
Jake began cheering when Nick entered the huddle for his first time, confusing the others watching below. But what happened that day proved to be a sign of what's to come.
"It's pretty cool being here and seeing how everyone else back home is so excited for him," Scheer said. "CSU has thousands of more fans back here in California just because everybody's watching him and now supporting the team."
Getting his shot
Stevens played in five games during the 2014 season, completing 15 of 25 passes for 136 yards and one touchdown. He was expected to be the heir apparent to Garrett Grayson, but when head coach Jim McElwain took his talents to Gainesville, Fla., and the University of Florida football team, the quarterback race blew right back open.
When Mike Bobo was tabbed to succeed McElwain right before the winter holidays, Stevens knew he had a lot to learn, including Bobo's uptempo brand of offense, one which led him to be considered as one of the best offensive minds in the SEC.
Stevens battled with redshirt freshman Coleman Key through spring practice and the first week of preseason camp before being named the starter Aug. 17. Though he has be thrown into a new offense with a new head coach and offensive coordinator, Stevens inherits one of the best groups of skill players not only in the Mountain West, but in the entire country. That type of supporting cast make his job a lot easier, according to Stevens.
"It definitely eases your mind that you have so many playmakers around you," Stevens said. "Anywhere I go with the ball, I know that if they catch it they're going to make a play. Even if I just hand the ball off, we can get an explosive play. I think it's just very calming knowing, and I just know that anybody on the field at any given time is going to be able to make a play and possibly score."
Stevens' roommate and best friend, Masters, is among those possible weapons for Stevens to spread the ball to when the team kicks off the 2015 season Saturday against Savannah State. Despite the significance of Saturday's game, Masters believes Stevens is more than ready for the challenge.
"I just told Nick that no matter what, he just has to go out there and play football," Masters said. "He got the starting job because of the plays he made and the confidence that he had, and now that he has it, he just has to go play the same way he did through camp. Whether it's this game or one during the rest of the season, there's going to be ups and downs but he just has to keep it simple and he'll be fine. I'm really excited for him. He deserves this."
Collegian Senior Sports Reporter Keegan Pope can be reached at kpope@collegian.com and on Twitter @ByKeeganPope.