CSU football releases 2013 schedule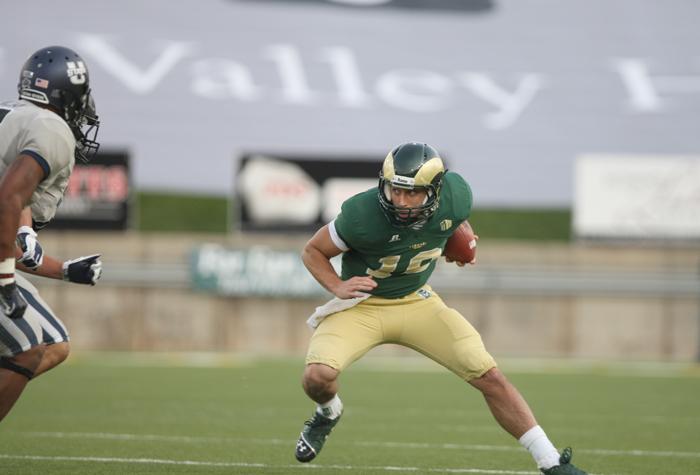 Colorado State football released its schedule for the upcoming 2013 football season Thursday afternoon.
The Rams will open the 2013 season as they did last season, with a date with the CU Buffaloes, only this time, CSU will play their in-state rival on Sunday, Sept. 1 instead of a customary Saturday opener.
"Obviously it's a big opening day of college football on Saturday and I think Sunday possibly gives us an opportunity to steal some of that spotlight from a national standpoint," CSU coach Jim McElwain said.
"And hopefully (it) gives a lot of people who maybe are gonna do something Saturday, gives them that Sunday to go ahead, come in and watch the game."
Following the Rocky Mountain Showdown with CU, the Rams will travel to Tulsa, then return home to play Cal Poly before their highly-anticipated match-up at Alabama on Sept. 21.
"I'm worried about week one, obviously," CSU redshirt sophomore running back Donnell Alexander said.
"But when we get there, to Alabama, of course I'm ready for it. That's something that, you know, everybody can't say they get to play Alabama, I feel like if we go out there and compete with them, that's a good thing."
Because of the two-division system that was unveiled for the new-look Mountain West Conference this season, CSU will not face San Diego State, UNLV, or Fresno State during the regular season.
Instead, the Rams will face San Jose State (Oct. 12), Hawai'i (Oct. 26) and Nevada (Nov. 9) from the West Division and will face the remaining three teams in the West next season.
Though CSU has released the schedule, pending start times that will be released at a later date, the Rams have been focused on getting better during the spring in preparations for McElwain's second season as coach of the team.
"To be honest, really the number one thing for us right now is, 'what do we do tomorrow to get better?'" McElwain said.
"We'll play the games when they come and we'll look at it that way, but right now, our most important focus is on getting better every day."
2013 Colorado State Football Schedule
Date          Opponent (Location)      Time
09/01/13–vs. Colorado (Denver, Colo.), TBA
09/07/13–at Tulsa (Tulsa, Okla.), TBA
09/14/13–vs. Cal Poly (Fort Collins, Colo.), TBA
09/21/13–at Alabama (Tuscaloosa, Ala.), TBA
09/28/13–vs. UTEP (Fort Collins, Colo.), TBA
10/12/13–vs. San Jose State (Fort Collins, Colo.), TBA
10/19/13–at Wyoming (Laramie, Wyo.), TBA
10/26/13–at Hawai'I (Honolulu, Hawai'I, TBA
11/02/13–vs. Boise State (Fort Collins, Colo.), TBA
11/09/13–vs. Nevada (Fort Collins, Colo.), TBA
11/16/13–at New Mexico (Albuquerque, N.M.), TBA
11/23/13–at Utah State (Logan, Utah), TBA
11/30/13–vs. Air Force (Fort Collins, Colo.), TBA
Assistant Sports Editor Andrew Schaller can be reached at sports@collegian.com