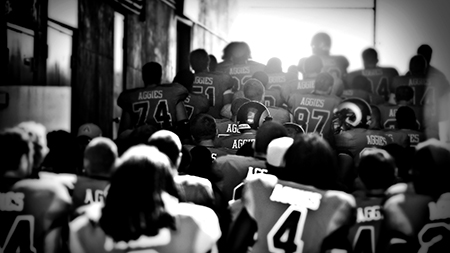 In a sloppy game that featured two one-win teams committing 10 total turnovers, CSU football was able to outlast Hawai'i at home Saturday night, winning 42-27.
The victory snaps a six-game losing streak for the Rams that dates back to Sept. 1 of this year.
Under the leadership of third-string quarterback Conner Smith, the Rams offense had its most productive half of the season in the first half, scoring 28 points before halftime.
"I feel like we really executed as an offense especially in the first half," Smith said. "We got it done, that's what counts, a "W" is all that matters at the end of the day and we got it."
The success of the offense turned out to be short-lived for the Rams, however. CSU opened up the second half by committing turnovers on three consecutive possessions and gave the Warriors starting field position on the Rams side of the field on four consecutive possessions.
Hawai'i did not fully take advantage of the Rams' sloppy play, however, scoring only six points in the third quarter leaving the door open for CSU to break the game open in the fourth.
"It was terrible, that's what cost us the ball game," Hawai'i coach Norm Chow said of the Warrior's inability to capitalize of CSU's mistakes. "Our defense really stood up and played and we didn't take advantage of it offensively."
The Rams ended up extending their lead in the fourth quarter largely due to Chris Nwoke's performance. Despite committing two costly fumbles in the game, Nwoke managed to have a positive impact, rushing for 115 yards and a touchdown, which represents the first time all season CSU has has a rusher of over 100 yards in a single game.
"It was a great game for us, and obviously there's some mistakes we have to clean up," Nwoke said. "But we're on the right track obviously, if we keep working hard and stay healthy for everybody we can do this every game so we're bound to do that ."
The victory boosts the Rams' record to 2-6 and moves Hawai'i's record to 1-6. The win for CSU was much needed as the Rams have said they were starting to feel the pressure of not winning a game in seven weeks.
"Believe me having been on this stretch I'm probably one of the most excited guys in the country," CSU coach Jim McElwain said. "I really think we took a step today and we took a step as a family."
CSU will have an opportunity to win back-to-back games for the first time this season next Saturday at 2:30 p.m. MT when they travel to play Wyoming.
For more in-depth coverage of tonight's game be sure to check out Monday's issue of The Collegian
Football Beat Reporter Andrew Schaller can be reached at sports@collegian.com