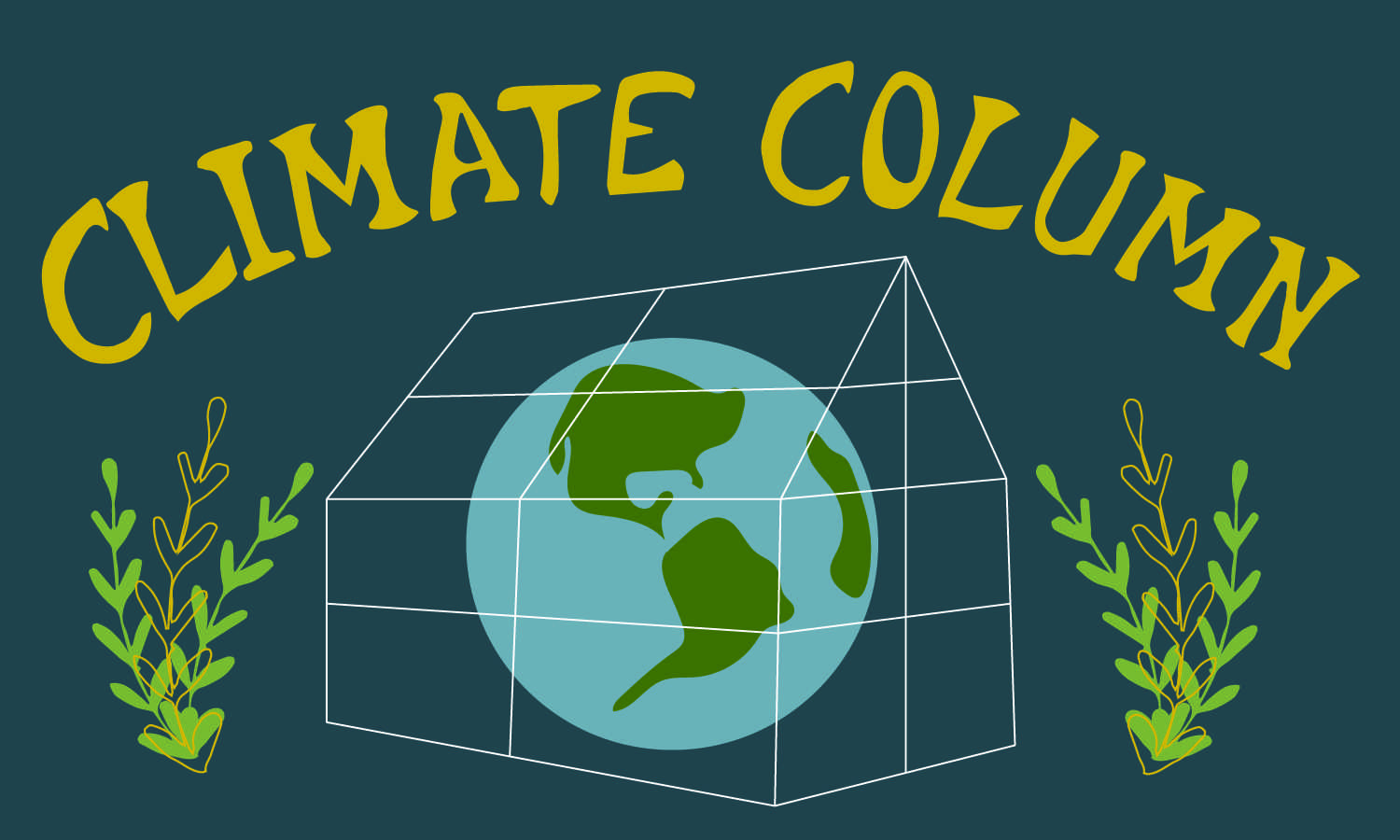 Climate Column (Graphic Illustration by Abby Flitton | The Collegian)
Editor's Note: All opinion section content reflects the views of the individual author only and does not represent a stance taken by The Collegian or its editorial board.
A recent study published by Colorado State University researchers shows that the booming nationwide marijuana industry comes with a sizable carbon footprint. As global temperatures continue to rise, Colorado lawmakers and growers should consider ways to make this industry sustainable while keeping it economically viable.
In states where recreational marijuana is legal, sales and use of the plant have grown in recent years. That growth has been particularly dramatic in Colorado, where monthly recreational sales went from "between $10 million and $20 million in early 2012" to about $90 million in 2018, according to the Federal Reserve Bank of St. Louis.
But this spike in demand for cannabis puts a large amount of greenhouse gas emissions into the atmosphere. The CSU study, which looked at cannabis operations across the country, says that these emissions are "largely attributed to electricity production and natural gas consumption from indoor environmental controls, high-intensity grow lights and the supply of carbon dioxide for accelerated plant growth."
The researchers also developed an interactive map that shows how GHG emissions from indoor cannabis operations are distributed across the country. The map shows that emissions in Colorado are noticeably higher than in other marijuana-legal states such as California and Washington.
American agriculture has historically sought to increase its production while neglecting to consider the environmental consequences of that production."
Colorado still generates a good chunk of its electricity by using climate warming energy sources like coal and natural gas. Washington, on the other hand, uses far less coal and natural gas, instead deriving a large portion of its power from renewable sources like hydroelectricity.
According to SOURCE, emissions are higher in Colorado partly because "many grow operations are required to be in close proximity to retail storefronts, and this has caused an explosion of energy-hungry indoor warehouses in urban areas like Denver."
The cannabis industry is relatively new, but it shares important similarities with other agricultural operations in the United States.
"In the past, changing farming practices focused on increasing yield to meet growing demands," the American Society of Agronomy's website states. "But some of these practices have also had negative environmental impacts," such as soil degradation and, like cannabis, elevated GHG emissions.
American agriculture has historically sought to increase its production while neglecting to consider the environmental consequences of that production. Marijuana, unfortunately, seems to fit that pattern.
This country has only barely developed a mindset that prioritizes environmental health. Instead, we seek economic opportunities and, when they prove profitable, we maximize them. Supply and demand seems to dictate our policies until the moment we realize that our capitalist ambitions have limits in the real world.
Unsustainable practices, however, aren't the only practices. Some American farmers are implementing environmentally sustainable practices, and the emerging cannabis industry should do the same.
Evan Sproul was a member of the research team publishing "The greenhouse gas emissions of indoor cannabis production in the United States," the CSU research paper on cannabis sustainability.
"We would like to try and improve environmental impacts before they have become built into the way of doing business," he told SOURCE.
The study mentions an area of improvement specific to Colorado. The requirement that grow operations must happen close to retail locations could be changed so that plants could be grown in areas where less energy is needed. 
"The practice of growing cannabis in Leadville leads to 19% more GHG emissions than in Pueblo," the study states. "The savings in GHG emissions from moving indoor cultivation to Pueblo and away from Leadville are likely to be much greater than the GHG emissions of transporting the final product to retail locations in Leadville."
Colorado could also follow Washington's example and amp up its renewable energy generation (no pun intended). The Colorado Energy Office website says, "The state is working to transition to 100% clean electricity generation by 2040."
Using electricity that doesn't pump GHG emissions into the atmosphere could allow the cannabis industry to continue meeting the high demand for marijuana while not contributing to the ongoing climate crisis.
Overall, marijuana use doesn't seem to be slowing down. Nationwide legalization could very well happen within CSU students' lifetime, and that could mean an even higher demand for the plant. To accommodate this, the industry should adjust its methods of production to ensure it can meet a growing demand sustainably.
Cody Cooke can be reached at letters@collegian.com or on Twitter @CodyCooke17.