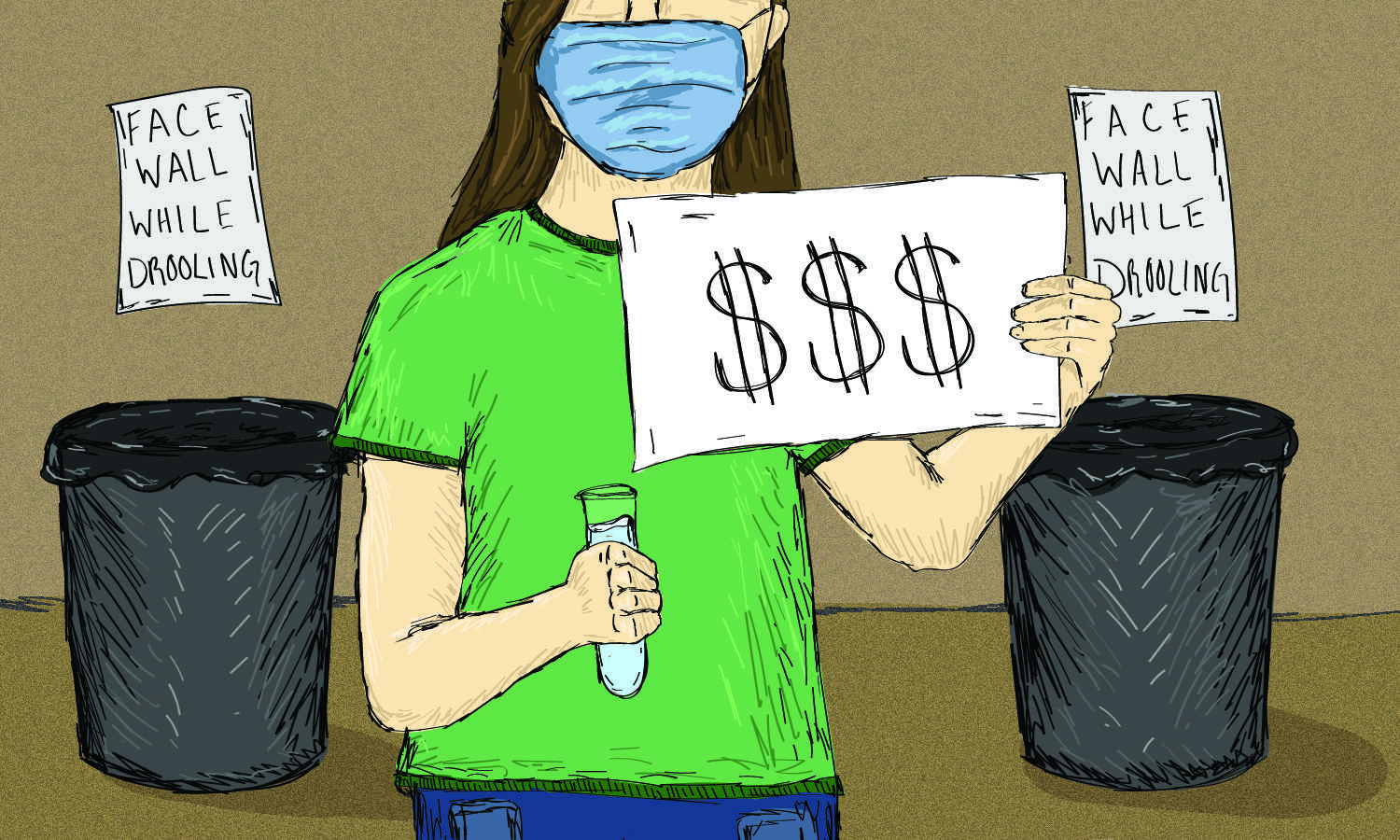 Your drool can now pay for your college tuition. 
On March 31, Colorado State University President Joyce McConnell announced that students will be able to win $10,000 in scholarships if they participate in the new drooling competition, aptly named Drool 4 Skool. 
McConnell explained that she has been working closely with the Office of Financial Aid to provide students with the scholarship opportunity for the past couple of months, with the finalizations coming together mid-March.
"I know the pandemic has been difficult for all of us, and what better way to come together than with some friendly competition," McConnell said. 
Not only is it $10,000, but I've always wanted a check double my size. I also have hyper-salivation, so it's not even going to be a competition." -Jack Withers, CSU sophomore 
Everyone wanting to participate in the Drool 4 Skool event will meet at the MAC Gym April 12 at 10 a.m. Once there, students will get assigned a trash can. The competition will begin at 11 a.m. The participant who gets to the 2-millimeter mark first will win the scholarship money. 
Three judges with rulers will be present to ensure the drool has reached the appropriate mark. Spit bubbles will not be counted toward the measurement. Pockets, backpacks, purses and any other bags will be checked for pre-filled vials. 
"We will not tolerate any cheating," said Drool 4 Skool judge Bruce Hunter. "If we find that students are bringing in pre-filled tubes, they will be immediately disqualified."  
Each competitor is only allowed to bring one person along for support due to University and Larimer County COVID-19 restrictions. 
"It's so awkward just watching people spit into tubes in utter silence," said Margret Thompson, a COVID-19 saliva test facilitator. "At least this way, it will be just as awkward, with more cheering." 
Students have already started signing up through the University's COVID-19 dashboard website. The form asks for students' CSU eID number, their birthday and a date for the last time they had a COVID-19 test. 
CSU sophomore Jack Withers said that he was excited to participate for the "big check" that was promised. 
"Not only is it $10,000, but I've always wanted a check double my size," Withers said. "I also have hypersalivation, so it's not even going to be a competition."
Junior Mary Pitts explained that whenever she came in for her regular COVID-19 saliva test, she would always be the first of her group to fill her tube.
"I'm going to be honest, it was kind of embarrassing at first, but now that there's a competition for my obvious talents, I thought, why not?" Pitts said. 
Due to physical distancing, only 30 students will be able to participate in Drool 4 Skool. Spots are still available. The deadline to sign up is the week before on April 5. 
Students can use the hashtag #spitforscholarships to be featured on CSU's social media. 
Editor's Note: This is a satire piece for April Fools' Day. Real names and the events surrounding them may be used in fictitious/semi-fictitious ways. Those who do not like reading editor's notes are subject to being offended.
The Unprecedented Times reporter Laura "The Stud" Studley can be reached at news@collegian.com or on Twitter @laurastudley_.