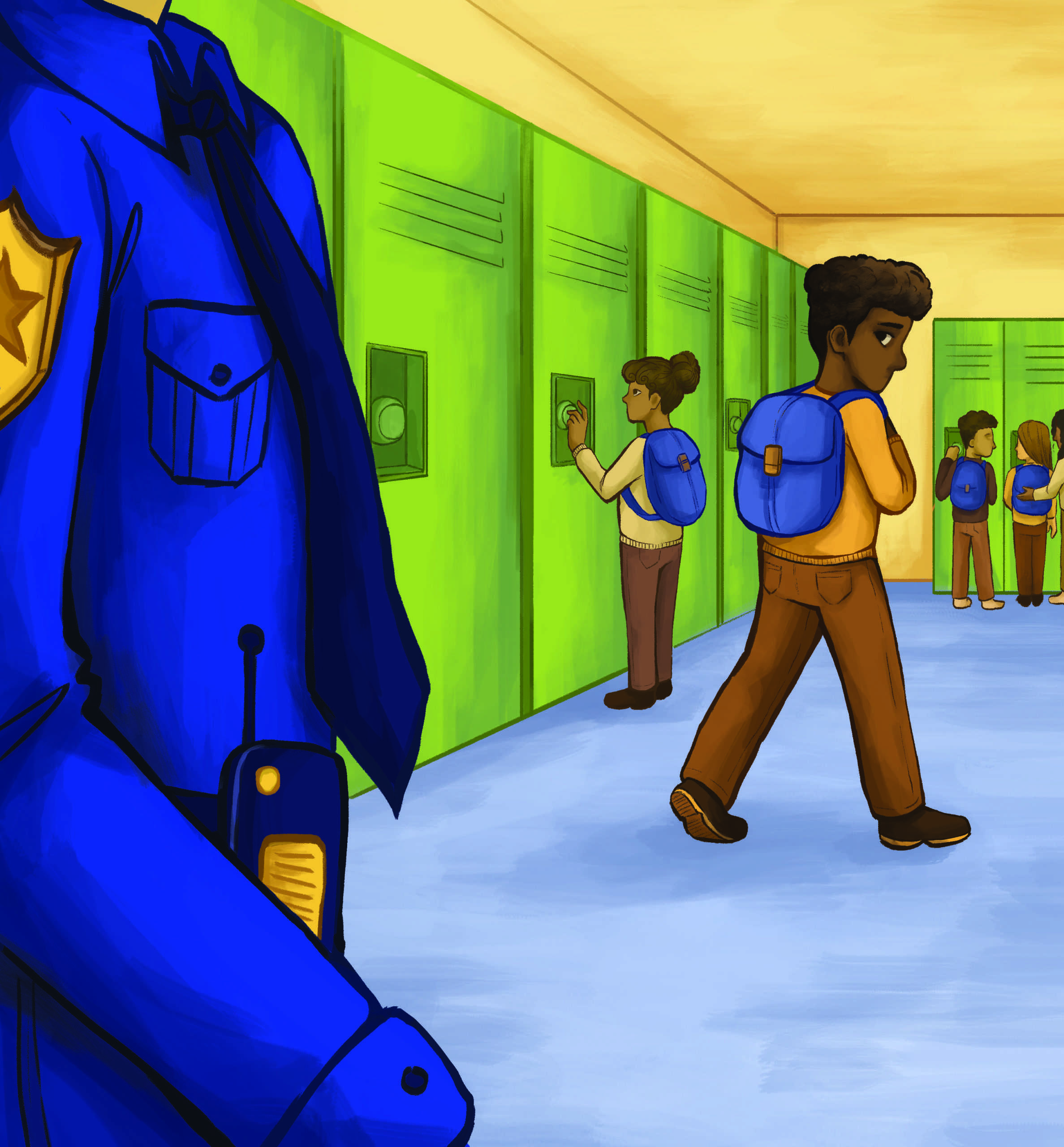 Although the Black Lives Matter protests of the summer are no longer dominating the headlines, the passion for systemic change remains. 
For School Justice PSD, a key chance at that change is coming this spring.
Since its founding in the summer of 2020, School Justice PSD has lobbied the Poudre School District to remove school resource officers from Fort Collins schools and use the resources saved to provide better mental health support systems for students. That would entail PSD not renewing their contracts — worth over $1 million total — with three police departments and taking out the 14 school resource officers, two corporals and two sergeants from the 50 schools they oversee.
In June 2020, PSD's Board of Education voted to extend the SRO contract despite an organized community showing that pushed for the program's end. 
School Justice PSD's overall goal remains having police-free schools by the 2021-22 school year."
According to The Coloradoan, board members had hesitations about removing SROs without a plan to fill in the security and mental health response gaps left behind. 
The board did, however, set up a Community Advisory Council to do a comprehensive review of the SRO program through community engagement and data analysis and ultimately make recommendations when the board decides this spring whether or not to renew the SRO contracts.
That is what School Justice PSD now converges on.
The campaign based in the Fort Collins Community Action Network is currently focusing on documenting community stories and statements, particularly youth voices, when it comes to experiences with the SRO program.
A core group of volunteers is researching the alternatives to SROs in school districts similar to PSD as well the objections to their removal.
School Justice PSD's overall goal remains having police-free schools by the 2021-22 school year.
"It's controversial, it's a big statement, it's not an easy thing to just say and do, but it is a lot of work that we put into it, and I think we are making some leeway with it," said Annelise Fleming, a Colorado State University student working with School Justice PSD.
Fleming is one of the eight core campaigners coordinating the larger community effort as they enter the last few months before the vote. 
The intention is to present the community comments along with further data research to the CAC and board to push for non-renewal of the 2022 SRO contracts. 
School Justice PSD continues to organize residents, solicit statements to their email and share progress on their social media. 
How SROs relate to BLM
When the protests surrounding the murder of George Floyd last year sparked a national movement to divest and defund the police, those conversations extended into rethinking SROs in schools.
"Part of the understandings, just nationwide with the Black Lives Matter protests, are really questioning what the role of law enforcement is generally — and that goes down to what it is that school resource officers are doing," said Ray Black, assistant professor of ethnic studies at CSU and advisor for School Justice PSD.
Black's primary academic focus is on students of color, particularly African American students and their progress through educational institutions. Law enforcement, Black said, either willingly or unwillingly plays a role in fostering the school-to-prison pipeline.
This can be seen in national data showing that students of color are disciplined and funneled into the criminal justice system at a disproportionately high rate.
In PSD, Hispanic students were involved in 32.7% of the 251 incidents that resulted in a student's arrest, summons or ticket in the 2018-19 academic year, according to data reported to the Colorado Division of Criminal Justice. Hispanic students make up only 18% of the PSD student population.
At the request of the PSD board, SROs have begun tracking student encounters that do not result in a citation, though no data is publicly available yet.
All levels of disparate punitive action compound the criminalization of students of color from elementary to high school, research has found. Involving SROs often presents a significant layer for potential escalation.
"The question is should a law enforcement (officer) — should a cop — be involved in disciplining a child in school if it's not a crime?" Black said. 
The question is should a law enforcement (officer) — should a cop — be involved in disciplining a child in school if it's not a crime?" – Ray Black, CSU assistant professor of ethnic studies
Due to PSD's site-based management system, different schools have significant autonomy over how SROs have been used, said Sgt. Laura Lunsford, supervisor of the SRO program. That has resulted in disparities over SROs sometimes being called in for cases that don't necessarily need police involved.
Still, Lunsford said having officers in schools is good because there can be better relationships in place between students and officers when police are called in. In cases with a victim, police are legally required to respond, like in about 50% of the fall 2020 PSD incidents, Lunsford said. Such cases include crimes like sexual assault.
From the School Justice PSD's perspective, though, since police will naturally become involved in cases where crimes do occur, it doesn't need to be "full-time officers in the school, five days a week during the whole school day," Black said. "In our opinion, there is no need to have law enforcement in the schools themselves."
Weighing the value of SROs
Historically, SRO programs were expanded as an extension of community policing initiatives during the late 1990s and bolstered by the use of zero tolerance policies and the War on Drugs. In Fort Collins, the program started in 1995. 
"SROs were initially put in schools to help with the community policing (and) build better relationships between law enforcement and youth," Black said.
Today, these programs have morphed into something not necessarily good and for reasons beyond any individual officer, Black said. 
"As a parent of a Black child, it's irresponsible of me to say 'OK, the officer that's at the school is like every other officer and may be kind and great,' (as) that could get her killed," Black said. "We can see what happens to Black women, Black people in this country sometimes when they encounter law enforcement. That's a systemic problem beyond that particular officer and in a particular school, but it's a real problem."
Efforts by School Justice PSD to end the SRO program don't suggest that law enforcement can't have productive partnerships with the schools, Black said. It's about reevaluating the need for officers specifically in schools.
"If law enforcement is serving the vital need in keeping the community safe, is it best served by having officers in school instead of out in the community on the beat?" Black said.
And then there's the matter of how schools use their own resources.
PSD's 2020-21 program contracts were worth $1.02 million split between the Fort Collins Police Services, Larimer County Sheriff's Office and Timnath Police Department.
It's not about being anti-cops. It's just there are better ways we can spend the money that is used on SROs." – Annelise Fleming, CSU student and School Justice PSD organizer
The City of Fort Collins pays the other half of the SRO program, according to Lunsford. PSD paid significantly less for the program this year because all departments dropped or rotated people from the program during remote and hybrid time.
In a time of budget cuts due to the pandemic (PSD sliced $15 million from its budget last June, according to The Coloradoan), School Justice PSD has emphasized the need to reallocate resources to more essential services, like mental health professionals. 
According to the American Civil Liberties Union, 47 states, including Colorado, don't meet the recommended student-to-counselor ratio in their schools, and the pandemic has only left schools even more short-staffed. 
"It's not about being anti-cops," Fleming said. "It's just there are better ways we can spend the money that is used on SROs."
Final grind for change
Since October 2020, SROs have returned back to their regular positions at all the PSD high schools and middle schools during hybrid classes.
Some changes have been made, including the creation of a Standardized Operating Procedures document to clarify SRO responsibilities and beginning data collection on uncited student-SRO encounters, Lunsford said. But overall, the duties of the SROs look largely the same as they did before the pandemic.
Meanwhile, School Justice PSD has remained active and focused on gaining a non-renewal vote on SROs.
Youth organizer Izzy Herrera Santos is one of two School Justice PSD members in the CAC, and they continue to push the committee to be properly transparent as they enter the final "grind time."
"We've had a couple meetings with the board members, and what we've heard is that their choice is really looking at whatever kind of comes out of the CAC," Santos said.
The CAC report evaluating the SRO program is due toward the end of April or early May. After that, the board will put the SRO vote on their agenda. 
As such, School Justice PSD is trying to keep the community aware of the CAC despite the committee's closed-door nature, as well as doing virtual outreach and helping people to send statements to the school board. 
"The more people are involved now, the easier it is to have their voice be heard," Santos said. "We can help you do that."
They've heard from students on getting stopped by SROs in undocumented encounters and parents who can imagine the difference more mental health professionals and social workers would make for their kids. Even within the group itself, there are strong personal connections to the campaign goals. 
Whatever happens in April, you know it's gonna change what Poudre School District looks like for years to come." – Izzy Herrera Santos, youth organizer for School Justice PSD
As a PSD graduate who's taught PSD students, Santos believes in schools serving as a "home away from home" for kids. Yet he's experienced first hand how SROs can prevent that for certain students over reasons like skin color.
"I wasn't supposed to be myself," Santos said of his own time as a student. When you always have to be "looking over your shoulder just to make sure you're not doing something wrong," then you can't make mistakes and grow as a kid, he said. 
For Fleming, this work is meaningful in that children shouldn't be fearful of going to school. 
"When there is that question of 'What can I do? What can we do as a community, as an individual?' — this is something that is local and it's happening," Fleming said. 
Black echoed the sentiment in speaking about his choice to be involved in the campaign.
"I'm a professor, and I do African American studies, but I'm also a parent, and I also live in the community," he said. "We choose our level of activism. And if the last four years have shown us anything, (it) is that you can't really sit on the sidelines and expect your views to be respected."
Amid the national reflection on policing, people's understanding of policing issues has increased for the better, campaign members said. And they hope the attention School Justice PSD has brought to Fort Collins' SRO program will make a lasting impact on the conversation moving forward. 
"Whatever happens in April, you know it's gonna change what Poudre School District looks like for years to come," Santos said. 
Samantha Ye can be reached at news@collegian.com or on Twitter @samxye4.