Three cars involved in accident at intersection of Mulberry and Shields
Haley Candelario
July 11, 2017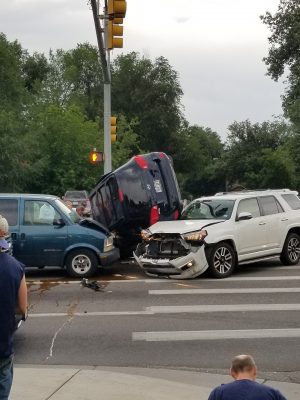 Residents of Fort Collins have been advised to avoid the intersection of Mulberry Street and Shields Street after three cars collided with each other on Tuesday evening. 
According to Fort Collins Police Services's Media Team, officers were dispatched to the intersection around 6:12 p.m. Officers discovered that one vehicle was tipped on its side when they arrived at the scene.
One person was transported to Poudre Valley Hospital for their injuries, but no inofrmation regarding the victim's condition is available at this time.
According to FCPS, it took officers around 45 minutes to remove the vehicles from the scene.
This is a developing story. The Collegian will update this article with more information as it becomes available.
Collegian news director Haley Candelario can be reached at hcandelario@collegian.com or on Twitter @H_Candelario98.